Posted by Ivan G. Shreve, Jr. on Jul 16th 2022
Old-time radio devotees can instantly recognize the unmistakable voice of William T. Woodson, born on this date in Glendale, California in 1917. For many years, Woodson was the individual who informed listeners: "This…is your FBI!" What you may not know is that Bill had quite the acting career both before and after his work as This is Your FBI's announcer, including a stage career that began when he was a juvenile.
In 1956, Woodson was performing in a road company version of the hit Broadway play Inherit the Wind and experienced difficulty finding a furnished apartment for rent. Many of the landlords refused to rent him a place since he had two young sons, ages seven and nine. (This was at a time when laws to prevent this kind of discrimination were not yet in effect.) According to David Clive—in his book Theatre Tales (Pre-Andrew Lloyd Webber)—Bill Woodson rang the doorbell of an apartment house advertising a vacancy. He asked the middle-aged lady who managed the house about the rental; seeing his brood, she responded that she did not rent to potential tenants with small children. Woodson cheerfully told her it would not be a problem, and he produced a small starter pistol and shot both his sons. (The boys did their part by dramatically oozing ketchup out of their mouths.) The manager gave out with a bloodcurdling scream and slammed the door behind her; Woodson and Sons still had to search for an apartment to rent but the reaction they received for this little prank was worth the aggravation.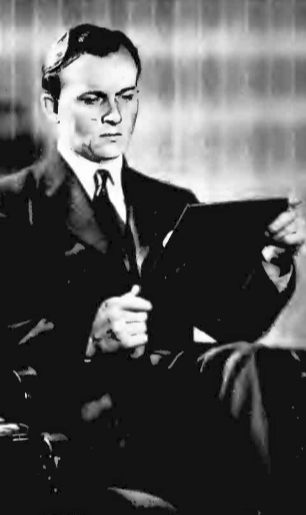 William Woodson began performing in stock theatre beginning in 1928, and even started a radio career by appearing as The Boy Detective (which he had to abandon once his voice began to change). Bill made his Broadway debut in Harriet (1943), a play starring Helen Hayes and staged by Elia Kazan. He also graced the casts of Othello (1943) and Cyrano de Bergerac (1946), playing Le Bret in the latter production (he was also star Jose Ferrer's understudy). Woodson would later appear in The Seven Year Itch (1952) and A Moon for the Misbegotten (1957).

Stage work was fine for William Woodson, but to make certain there were groceries in the larder the actor also continued to capitalize on opportunities for radio work. He portrayed "John Britton" on the long-running daytime drama Just Plain Bill and the male lead, "Wyn Stafford," on Kitty Foyle (he took over from Clayton "Bud" Collyer in 1943). Bill's other radio appearances include The CBS Radio Workshop, Family Theatre, Inheritance, Let George Do It, Studio One, and Suspense. Woodson's most lucrative gig was the previously mentioned This is Your FBI; Woodson joined the show some time after the program moved from New York to Hollywood and stayed until its final broadcast on January 30, 1953. He'd later lend his voice to radio revivals in the 1970s, including The Hollywood Radio Theatre and The Sears Radio Theatre.
Though he has an uncredited bit as a soldier in 1948's The Gallant Blade, William Woodson decided to use his radio stock-in-trade with his movie appearances, either narrating or playing an announcer in features like Trapped (1949), The Jackpot (1950), Three Guys Named Mike (1951), Red Skies of Montana (1952), Assignment: Paris (1952), The Miami Story (1954), Cell 2455, Death Row (1955), New Orleans Uncensored (1955), Fear Strikes Out (1957), and The Garment Jungle (1957). Down Three Dark Streets (1954) allowed Bill to return to his This is Your FBI origins as the narrator of a movie featuring Broderick Crawford as a determined Fed solving three difficult cases. (Woodson also appears uncredited on-camera as a professor.) Bill was also the narrator on four films featuring the work of the legendary Ray Harryhausen: The Beast from 20,000 Fathoms (1953), It Came from Beneath the Sea (1955), Earth vs. the Flying Saucers (1956), and 20 Million Miles to Earth (1957).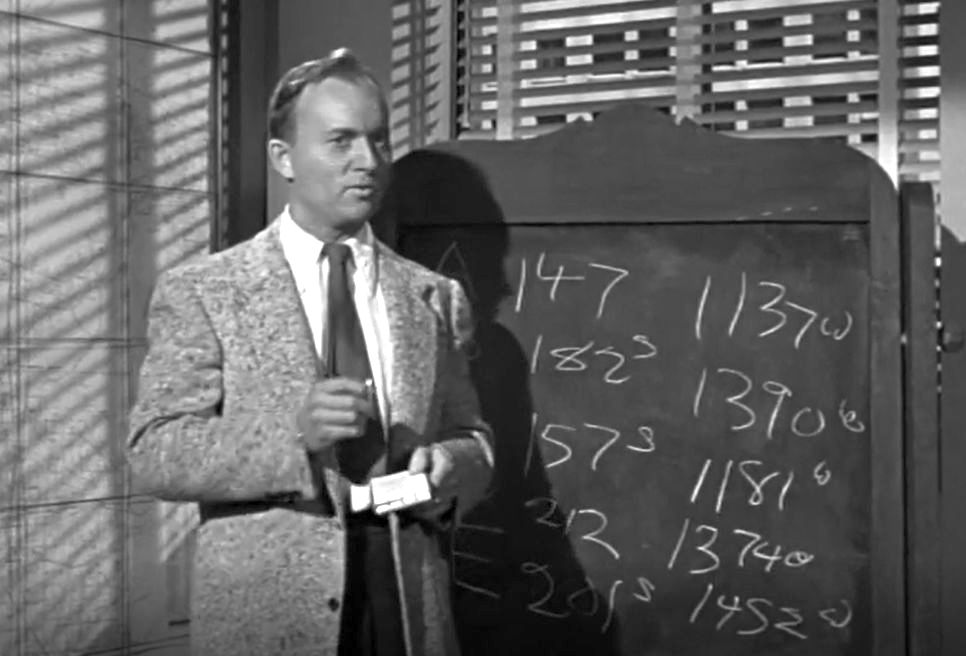 William Woodson made guest appearances on such small screen favorites as The Big Story, Decoy, F Troop, Have Gun – Will Travel, Hawaiian Eye, Leave it to Beaver, Perry Mason, The Rifleman, Route 66, Sea Hunt, 77 Sunset Strip, and Surfside 6. Bill's most high-profile TV work was as a regular ("Sgt. Blankey") on This Man Dawson, a syndicated TV series starring Keith Andes as an ex-USMC colonel out to clean up corruption in the police department of an unnamed city. Since Dawson isn't rerun much today (which is a shame—William Conrad was the narrator on this show), Woodson is perhaps better remembered as the narrator of TV's The Invaders, a 1967-68 cult series featuring Roy Thinnes as the sole witness to an alien invasion.

"It's a wonderful monologue and whoever wrote it, I owe them a lot," William Woodson once commented in an interview with author Bob Leszczak. "I'm grateful to that person because it got me a lot of work elsewhere, just because of that one reading. It's a world beater, and I owe a great deal of gratitude." Woodson's "monologue" was the memorable opening to the TV sitcom The Odd Couple, in which he queried: "Can two divorced men share an apartment without driving each other crazy?" (In case you've never watched the program…the answer is "no.") It was just one of many voiceover gigs that Bill worked during the 1970s and 1980s; he provided narration for the TV miniseries The Winds of War and War and Remembrance and voiced the unforgettable intro to Les Nessman's (Richard Sanders) newscasts on WKRP in Cincinnati. Woodson was at his busiest in the world of animation, working on series such as Battle of the Planets, C.B. Bears, Captain Caveman and the Teen Angels, Garfield and Friends, Heyyy, It's the King!, Jana of the Jungle, Plastic Man, Posse Impossible, Shake, Rattle, and Roll, Shirt Tales, Spider-Man, Spider-Man and His Amazing Friends, and Undercover Elephant. Bill would achieve cartoon immortality as the narrator of the adventures of the many incarnations of Super Friends ("Meanwhile, at the Hall of Justice…"). William Woodson lived a long, full, and rewarding life before passing on at the age of 99 in 2017.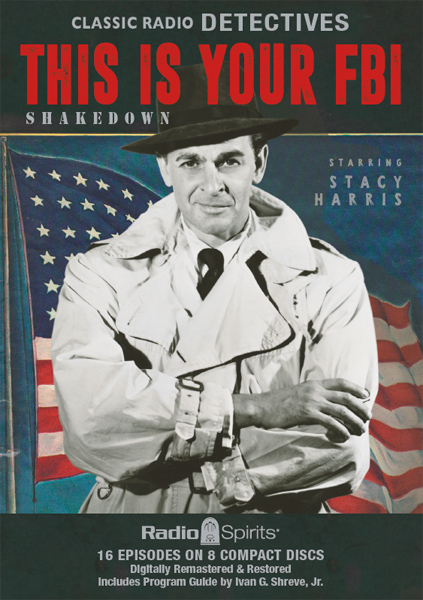 William Woodson guest stars in a 1960 episode of Deadline ("Exposure"), which is featured on the DVD collection Deadline:The Complete Series and is available for purchase from Radio Spirits. Bill's signature role on This is Your FBI is also on hand in the CD collection Shakedown, as are two Yuletide outings of the series in the digital downloads collections of Christmas On the Air and Great Radio Christmas. In addition, check out the birthday boy on the digital downloads set of Let George Do It: Cry Uncle. Happy birthday, Bill!