Posted by Ivan G. Shreve, Jr. on Jul 18th 2023
The town of Vincennes, Indiana welcomed Richard Bernard "Red" Skelton into their midst on this date in 1913…and got the best of the bargain, because their favorite son spent most of his show business career dedicated to making audiences laugh in radio, movies, television, and on stage. Not only was Red Skelton able to convulse patrons—he himself freely participated in their mirth: "Why should the comedian be the only one not allowed to laugh?"
Skelton wanted to follow in his father's footsteps and be a professional clown…and he accomplished that feat in his halcyon days of performing, not to mention his efforts in medicine shows, vaudeville, burlesque, showboats and even the "walkabout" circuit. They were lean and hungry years for the ambitious funster; the only thing that kept him going was his marriage in 1931 to Edna Stillwell (an usherette at a Kansas theater when he met her in 1930). Edna was the guiding force in Red's climb to fame; she took on the responsibility of becoming both his business manager and head writer (jobs she continued to perform even after their divorce in 1943). It was Stillwell who came up with an idea for a comedy routine in which her husband demonstrated the various ways people dunked their doughnuts…and though Red soon packed on thirty-five pounds (devouring nearly a dozen crullers at each performance, three times a day) he attracted the attention of RKO, who wanted him to do the routine in their film adaptation of the hit Broadway play Having Wonderful Time in 1938.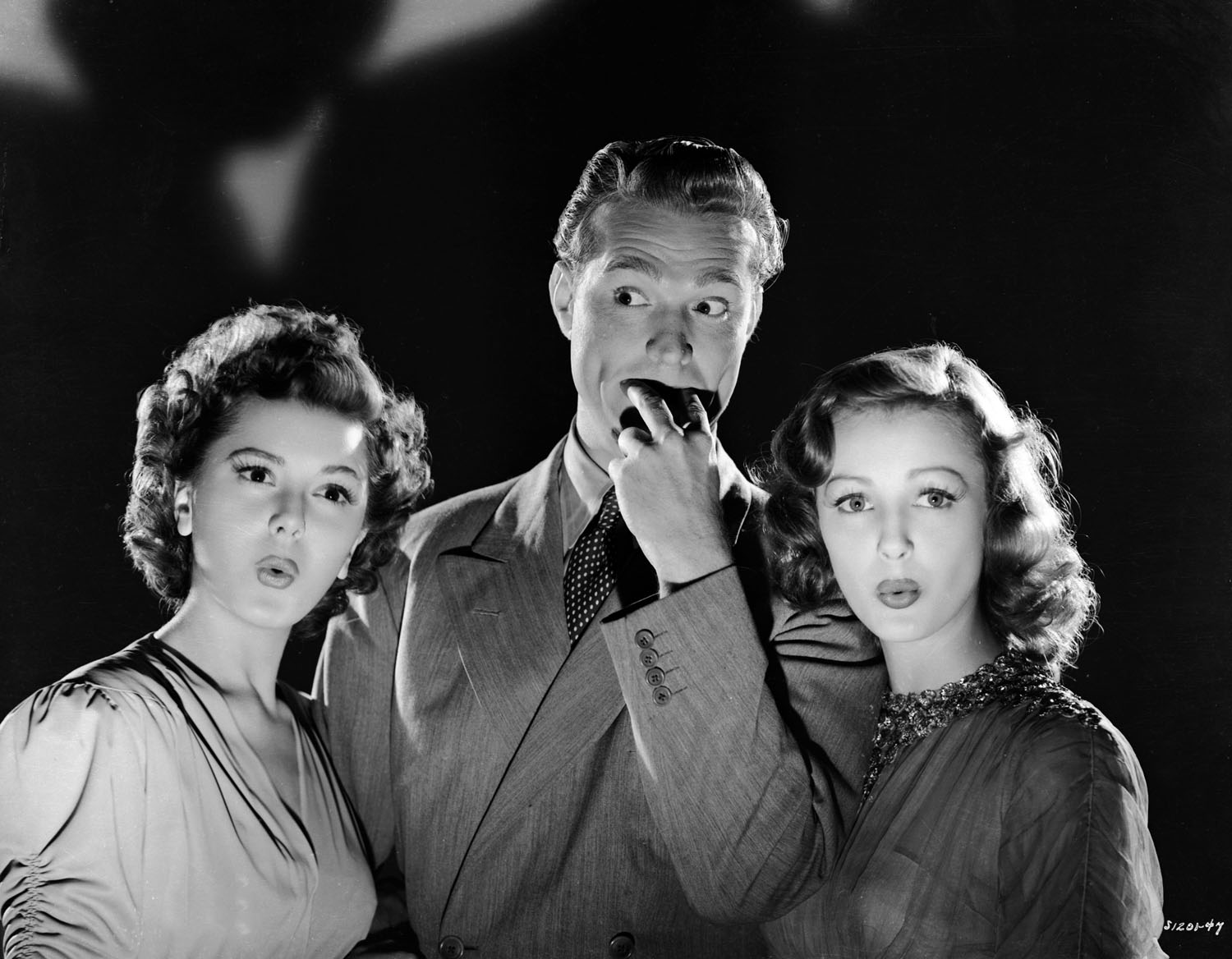 While Red was making inroads in the movies (he would soon be hired by the Tiffany's of motion picture studios, MGM, thanks to a good word put in to Louis B. Mayer from "Andy Hardy" star Mickey Rooney), he was also on his way to becoming a star on network radio. Like his contemporary, Edgar Bergen, Skelton had made a highly touted appearance (on August 12, 1937) on Rudy Vallee's variety hour…and though it took Red a little longer than it did Edgar (to be fair, Bergen had a "partner" working with him), he eventually became the comedy headliner on NBC's Avalon Time on January 7, 1939. Though his stint on that program was brief, it laid the groundwork for what would become his most successful radio showcase: The Raleigh Cigarette Program Starring Red Skelton.
The Raleigh broadcasts began over NBC on October 7, 1941 and allowed Red to introduce a cornucopia of comic characters that I've always referred to as his "gallery of grotesques." There was Clem Kadiddlehopper, a dimwitted hayseed who made Mortimer Snerd look like a member of MENSA, and who always greeted his bucolic girlfriend with an enthusiastic "We-e-e-e-l-l-l-l Da-a-a-a-a-aisy Ju-u-u-u-u-une!" There was Willie Lump-Lump, the cantankerous inebriate ("Let's not get nosy, Bub…") and stupefyingly inept outlaw Deadeye—who was always introduced while he was trying to get his stubborn horse to come to a stop ("Whoa…WHOA…aw, come on, horse…whoa!!!"). Red also played punch-drunk pugilist Cauliflower McPugg, Brooklyn expatriate Bolivar Shagnasty, and perpetual milquetoast J. Newton Numbskull.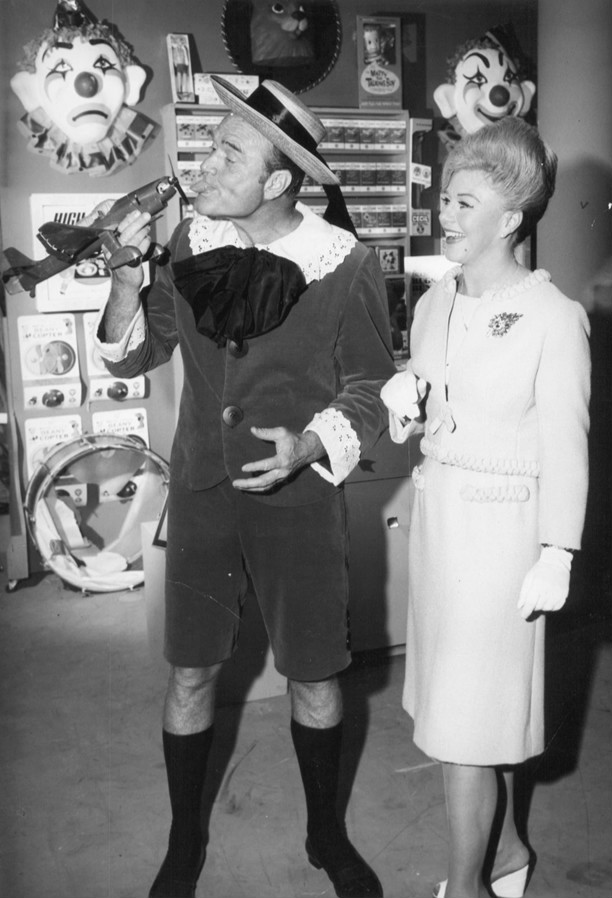 Skelton's most popular character was "Junior, the Mean Widdle Kid"—a hell-on-wheels brat who did the things that Bergen's Charlie McCarthy only talked about. Junior was an uncontrollable force of nature; a holy terror who, to his credit, did occasionally contemplate the consequences of his actions by musing to himself (and the audience): "If I dood it—I dets a whippin'…I dood it!" These last three words quickly became a national catchphrase, as well as the title of a 1943 MGM musical (a remake of Buster Keaton's Spite Marriage) starring Red—whose affiliation with the studio was always referred to in his weekly introduction by announcer Truman Bradley ("And now, here's MGM's star comedian…").
Supporting Red Skelton on his Raleigh program was the talented African-American comic Wonderful Smith (who usually played Deadeye's foil), and a couple who performed musical numbers on the program, Ozzie Nelson and Harriet Hilliard. In addition to her warbling duties, Harriet was put in charge of playing the female characters in the sketches (Daisy June, Junior's mother, etc.). Ozzie gradually worked himself into skits as well, playing a variety of roles. "America's favorite young couple" would eventually get their own spin-off in the form of The Adventures of Ozzie & Harriet in the fall of 1944. By that time, Red was taking a hiatus from the Raleigh program, having been notified to report for the service in March of 1944. Eighteen months later, on December 4, 1945, Skelton returned to the airwaves with new cast members GeGe Pearson (who took over Harriet's roles), Verna Felton (who began memorably playing Junior's "namaw"), Lurene Tuttle (who took over for GeGe), Pat McGeehan, and a new announcer-sidekick, Rod O'Connor.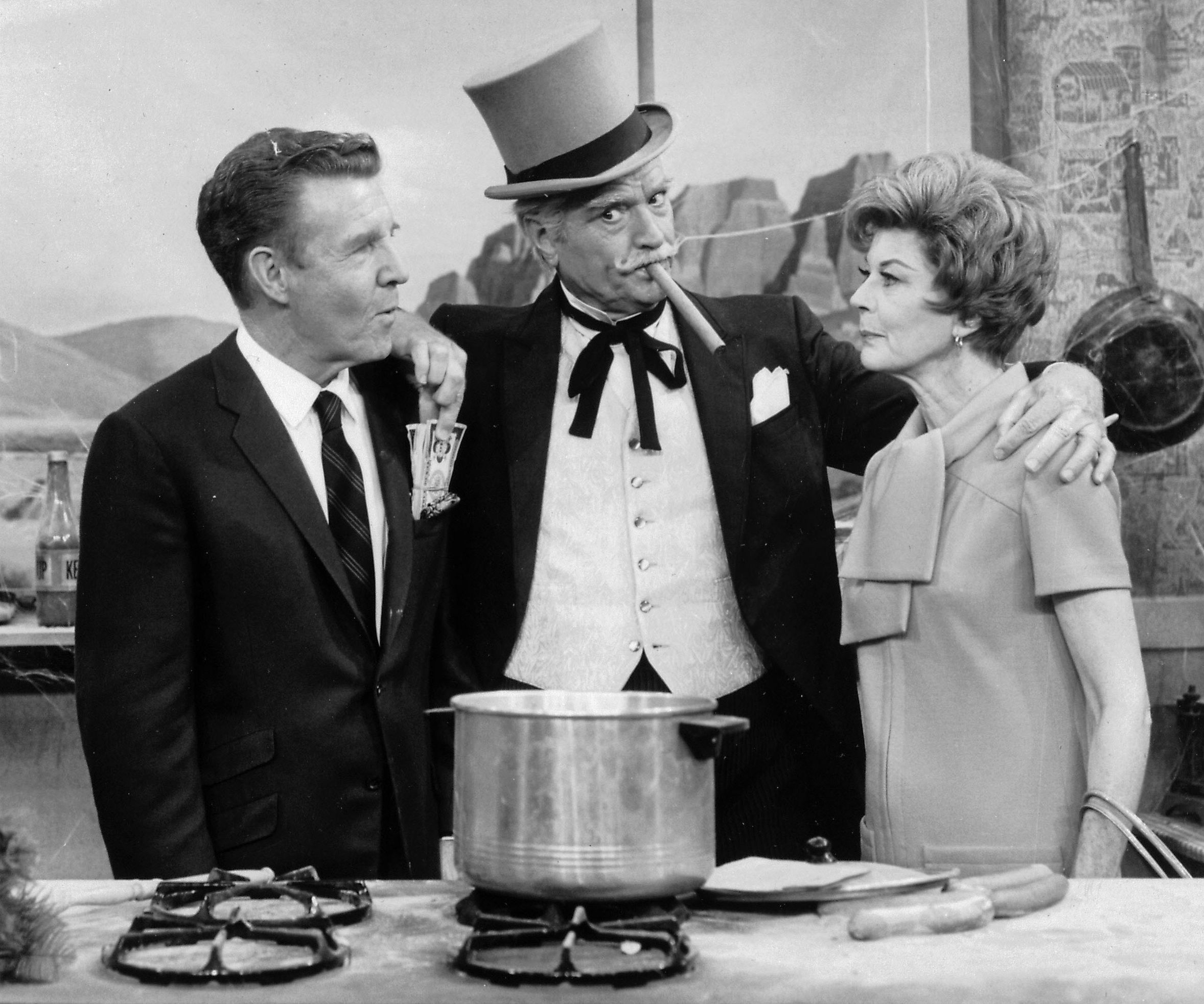 Red continued to broadcast for NBC (and Raleigh) until 1948 when Tide agreed to start paying the show's bills. In the fall of 1949, however, Skelton found a new home at the Columbia Broadcasting System, having become one of the major acquisitions in CBS' "talent raids." New regulars like Martha Wentworth (as Polly the Panhandler) and Dick Ryan joined the cast, and Red began introducing brand-new characters like San Fernando Red, the windy politician ("My friends…"). Red would continue on radio until 1953, but by that time he began to follow some of his radio brethren and sistren into the medium of television—he began in the fall of 1951 with a popular comedy-variety program that would be a staple on both NBC and CBS (where it eventually expanded to sixty minutes and became The Red Skelton Hour) for the next twenty years. As beloved as Skelton was as a verbal jokester, his heart was always in the art of visual comedy—and he created a character specifically for his TV show named Freddie the Freeloader, whose pantomime antics were frequently the focus of his "Silent Spot."
With the cancellation of his television show in 1971, Red Skelton showed no signs of slowing down; he went back to performing in live venues and hosted a series of highly-touted specials on public television in his twilight years, as well as the occasional Christmas-themed program. His movies—A Southern Yankee (1948), The Yellow Cab Man (1950) and the popular "Whistling" trilogy (Whistling in the Dark, Whistling in Dixie, Whistling in Brooklyn)—would attract new audiences via home video, and Skelton also found new outlets for his creativity through painting (his paintings are now collected by fans and art devotees alike). The man who once stated simply "I just want to be known as a clown" departed this world for a better one on September 17, 1997—and though he may have left his fans in a state of sadness, he wisely remembered to leave behind a legacy of laughter as well.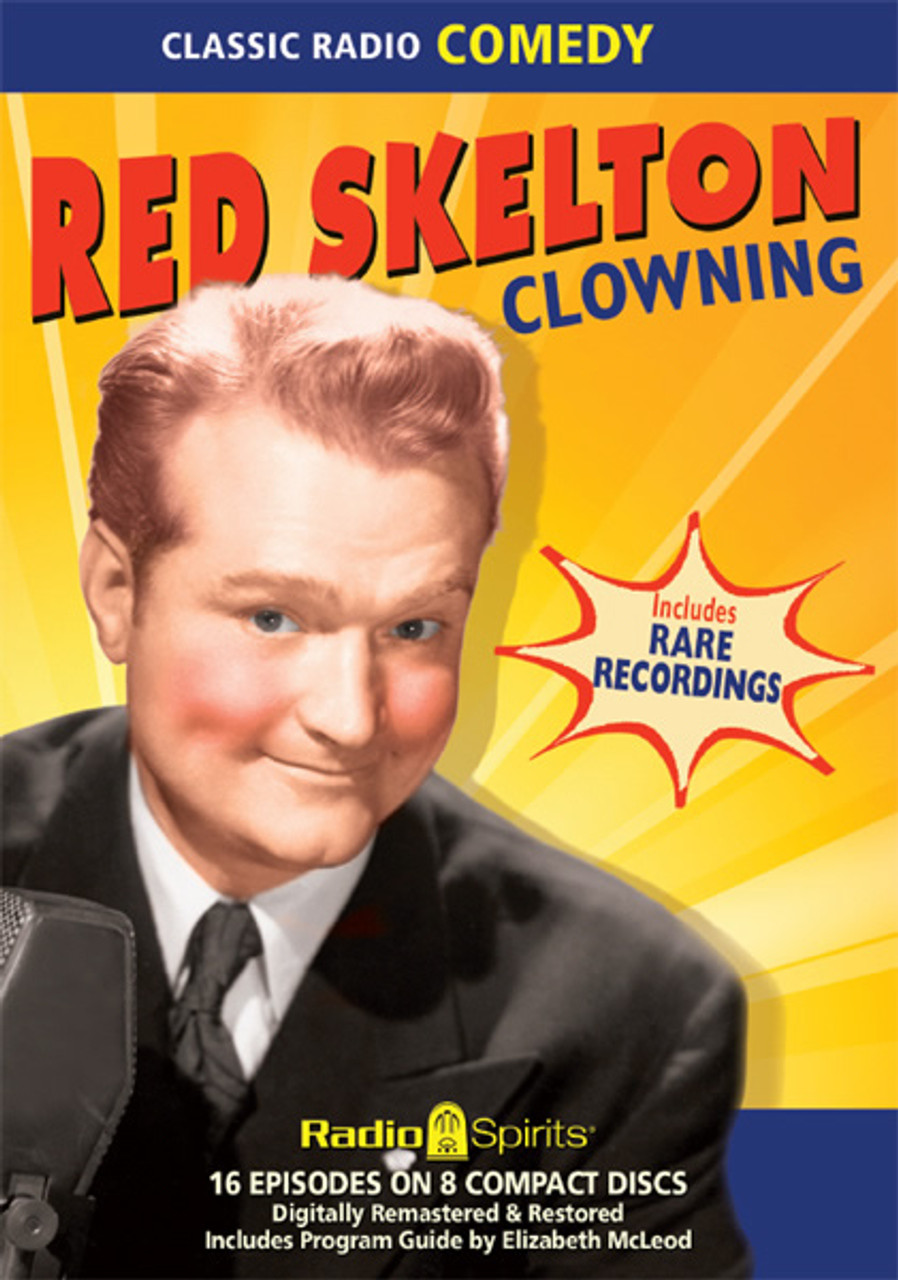 For a performer who excelled at visual comedy, it has always been interesting to note that Red's greatest fame came at the height of his radio career. Radio Spirits has a hefty sampling of that radio run with the CD collections Clowning and Mischief, which feature previously uncirculated broadcasts and rehearsals, as well as Clown Prince (with broadcasts from his later radio career). Our sets Great Radio Christmas and Great Radio Comedy also contain material from "the clown master," and on Suspense: Wages of Sin you find Skelton's appearance on "radio's outstanding theatre of thrills" in "The Search for Isabel" (11/03/49). In addition, Red is one of Jack Benny's pals on Jack Benny & Friends and makes a hilarious appearance as "Clem Kadiddlehopper" on a September 3, 1948 broadcast of The Life of Riley, which is available on Very Natural.

In our digital downloads store, there's more Red on Scrapbook of Satire and Stick Around, Brother; plus Yuletide Skelton on Christmas On the Air, Christmas Radio Classics, and Radio Christmas Spirits. Finally, enjoy the wide open spaces with our birthday boy on Comedy Goes West. Be advised that we will not be responsible for any sides that split during the course of listening to one of the greatest radio comedians of all time. Happy Birthday, Red!