Posted by Ivan G. Shreve, Jr. on Jul 12th 2023
Shamus devotees would no doubt have an engaging discussion as to whether Samuel Spade was the greatest private detective of them all, but old-time radio fans could probably come to a consensus that The Adventures of Sam Spade—which premiered on this date in 1946—was one of the greatest private eye programs of them all (at least during the short five years it was heard on network radio).

Sam Spade was the creation of author Dashiell Hammett—who introduced the hard-boiled sleuth in his 1930 novel The Maltese Falcon. Originally published in serialized form in the mystery pulp magazine Black Mask (from September 1929 to January 1930), it would later appear in three short stories published in The American Magazine and Colliers in 1932 (collected in the 1944 anthology A Man Called Spade and Other Stories). Spade was a noticeable departure from the legion of formalized literary detectives, was an influence on Raymond Chandler's Philip Marlowe, and was described by his creator as "a hard and shifty fellow, able to take care of himself in any situation, able to get the best of anybody he comes in contact with, whether criminal, innocent by-stander or client."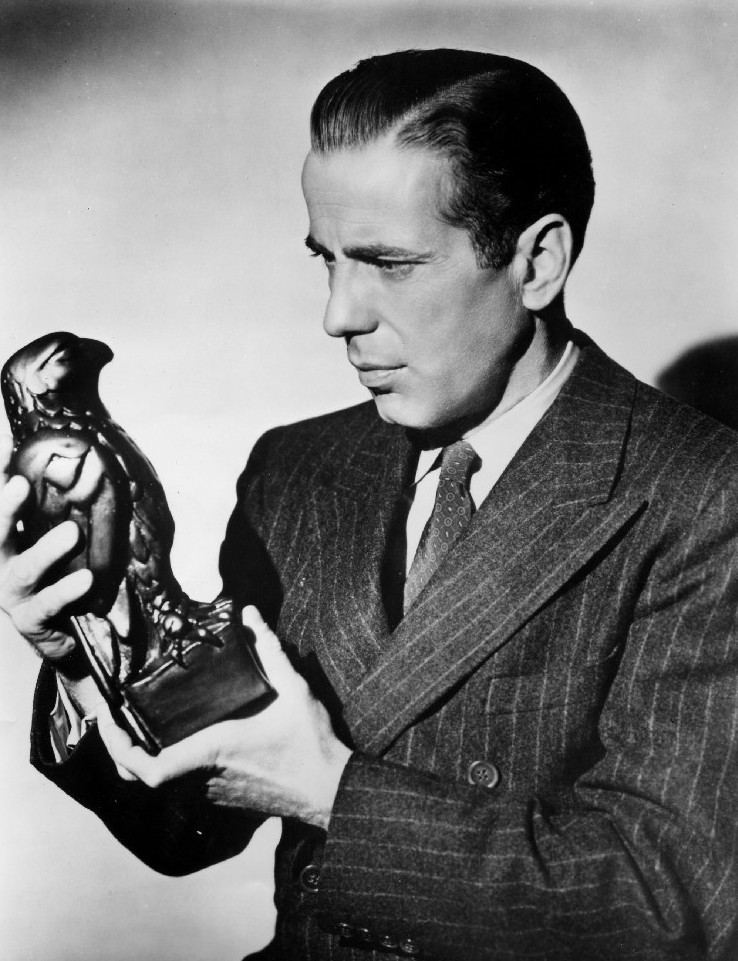 The success of the novel soon brought Hollywood around knocking on Hammett's front door—and a movie version was produced in 1931 at Warner Brothers with Ricardo Cortez as Spade. The film was both a critical and commercial success, but when Warners went back to the well to do a remake five years later, they found themselves stymied by the newly-instituted Motion Picture Production Code, which raised objections to many of the "lewd" aspects of the story. So, the studio tried an end run, renaming the characters (the detective was now Ted Shane, played by Warren William) and the film Satan Met a Lady (1936). The film also adopted a somewhat comic tone, and the result was a box office bomb.

It's the 1941 version of the film—a rare example of a remake outshining the original—that remains the best known treatment of Hammett's novel, with star Humphrey Bogart often cited as the definitive Sam Spade. Director John Huston also wrote the screenplay, and remained remarkably faithful to Dash's book, though the Production Code did dictate sanitizing the "lewdness". The success of the 1941 film made people forget about the 1931 original (in fact, many of the 1931 film's prints are renamed Dangerous Female). But no one could forget about Bogie—he went on to play the detective in two radio adaptations of the film: on a September 20, 1943 broadcast of The Screen Guild Theater, and a July 3, 1946 edition of Academy Award Theater. (Another celebrated movie tough guy, Edward G. Robinson, played Sam in a production of The Maltese Falcon on The Lux Radio Theater on February 8, 1942.)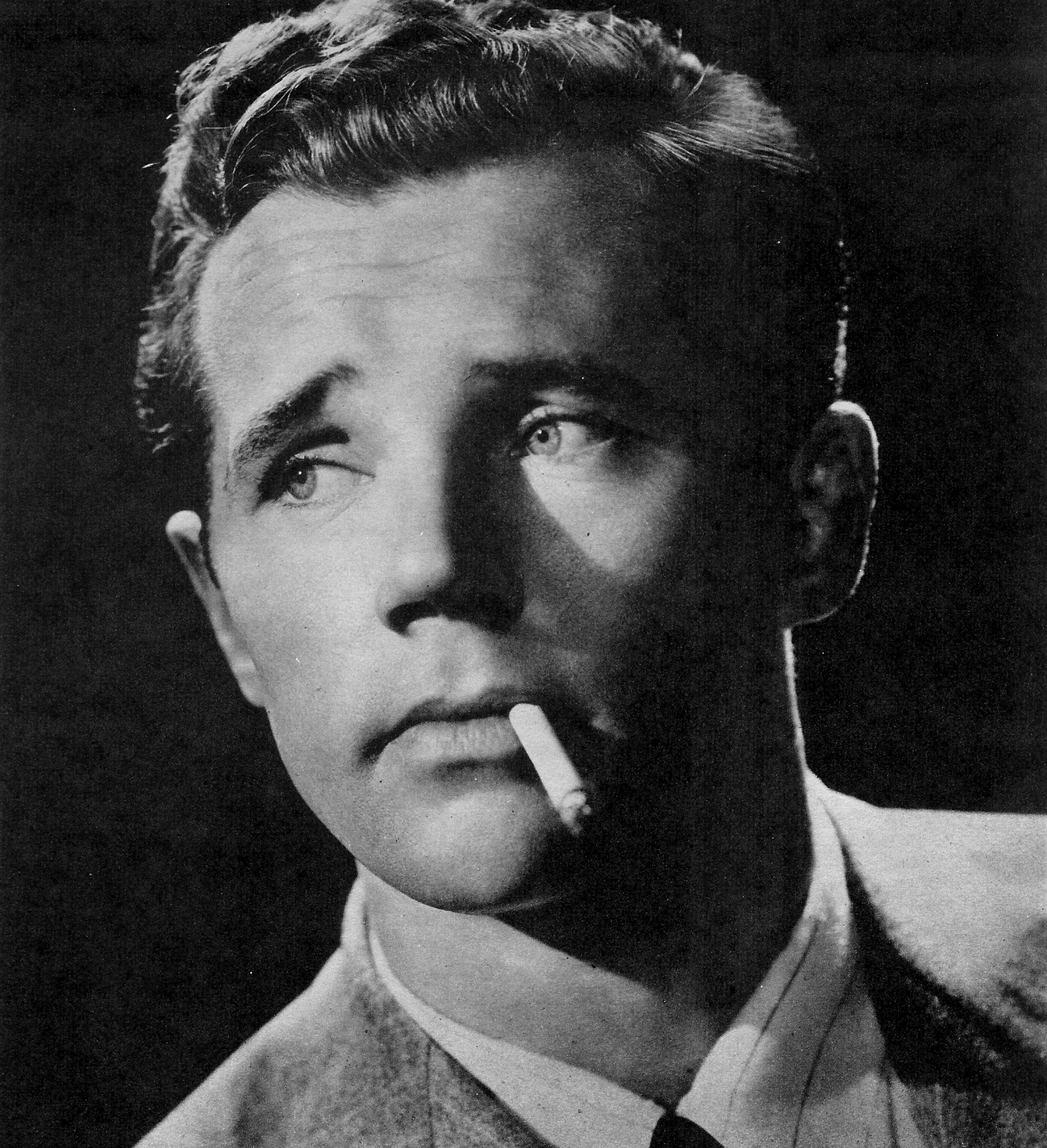 This all laid the groundwork for a regular weekly program featuring the detective, and The Adventures of Sam Spade premiered on ABC Radio on July 12, 1946. After its thirteen-week run on the Life Savers Network, the show moved to CBS and became a Sunday night staple for three years. Announcer Dick Joy would tout the show's sponsor, Wildroot Cream Oil, and then after a brief (and often hilarious) exchange between Sam (played by Howard Duff) and his loyal secretary Effie Perrine (Lurene Tuttle), Joy would let us know that "America's leading fiction writer" (Dashiell Hammett) and "radio's outstanding producer-director of mystery and crime drama" (William Spier, the director-producer of Suspense) had joined forces to present another weekly episode.

And by "joined forces" we mean that the two men decided where to send Hammett's check, the one he was sent for allowing his name to be associated with the series…since, apart from having one or two of his stories adapted for episodes, the writer's participation was minimal at best. Star Howard Duff once related an incident in which he encountered Hammett's "girlfriend" Lillian Hellman at a party and asked her what the author thought of the show. "I don't think he's ever heard it," replied Hellman matter-of-factly.

Dash might not have been a loyal listener, but millions of others made up for for his absence. Written by a team of scribes that included Jo Eisinger (under the pseudonym Jason James), Bob Tallman, Gil Doud, John Michael Hayes and E. Jack Neumann, the series blended hard-boiled attitude and action with a pixyish sense of street whimsy that made the series sparkle and set it far apart from the more familiar 1941 film interpretation. Producer Spier, in fact, had originally planned to cast a Bogart-like actor in the role of Sam Spade—but his wife, Kay Thompson, liked Duff's audition the best (despite the fact that the actor was as un-Bogart as a person could be) and Howard got the part. Duff's Spade was a cut-up, possessing a breezy insouciance that charmed the listening audience and soon gave Bogart's Spade some formidable competition.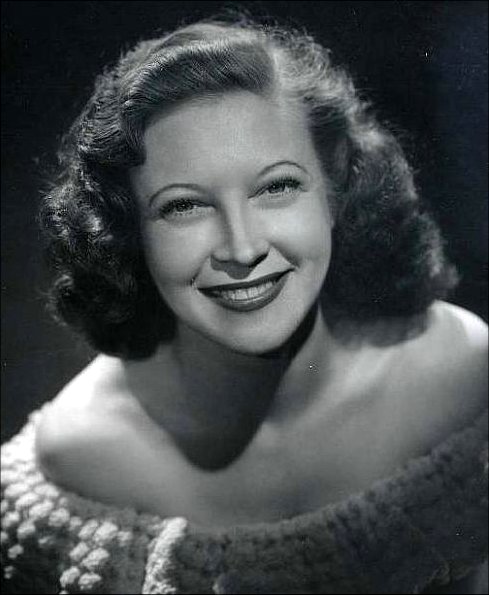 Actress Lurene Tuttle infused the role of Effie with a sweetly daffy naiveté that provided the perfect counterpoint to Duff's sarcastic Spade. You knew deep down that Effie was in love with Sam, and their dialogue exchanges (many ad-libbed) at the beginning and end of each show were, as James Thurber once commented about Fred Allen and Portland Hoffa, "somehow akin to The Sweetheart Duet from Maytime." (In fact, Goodnight, Sweetheart was the program's memorable closing theme.) Effie would take down the dictation of Sam's latest "caper," to be signed and delivered to the client (with Sam's license number—137596), as each episode shifted back and forth between the two of them in the office and the dramatization of Sam's working the case. Spade always cued Effie that the case had come to its conclusion with "Period. End of report."

Despite the program's popularity, storm clouds began to appear on the horizon, even after the show and sponsor jumped to NBC in the fall of 1949. Hammett became a target of the House Un-American Activities Committee, and Duff inexplicably found himself listed in Red Channels.(Duff commented to author Chuck Schaden in a 1975 interview: "I wasn't even a good liberal."). Wildroot started getting cold feet and issued an ultimatum that they would not continue with the series unless Hammett's name was removed from the credits. NBC yanked the program but reinstated it after receiving 250,000 letters of protest—recasting the title role with actor Steve Dunne who, as John Dunning once commented in Tune in Yesterday, "sounded like Sam in knee pants." Sam Spade limped along for one last season, taking its final bow on April 27, 1951.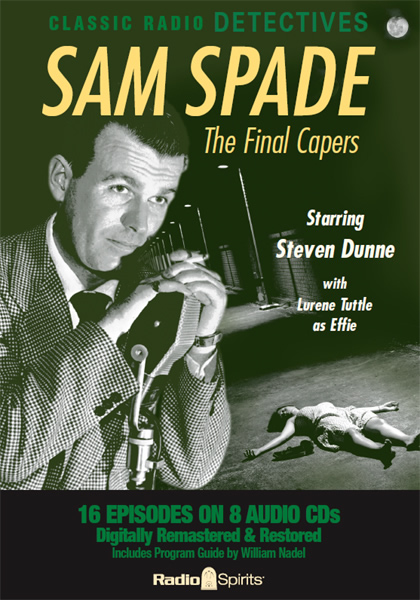 There were 245 episodes broadcast of The Adventures of Sam Spade from 1946 to 1951…and sadly, only about a fourth of those have survived the ravages of time and neglect. Radio Spirits' own Martin Grams, Jr. has assembled some of the "missing" episodes in a book, The Lost Sam Spade Scripts, that features thirteen "capers" not available for your listening pleasure. For those who want to experience the aural Spade, we invite you to check out Lawless, a CD collection of sixteen Sam's adventures (fifteen with Howard Duff). You'll also find one of Spade's classic cases, "The Battle of Belvedere" (05/01/49), on our shamus compendium Great Radio Private Eyes, and a hilarious encounter with George Burns & Gracie Allen on a February 10, 1949 broadcast available on Burns & Allen & Friends.
In our digital downloads store, there's classic Spade on Sam Spade: Volumes One and Two and Capers. The final curtain comes down on Sam in Sam Spade: The Final Capers, which in addition to featuring Steve Dunne as Spade contains an audition for a detective show that would have starred Howard Duff, The McCoy (as in "The Real"). Happy anniversary, Sam! Period. End of post.