Posted by Ivan G. Shreve, Jr. on Dec 17th 2022
The mention of "Ray Noble" to an old-time radio fan no doubt conjures up memories of the English bandleader who was the orchestra maestro on Edgar Bergen's long-running radio comedy program throughout the 1940s and 1950s. With his dry-as-dust delivery, Noble was often drafted into being a comedic foil for Edgar and Charlie McCarthy's shenanigans; Bergen himself once referred to Ray in an interview as a "silly ass Englishman." (Edgar must have read a review of Ray's performance in the 1937 film musical A Damsel in Distress, in which a writer-critic used the very same description.) What you may not know is that the man born Raymond Stanley Noble on this date in 1903 was responsible for composing many musical standards that were recorded in the 1930s, notably Goodnight, Sweetheart—familiar to many as the theme used at the close of The Adventures of Sam Spade. Noble's signature tune, The Very Thought of You, is an example of the kind of song "they don't write like that anymore" and received the Grammy Hall of Fame Award in 2005.
Ray Noble was born in the Montpelier area of Brighton, England and from the very earliest age demonstrated that he possessed significant musical tendencies. He studied piano and arranging at the Royal Academy of Music and in 1927 won an arranging competition staged by Melody Maker, a popular jazz musical periodical of the day. Noble then became a staff arranger for the British Broadcasting Corporation and two years later became the conductor of The New Mayfair Orchestra, the house band at HMV (His Master's Voice) Records. Noble observed in retrospect that the members of Mayfair "consisted very largely of [Savoy Hotel bandleader Carroll Gibbons'] own lads, who in those affluent days, used to arrive at the studio in riding britches, fresh from a session on horseback in Hyde Park."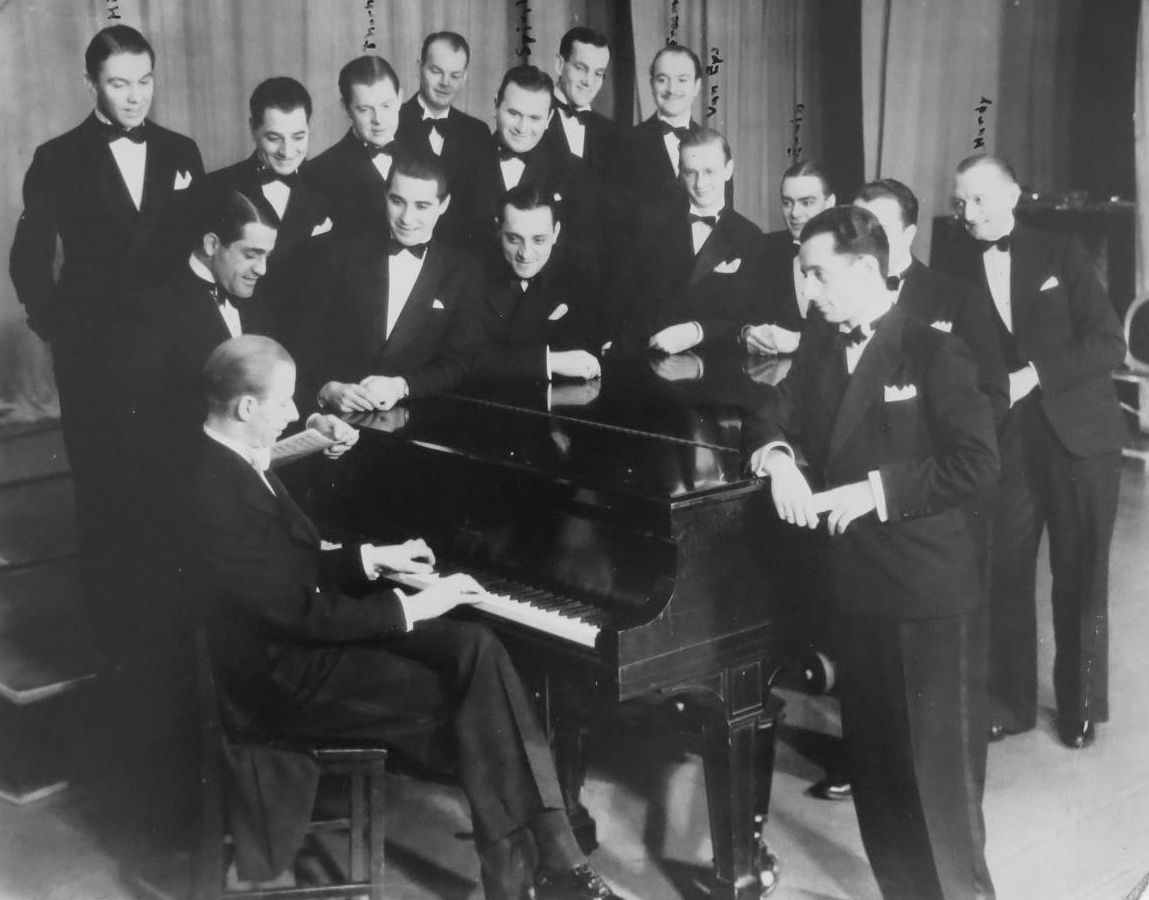 Ray Noble was also busy writing songs at this time—he wrote Goodnight, Sweetheart in 1931 in addition to Turkish Delight, By the Fireside, I Found You, and What More Can I Ask. Ray often wrote in tandem with vocalist Al Bowlly, whose vocals accompanied several No. 1 hits (in the U.S.) recorded by Noble's orchestra, including Love is the Sweetest Thing, Old Spinning Wheel, and Isle of Capri. On the strength of these hits, Noble, Bowlly, and manager Bill Harty journeyed to America in 1934, settling in New York City and putting together a musical aggregation that included Glenn Miller at one time (on trombone). Though Noble's orchestra achieved some success, particularly appearing in Damsel in Distress, their engagements at NYC's The Rainbow Room never really duplicated the fame Ray had achieved in England and so the band broke up, with Noble venturing out to Hollywood to embark on a further career as a radio conductor.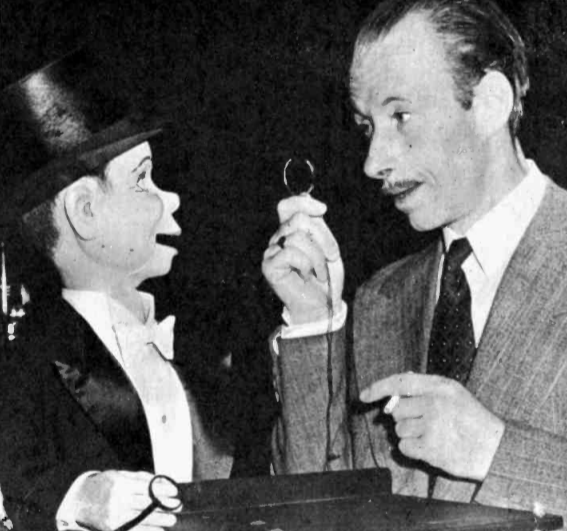 Ray Noble had acquired experience over the airwaves before settling into his long association with Edgar Bergen. Before the move to Tinseltown, Noble and Orchestra headlined a Wednesday night show on NBC from February to October 1935 for Coty Cosmetics. Then from October 1935 to April 1936, the band moved to CBS (on the same night) for Refreshment Time, a series sponsored by Coca-Cola and fronted by vocalist Connee Boswell. (A kind of preview of Edgar Bergen's later association with Coke from 1949 to 1952.) Ray's work on Damsel in Distress brought him to the attention of George Burns and Gracie Allen (who co-starred with Fred Astaire in that film classic); he was their bandleader for a few months in 1937 and then assumed the position more permanently from 1938 to 1940. In 1939, Noble took over for Robert Armbruster on The Chase & Sanborn Program and pretty much became identified with Edgar Bergen, Charlie McCarthy, Mortimer Snerd, and the rest of the gang for the biggest portion of his career. Other items on Noble's radio resume include The CBS Radio Workshop, The Fitch Bandwagon, The Fred Allen Show, Mail Call, The Nash-Kelvinator Musical Showroom (The Andrews Sisters), Paul Whiteman's Musical Varieties, and Suspense (two dramatic showcases in the late 50s!).

A Damsel in Distress was Ray Noble's major movie role of note, although he also makes appearances in The Big Broadcast of 1936 (1935), The Pride of the Yankees (1942; Noble did the orchestration for this one), Here We Go Again (1942; a movie featuring his radio boss, Edgar Bergen), Lake Placid Serenade (1944), and Out of This World (1945). Although Edgar Bergen never really tried to duplicate his radio success on the small screen, he did do a pilot in 1950 entitled Edgar Bergen with Charlie McCarthy that Ray was a part of and the bandleader also made appearances on Words and Music and The Jack Benny Program. After his amicable parting with Bergen, Ray Noble retired to Santa Barbara, California and later passed away from cancer in April of 1978 at the age of 74. His musical legacy was a rich one, however; he would be inducted into The Big Band and Jazz Hall of Fame in 1987 and The Songwriters Hall of Fame in 1996.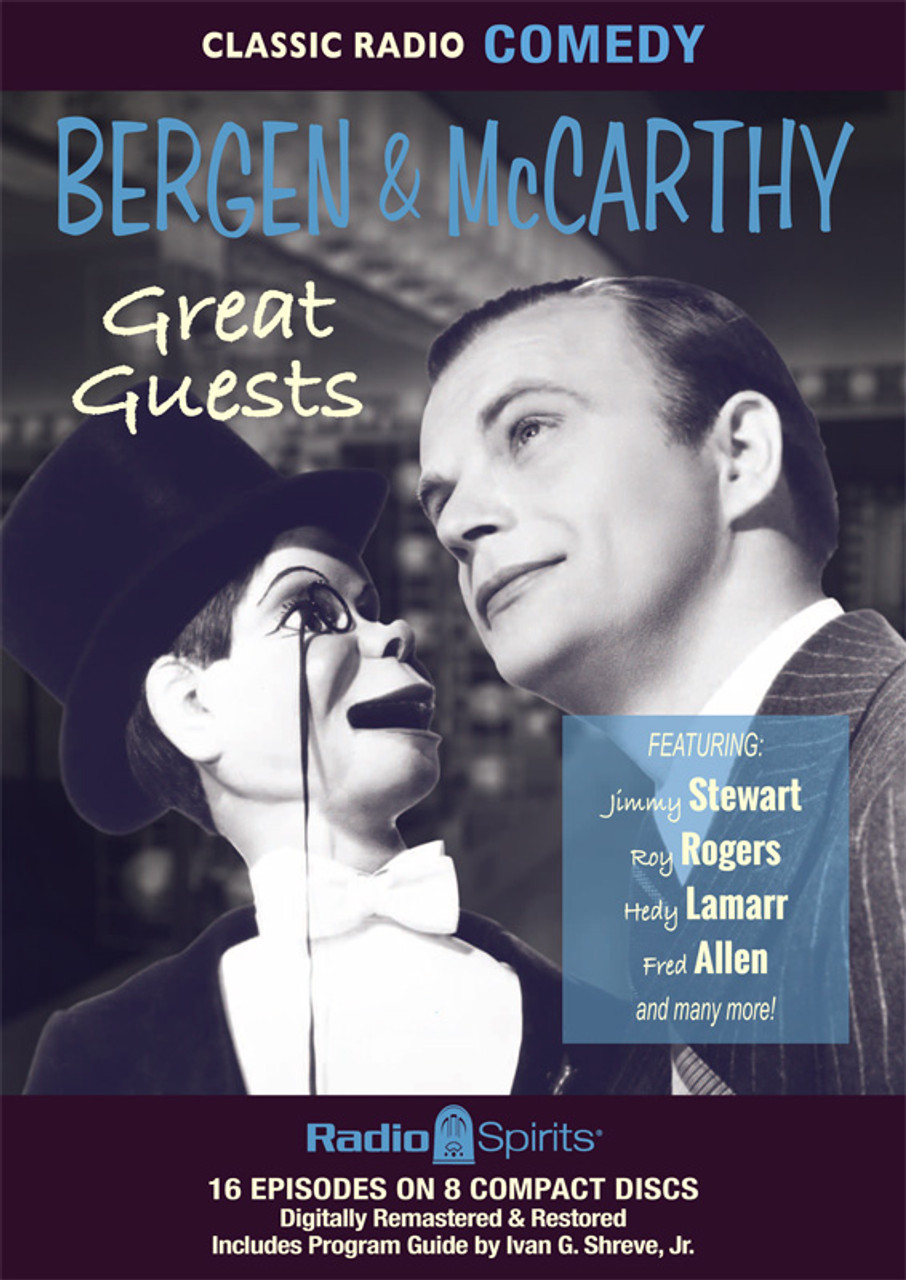 Here's another trivial tidbit about today's birthday boy with which you may not be familiar: the music for On Stage, the dramatic anthology series starring Elliott and Cathy Lewis, was composed, and conducted by Ray—he also wrote the show's signature tune, The Cathy and Elliott Theme. You can check out his handiwork on our On Stage collection, available in the Radio Spirits store. We've also got Ray's bantering with Edgar and Charlie in the Bergen-McCarthy sets Famous Friends and The New Edgar Bergen Hour, along with Great Guests, our newest Edgar & Charlie release (I wrote the liner notes for this one), and the compilation collections Great Radio Comedy and Great Radio Christmas. In our digital downloads bazaar, there's more Bergen and McCarthy in Homefront Charlie, Knock on Wood, Ladies' Men, Smile a While, and W.C. Fields and Friends as well as Christmas On the Air, Christmas Radio Classics, Comedy Goes West, The Fred Allen Show, and Happy Halloween! Happy birthday to the incomparable Ray Noble!