Posted by Ivan G. Shreve, Jr. on May 26th 2022
Edward Kennedy "Duke" Ellington said it better than anyone possibly could: "If I'm the duke, man, Peggy Lee is the queen." Sir Duke went on to further note: "I consider her as great a musician as Frank Sinatra, who in that world is king." Ellington wasn't the only music great to compare the woman born Norma Deloris Egstrom on this date in 1920 to the Chairman of the Board; Tony Bennett tagged Peggy as "the female Frank Sinatra." And how did Lee's lifelong chum Francis Albert weigh in? "Peg is just about the best friend a song ever had," Sinatra asserted. The vocalists who acknowledge Peggy Lee's musical influence stretch from Adele to Madonna to k.d. Lang, who gushed: "I view her as my finest teacher of vocals."
Born the sixth of seven children in Jamestown, North Dakota, music provided a release for the young Peggy Lee. Her mother passed away when she was four, and her father's new wife physically and mentally abused her stepdaughter until Peggy left home at the age of 17. Lee started her musical career while she was still an adolescent, performing on KOVC, a Valley City radio station on weekends (her family lived in nearby Wimbledon at the time). She won an audition at WDAY in Fargo, but the program director informed her that she needed to lose the "Norma Deloris Egstrom"—"Peggy Lee" would be her new professional name..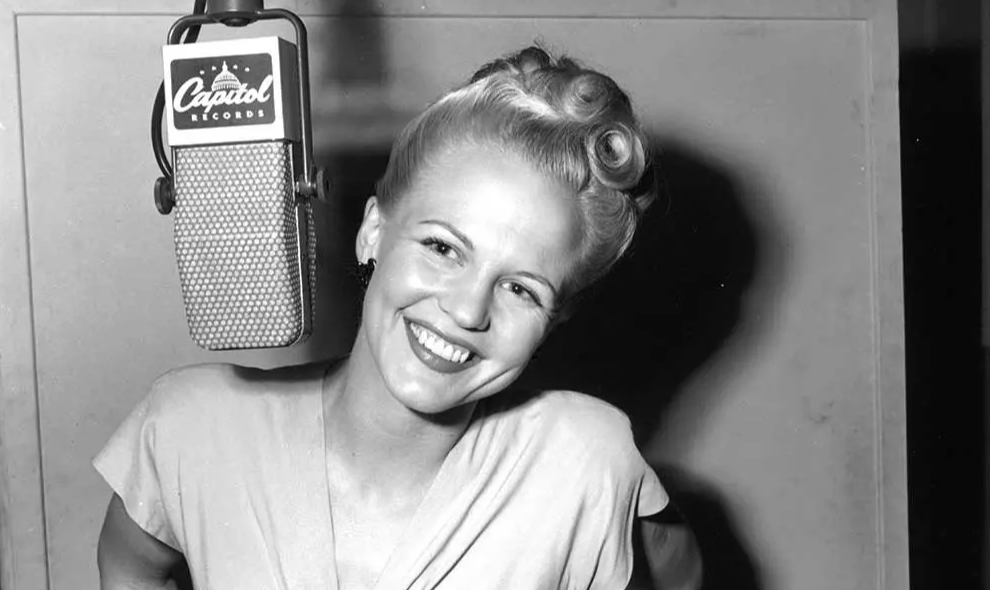 Peggy Lee relocated to Hollywood in 1938, working odd jobs such as short order cook/waitress and carnival barker. A necessary tonsillectomy found her back in Fargo the following year, and she was later hired as the resident vocalist at Fargo's Powers Hotel. She was back in Hollywood by 1940, working at a place called The Doll House in Palm Springs. This would lead to a gig at The Buttery Room, a nightclub in Chicago's Ambassador Hotel West. It was there that Lee met bandleader Benny Goodman, who was so bowled over by her talent that he hired her to be his band's vocalist in August of 1941.

Peggy Lee's singing career took off with her stint with the Goodman orchestra, charting hits like I Got It Bad and That Ain't Good and Blues in the Night. Somebody Else is Taking My Place would reach the top spot of the charts in 1942, and Why Don't You Do Right? would hit the Top Five the year after. Peggy was only with Benny Goodman for two years but her work with the bandleader opened quite a few doors for her on radio, allowing her to appear on such programs as Matinee at the Meadowbrook and Over Here. On her own, Peggy became a formidable presence on the music charts with Waitin' For the Train to Come In, I Don't Know Enough About You (one of Peggy's many self-composed songs), It's All Over Now, Golden Earrings, and the chart-topping Mañana (which sold two million copies in 1948).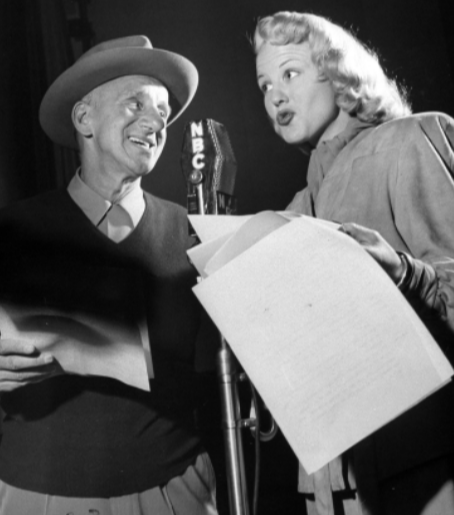 With popular record releases, radio was sure to beckon. Peggy Lee was a favorite guest of Der Bingle himself, appearing on The Kraft Music Hall when Bing was still the emcee (and she would later stop by the Hall to sing with Jolie) as well as his programs Philco Radio Time and The Bing Crosby Show. Bing's brother Bob also welcomed Peggy as his guest on The Bob Crosby Show. 1947 would be a busy year for Lee when it came to the aural medium: she had summer stints on The Electric Summer Hour and Rhapsody in Rhythm, and in the fall became the resident female vocalist on The Jimmy Durante Show. Peggy took over one of Jo Stafford's regular weekly appearances on The Chesterfield Supper Club in 1948 (Jo wanted to cut back on her schedule), and the following year was the host of the popular variety quarter-hour. In 1952, she hosted her own quarter-hour of music for CBS.

Other venues on Peggy Lee's radio resume include The Adventures of Ellery Queen, The Benny Goodman Music Festival, The Big Show, The Bob Hope Show, The Carnation Contented Hour, Command Performance, Duffy's Tavern, The Edgar Bergen & Charlie McCarthy Show, The Ford Show, G.I. Journal, Jubilee, Meet Me at Parky's, Music Depreciation, and Songs by Sinatra.
"I loved acting, but my agents never brought me scripts," Peggy Lee once remarked. "I was worth a lot more to them on the road." Her early movie career began, of course, while she was still the vocalist for Benny Goodman's orchestra, making appearances in The Powers Girl and Stage Door Canteen (both 1943). She provided vocals for a pair of George Pal's "Puppetoons" (Jasper and the Beanstalk and Jasper in a Jam) and played "Peggy Marsh" in a Paramount Musical Parade two-reeler, Midnight Serenade (1947; singing It's a Good Day, which she co-wrote with her then husband, Dave Barbour). Lee also appeared in the Bing Crosby movie musical Mr. Music (1950) and alongside Danny Thomas in the 1952 remake of The Jazz Singer..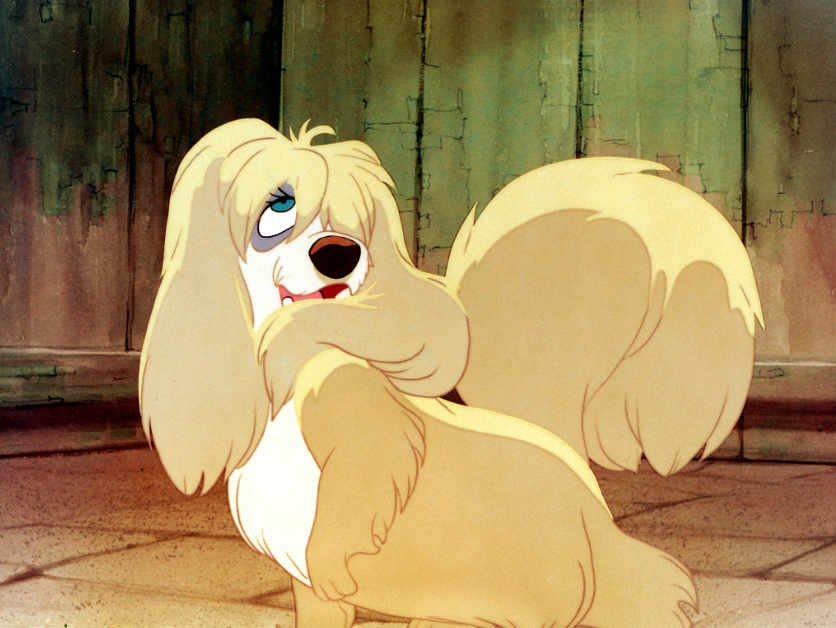 1955 was a big year for Peggy Lee on the silver screen. She received an Oscar nomination as Best Supporting Actress for Pete Kelly's Blues (1955), a movie version of the 1951 radio series created by and starring Jack Webb. But Lee's best-remembered movie work was in an animated feature released that same year: Walt Disney's Lady and the Tramp. In this canine classic, she voiced several characters, including a pair of Siamese cats and a female dog named Peg (who copied more than a few of Peggy's mannerisms.) In fact, Lee co-wrote the lyrics to many of the songs in the movie, notably Bella Notte. In 1987, when Lady and the Tramp was released to videocassette, Peggy requested performance and song royalties on the sales of the film. She wound up taking the Disney Corporation to court and was eventually awarded a $2.3 million settlement.
Peggy Lee continued to rack up hits on the record charts with notable releases like Bali Ha'i, Riders in the Sky, Lover, and one of her best-known recordings, Fever (in 1958). Though her last big pop hit was in 1969 with the immortal Is That All There Is? she continued to record albums and perform at sold-out concerts despite health issues that threatened to slow her down. (She had to perform from a wheelchair in later years.) She did all the big TV variety shows: Jackie Gleason, Dinah Shore, Steve Allen, Perry Como, Andy Williams, etc. Peggy even flexed her thespic muscles as a guest star on series like The Girl from U.N.C.L.E. and Owen Marshall, Counselor at Law. Leaving behind a legacy of 1,100 songs and over 50 record albums, Peggy Lee passed on in 2002 at the age of 81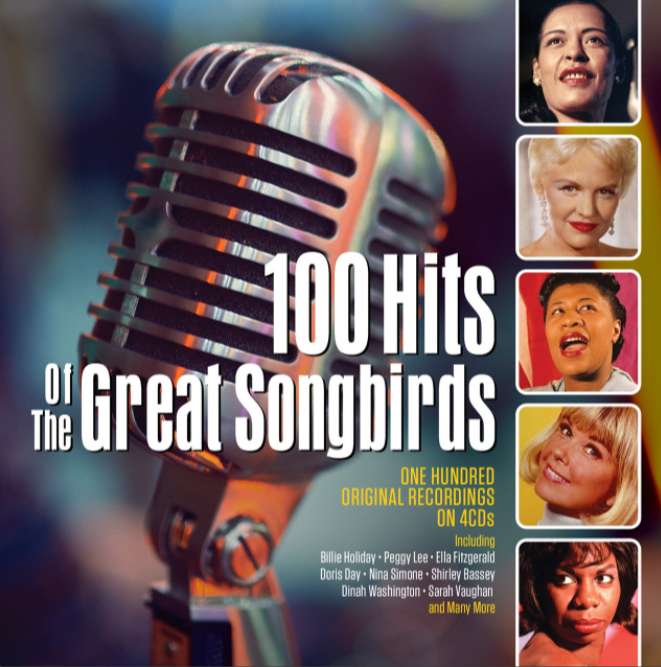 Radio Spirits invites you to celebrate the natal anniversary of one of our favorite songbirds with a purchase of the CD collection The Jimmy Durante Show, showcasing Peggy at her radio best. Peggy is well represented in our CD sets of Top Hits of the '40s, 75th Anniversary VE Day Collection, Heartbreak Hotel: Top 100, 100 Hits of the Great Songbirds, Take It Easy, Golden Oldies, and 100 Wartime Memories. Check out a little Yuletide Peggy on Headin' For the Christmas Ball, 40 Christmas Classics, Here Comes Santa Claus: 29 Swinging Chestnuts, The Best of Christmas, and Jingle Bell Rock. Happy birthday to the incomparable Peggy Lee!