Posted by Ivan G. Shreve, Jr. on May 12th 2022
Before becoming the creator of one of the literary world's most famous sleuths, Leslie Charteris—born in Singapore (at the time, a British colony) on this date in 1907—jokingly "couldn't hold down a job." He worked in a tin mine and on a rubber plantation, prospected for gold, and toiled as both a bartender and a professional bridge player. Charteris' other temporary career paths included working on a freighter, diving for pearls, touring with a carnival, and driving a bus. A lifelong love of writing—he even created his own magazine in his younger days—never left him, however. With the publication of his third novel, Meet the Tiger, in 1928, he introduced the character that would bring him fame: Simon Templar, nicknamed by many "The Robin Hood of Modern Crime." Curiously, Charteris didn't care much for Tiger even though it introduced "The Saint." On occasion, he would erroneously credit Enter the Saint (1930) as the book that introduced Templar.
Leslie Charteris was born Leslie Charles Bowyer-Yin to an English mother (Lydia Florence Bowyer) and a father who was a Chinese surgeon, S. C. Yin (Yin Suat Chwan). Charteris would acquire his new last name in 1926, picking it out of a telephone directory (according to his daughter). While still in Singapore, Leslie attended Saint Andrew's School and then transferred to the Rossall School in Fleetwood, Lancashire upon moving to England. Charteris wrote his first book, X Esquire, while attending King's College in Cambridge in 1926. The author did not hold back on Esquire's merits, calling it "an appallingly bad book." Nevertheless, he left college to pursue a writing career (while sampling various jobs to pay the rent). A second novel, The White Rider, was published in 1928.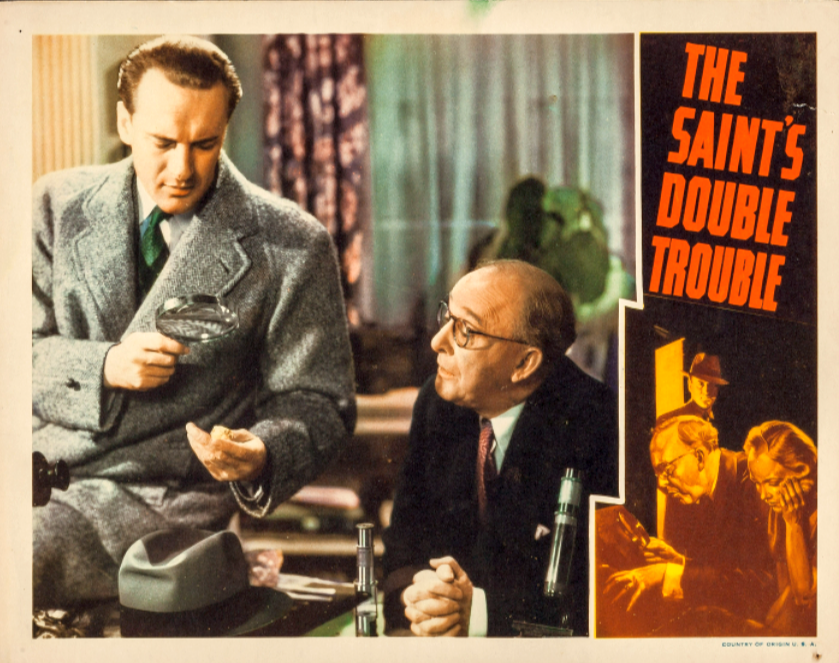 As noted, Leslie Charteris' third novel, Meet the Tiger, really got his writing career underway. Each subsequent "Saint" book became quite popular with Depression-era audiences, owing to its "mix of light humour, sophisticated settings, and story-line emphasising the role of a crusader tackling the forces of evil," as Andrew Lycett wrote in his entry on the author in the Oxford Dictionary of National Biography. Charteris wrote non-Saint novels as well, but his books and short stories about the debonair gentleman thief proved to be his ticket to America, where he relocated in 1932. It took a bit of time for Leslie to become a permanent resident, however, because of the Chinese Exclusion Act—a law that prohibited persons of "50% or greater" Asian blood from immigration. It wasn't until 1946 that Charteris was granted full U.S. citizenship.
While Leslie Charteris was extending his temporary visitor's visa every six months, he continued writing and was employed at Paramount Pictures, where he scripted a 1933 George Raft film, Midnight Club. Charteris' later screenplays include River Gang (1945) and Two Smart People (1946), and he's credited with the story for the 1945 Deanna Durbin comedy-thriller Lady on a Train. Leslie also received credit (as the creator) in the entries of RKO's film franchise based on The Saint, which started in 1938 with The Saint in New York (featuring Louis Hayward as Simon Templar). The second Saint film, The Saint Strikes Back (1939), cast George Sanders as the roguish Templar. In fact, Sanders would play The Saint in four additional films before being replaced by Hugh Sinclair for the final two Saint vehicles, The Saint's Vacation (1941) and The Saint Meets the Tiger (made in 1941 but released in 1943). Charteris was never really happy with what RKO did to his creation, frequently complaining about the screenplays and the liberties taken by the writers. Sanders got bored with playing the same character in the Saint films and, to pacify the actor, RKO turned to a Saint-like series known as The Falcon. An additional film based on Charteris' character, The Saint's Return (titled The Saint's Girl Friday in the U.S.), was released in 1953. However, despite Louis Hayward's return for this film, it's not technically part of the RKO series.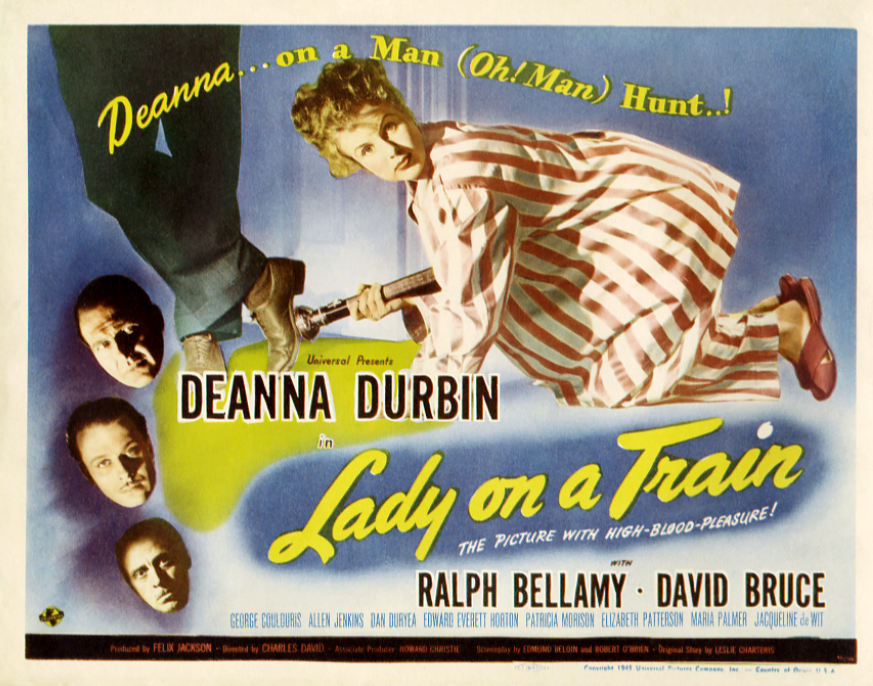 Leslie Charteris would see his literary creation arrive on U.S. radio (there was an earlier Saint series broadcast in 1940 on the BBC Forces Band, with Terence de Marney as Simon Templar) on January 6, 1945 as The Adventures of the Saint. Character veteran Edgar Barrier played Templar in a 13-week series for Bromo Seltzer over NBC. The program would return in June of that same year with Brian Aherne in the title role (it was heard as a summer replacement for The Jack Carson Show on CBS), but the actor most identified with the character's radio run was the legendary Vincent Price—who took on the part beginning July 9, 1947 and finally bowed out on May 20, 1951. Tom Conway, brother of movie "Saint" George Sanders, would close out the radio series on October 14, 1951. Leslie naturally received credit as the Saint's creator, but what you may not know is that he contributed numerous scripts to another classic old-time radio detective drama, The Adventures of Sherlock Holmes…under the pseudonym "Bruce Taylor."

Leslie Charteris' last officially written Saint book (a collection of short stories) would be published in 1963, The Saint in the Sun. Subsequent books, like Vendetta for the Saint (released in 1964), were credited to Charteris but actually written by others (Vendetta was penned by Harry Harrison, a science fiction author). Leslie did keep his hand in Saint publications (including the digest The Saint Mystery Magazine) until 1983 when Salvage for the Saint was released. From 1928 to 1983—a span of 55 years—Charteris either wrote or edited Simon Templar's literary exploits, equaling his fellow mystery author Agatha Christie (who did a similar thing with Hercule Poirot). Leslie would live long enough to see Simon Templar be the focus of a long-running TV series in the 1960s (starring Roger Moore) and a revival series in 1978-79 (Return of the Saint, starring Ian Ogilvy). (Charteris has a brief cameo in the two-part "Collision Course" episode of Return, a la Alfred Hitchcock). Leslie Charteris died at the age of 85 on April 15, 1993.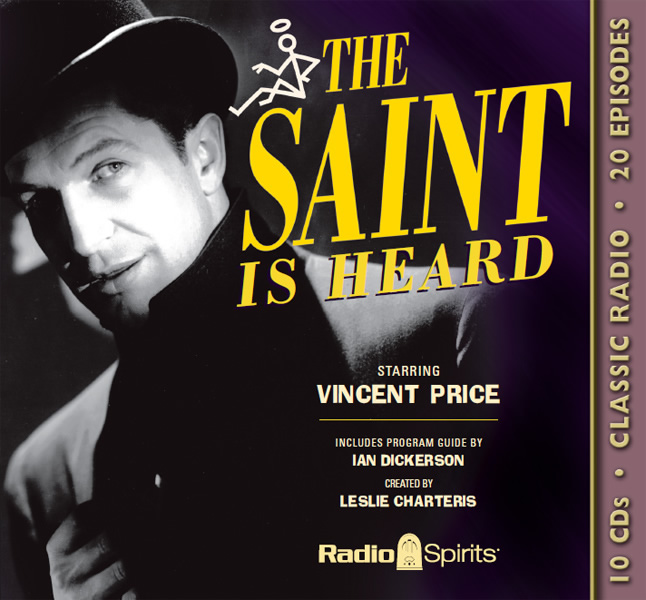 Radio Spirits invites you to celebrate Leslie Charteris' natal anniversary with two collections of The Adventures of the Saint from our voluminous CD library: The Saint is Heard and The Saint Solves the Case. You'll also find a vintage Saint broadcast ("The Horrible Hamburger" from September 10, 1950) on our private eye compendium Great Radio Detectives, and a very interesting reference on Simon Templar's radio career in the must-have book The Saint on the Radio. There's more Saint in our digital downloads store, The Saint Goes Underground, and you can hear some Yuletide Templar ("Santa Claus in No Saint" from December 24, 1950) on Christmas Radio Classics. Happy Birthday, Leslie!