Posted by Ivan G. Shreve, Jr. on Apr 16th 2021
In 1938, aspiring actress Joan Alexander found herself in Vienna after a lengthy tour of major cities in North America, Latin America, and Europe while studying her craft. The former model was under the tutelage of renowned director-acting coach Benno Schneider, which necessitated her frequent flier miles, yet her decision to return to America was heavily influenced by the inconvenient arrival of Adolf Hitler's troops into the city. The woman born Louise Abrass on this date in 1915 in St. Paul, Minnesota had no regrets with regards to her globetrotting, having become acquainted with Yugoslavia, England, and France during her travels. "I even got to Casablanca before President Roosevelt and Humphrey Bogart put it on the map," she joked to Radio Mirror in March of 1947.
Joan Alexander was certainly no stranger to the European continent at that point in her life. Her stepfather took her on her first visit to Europe when she was eight years old (he owned a linen factory in Madeira). When she wasn't traveling, Joan attended parochial schools in Brooklyn and Brentwood, Long Island (the family relocated to Brooklyn after Joan's mother remarried), hoping to fulfill her dream of being a concert pianist. Instead of putting in hours of practice, however, Alexander got distracted by outside activities like tennis and swimming. Joan then decided to transfer her ambitions to acting. The story goes that Alexander persuaded a down-on-his-luck producer to give her a part in a play (Are You Decent?)…as long as she was able to supply the wardrobe needed for all the women in the production. (It took a great deal of cajoling the owners from a number of shops where she had previously purchased clothes—but she fulfilled her part of the bargain.)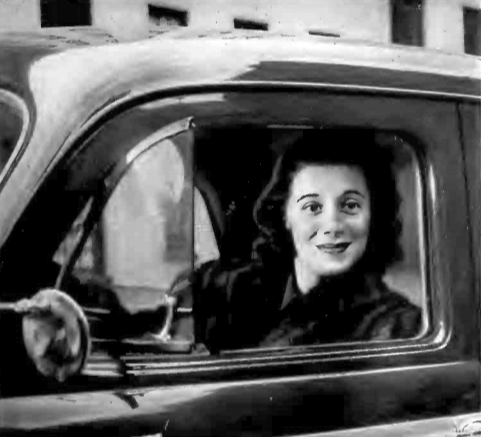 Joan Alexander took on modeling gigs while working in several stock companies and appearing on Broadway. (She performed in Jeremiah for the Theatre Guild, as well as in Merrily We Roll Along and Mr. Hamlet.) When a serious automobile accident scotched plans to further pursue her acting career in Hollywood, her friend Madeleine Carroll suggested Alexander try her luck in radio. An unnamed producer (who Joan would later work with) told her after her first audition that she wasn't any good, but she kept at it. One of the most fulfilling moments in Alexander's career, she once confessed, was auditioning against a hundred other actresses for a radio part she wanted very much…and got.
One of Joan Alexander's earliest radio jobs was portraying "Mrs. Humphries" on the CBS daytime drama A Woman of Courage. As one of the medium's busiest performers, Joan had recurring gigs on the likes of such "washboard weepies" as Against the Storm (as Nicole Scott), Bright Horizon (as Carol West, a character she also played on A Woman's Life), The Brighter Day (Althea Dennis), Lone Journey (Lynn Alexander), Perry Mason (Della Street), Rosemary (Audrey Roberts), The Second Mrs. Burton (Marion Burton Sullivan), This is Nora Drake (Peg Martinson), Wendy Warren and the News (Maggie Fallon), and Young Doctor Malone (Tracy Adams Malone). Other soaps on which Alexander made the rounds include David Harum, The Light of the World, The Open Door, and The Right to Happiness.
Joan Alexander also appeared regularly on programs such as The Man From G-2, Leave it to Mike, and The Adventures of the Falcon—on which she suffered the small indignity of portraying girlfriend Nancy…who had no last name. (It was worse on G-2: she was identified only as "The Girl.") On Philo Vance, Alexander portrayed the titular sleuth's assistant, Ellen Deering. Joan's most memorable role was emoting as determined reporter Lois Lane on The Adventures of Superman, the radio exploits of the famous comic book superhero. She was so well-identified as Lois that she would join her Superman co-stars Clayton "Bud" Collyer and Jackson Beck in lending their voices to the series of Superman theatrical cartoons produced by Max Fleischer/Famous-Paramount Studios between 1941 and 1943. (The trio would also reprise their roles in The New Adventures of Superman, a Saturday morning CBS-TV animated series that aired from 1966 to 1968.)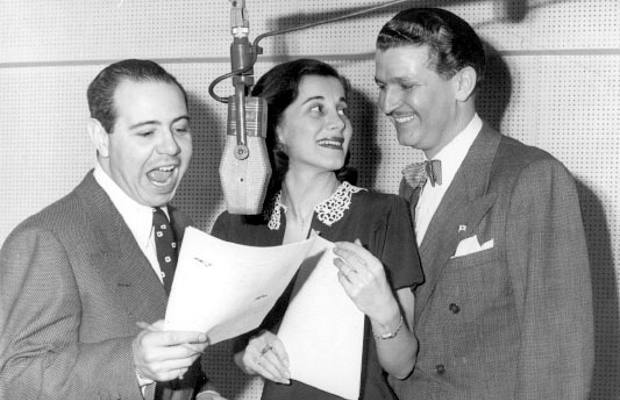 Joan Alexander's radio resume includes appearances on the following programs: Armstrong's Theatre of Today, The Author Meets the Critics, Barrie Craig, Confidential Investigator, Best Plays, The Big Story, The Cavalcade of America, Columbia Presents Corwin, The Columbia Workshop, Crime Club, Dimension X, The Eternal Light, Fantasies From Lights Out, It's Murder, Mr. and Mrs. North, Mr. President, The New Theatre, Nick Carter, Master Detective, The Shadow, Studio One, Theatre Of Romance, This is My Best, This is Your FBI, Under Arrest, Words at War, and X-Minus One.
Joan Alexander's Superman co-star Bud Collyer later cemented his television fame as the host of such popular game shows as Beat the Clock and To Tell the Truth. Joan went a similar small screen route; from 1951 to 1955, she was the stationary panelist on The Name's the Same, hosted by Robert Q. Lewis (1951-54). (She was joined at various times by fellow radio veterans Abe Burrows and Meredith Willson.) Alexander would later go into semi-retirement (her third husband was Arthur Stanton, the man responsible for bringing the Volkswagen Beetle to these shores), with a brief return to Broadway in 1964, appearing in Poor Richard (written by Jean Kerr). Joan succumbed to an intestinal blockage in 2009 at the age of 94.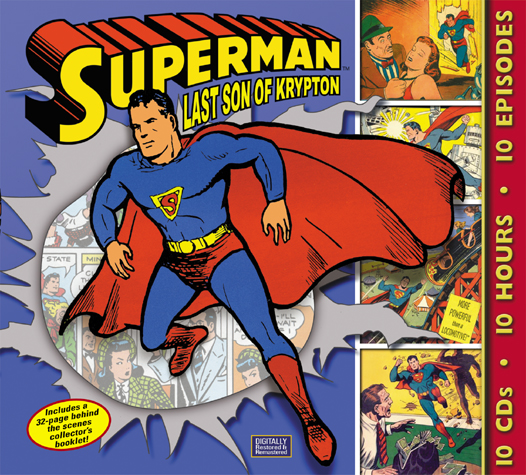 Radio Spirits has on hand two collections of The Adventures of Superman, Last Son of Krypton and Up! Up! And Away, that features today's birthday celebrant in her signature radio role. You can also listen to Joan on our two Dimension X compendiums, Adventures in Time and Space and Future Tense. In addition, check out Ms. Alexander on Barrie Craig: Song of Death, The Big Story: As It Happened, Crime Club, The Falcon Solves the Case, This is Your FBI: National Security, and Words at War: World War II Radio Drama. We have The Falcon: Count Me Out Tonight, Angel and Philo Vance in our digital downloads store as well! Happy birthday, Joan!