Posted by Ivan G. Shreve, Jr. on Mar 28th 2023
The actor fondly remembered by old-time radio fans as the reporter who covered the "night beat" for the fictional Chicago Star was born on this date in 1912. OTR devotees take pride in being able to identify certain voices while listening to broadcasts from long ago…and Frank Lovejoy had one that was unmistakable. From his earliest beginnings on radio soap operas in the 1930s to his later TV and movie showcases, Lovejoy's voice projected an authoritarian, no-nonsense presence—coupled with a versatility that kept him from being too overbearing—making him what many have described an "everyman."
Lovejoy was a native of The Bronx but spent most of his formative years growing up around New Jersey. Had it not been for the stock market crash in 1929, Frank might have pursued a lucrative career on Wall Street—instead, he drifted into show business, making stage appearances on Broadway in 1934. He supplemented that with a lot of radio work, appearing on serialized programs like The Adventures of Jungle Jim and Superman; daytime dramas such as The Life of Mary Sothern and Betty and Bob; and nighttime favorites such as Gang Busters. One of Frank's better-known gigs at this time was starring in a syndicated Green Hornet knock-off called The Blue Beetle, in which he played a rookie patrolman given superpowers and a secret identity to fight crime.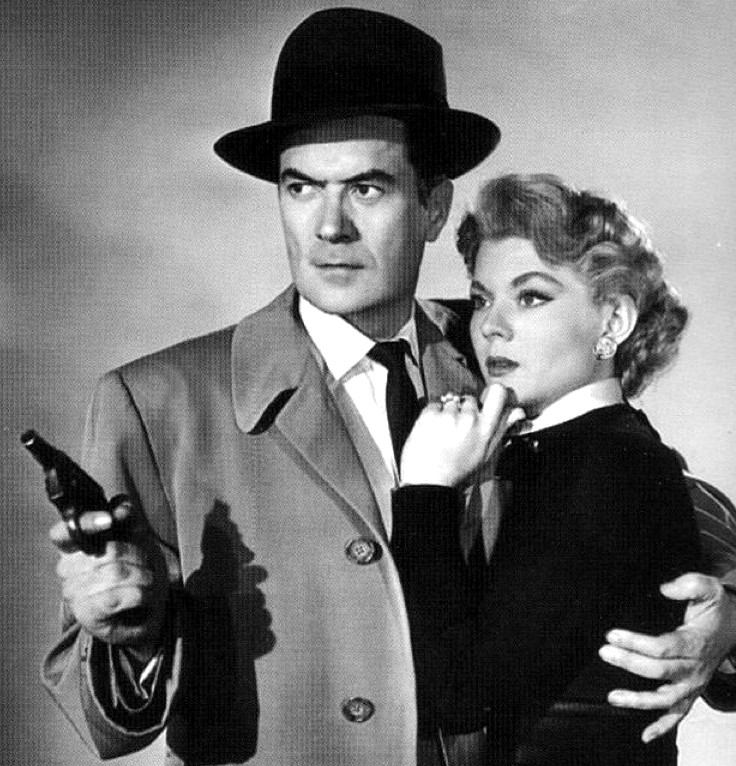 Frank acquired a reputation as a dependable actor on the "soaps," regularly appearing on Brave Tomorrow, Bright Horizon, Joyce Jordan, M.D., Today's Children and We Love and Learn, among others. He was also a mainstay on crime dramas; he played Lt. Bill Weigand on Mr. and Mrs. North in its early years, and later starred in a series based on Craig Rice's literary sleuth John J. Malone in the series Murder and Mr. Malone (also known as The Amazing Mr. Malone) on ABC from 1947-49. Lovejoy worked alongside radio greats like Arch Oboler (Arch Oboler's Plays, Lights Out) and Norman Corwin (The Columbia Workshop, Twenty-Six by Corwin), and on wartime series like This is Our Enemy and The Man Behind the Gun. In the early New York years of This is Your F.B.I., Frank served as the program's narrator. Other programs on which he could be heard included Box 13, Escape, Mr. District Attorney, The Molle Mystery Theater, Romance, Suspense and The Whistler.
It was the dramatic program Night Beat, however, that would cement Frank Lovejoy's radio fame. Though its run was relatively brief (1950-52), the hard-hitting newspaper drama about a Chicago reporter named Randy Stone, and his adventures on the swing shift, remains one of the most underrated programs from Radio's Golden Age. Nearly 100 broadcasts have been preserved for today's listeners, who may still enjoy a show that features both humorous and tragic stories…and fine acting turns from many of Radio Row's thespic veterans, including Ted de Corsia, Jeanne Bates, Lawrence Dobkin, Lurene Tuttle, William Conrad and Joan Banks (a.k.a. Mrs. Frank Lovejoy).
By the time Night Beat premiered on NBC Radio in 1950, Frank was already starting to stake out a film career. His motion picture debut was in 1948's Black Bart…and though the actor appeared in a number of well-received movies, among them Home of the Brave (1949), Goodbye, My Fancy (1951), and The Winning Team (1952), Lovejoy occasionally had difficulty transferring his radio strengths to a visual medium. He often came across as sort of a stiff (if effective) hero in such films as I Was a Communist for the F.B.I. (1951), House of Wax (1953), and the camp classic Shack Out on 101 (1955). But Frank was capable of rising to the occasion with solid performances in movies like In a Lonely Place (1950), in which he plays Humphrey Bogart's detective pal, and The Hitch-Hiker (1953), which finds him and Edmond O'Brien menaced by the titular villain, played by William Tallman. Lovejoy's best performance remains that of his Average Joe who finds himself inescapably tangled with hardened criminal Lloyd Bridges in the 1950 noir Try and Get Me! (also known as The Sound of Fury). Released to VHS in the 1990s, the title was out-of-print for many years until it underwent a restoration by the Film Noir Foundation and saw a DVD release from Olive Films in 2016.

Frank Lovejoy also made inroads on the small screen, as a guest star on such programs as Lux Video Theatre (a 1950 performance in "Double Indemnity" got Frank nominated for an Emmy), Four Star Playhouse, and The Loretta Young Show. His most prominent boob tube work was as the star of Meet McGraw (The Adventures of McGraw), on which he played a hard-hitting detective who couldn't afford a first name. (Okay, a little levity there.) The series had an old-time radio feel to it…which might possibly be due to the fact that it was created by future film director Blake Edwards, who was also responsible for such radio hits as Richard Diamond, Private Detective and The Lineup.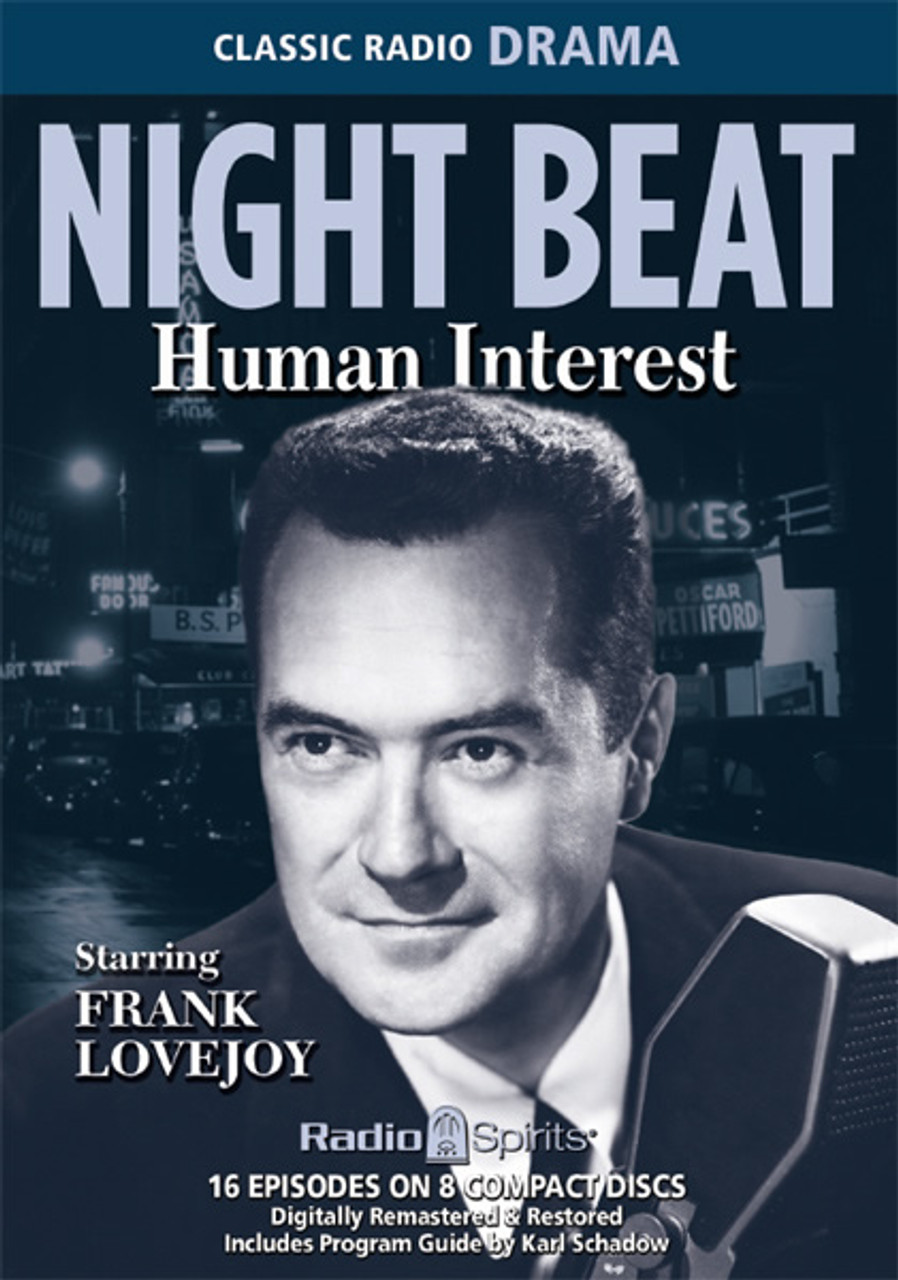 Frank Lovejoy was only fifty years old when he succumbed to a heart attack on October 2, 1962. But the actor left behind a rich legacy of radio performances, many of them available on the Radio Spirits Night Beat collection Human Interest. As one of "Whistler's children" (the nickname given to those performers who frequently appeared on The Whistler), Lovejoy can also be heard on Dark Moon, Grave Secret, Murder in Haste, and Root of All Evil. You can also hear Frank's unmistakable voice on Box Thirteen, Dragnet:Get 'Em, Escape Classics, Hopalong Cassidy: Out From the Bar 20, The Phil Harris-Alice Faye Show: The First 20 Episodes, and This is Your FBI: National Security.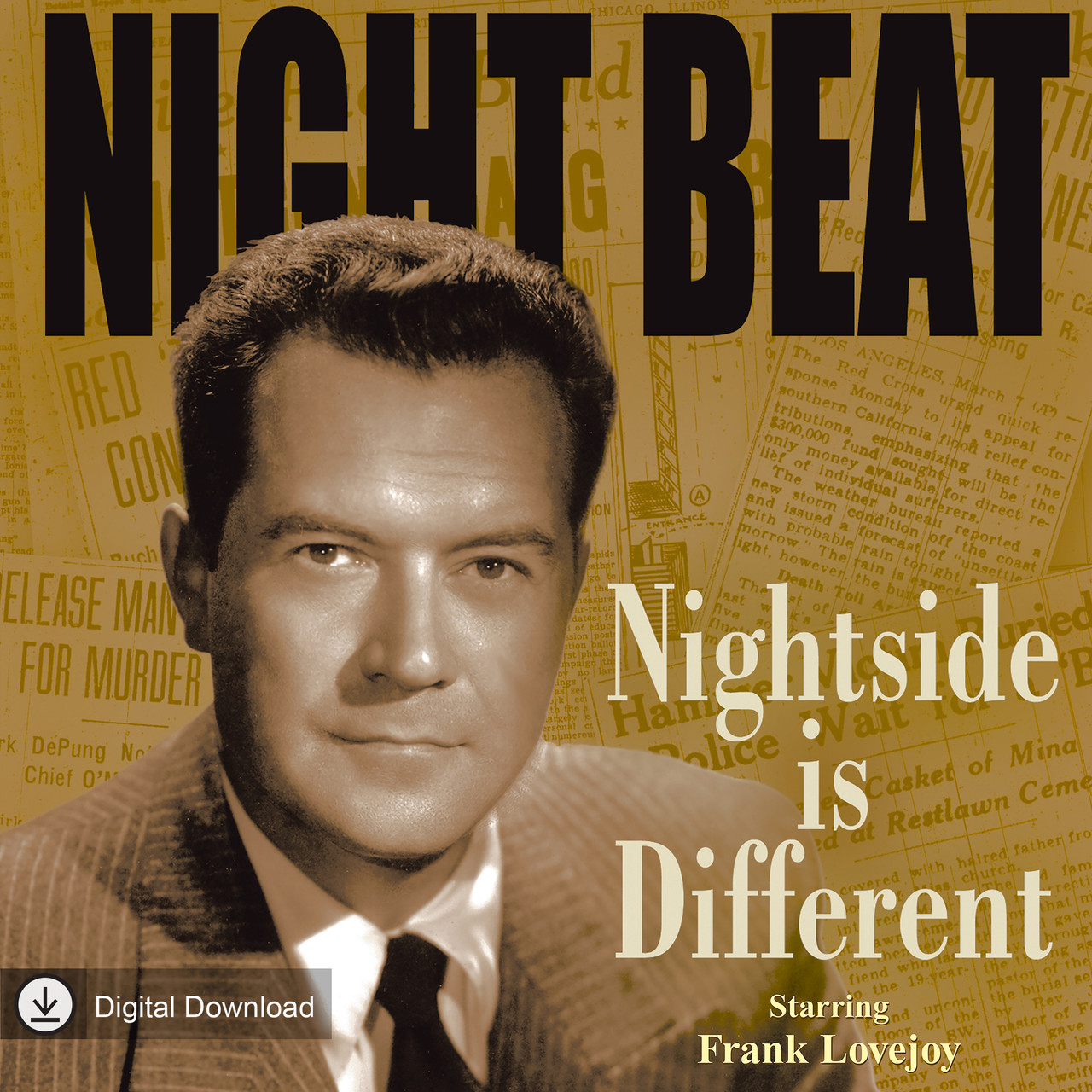 In our digital downloads store, you'll find more of our birthday boy's signature series in the Night Beat compendiums Lost Souls, Nightside is Different, and two Night Beat broadcasts on Stop the Press! Tales of Reporters On the Radio. There's also more Frank in the Escape sets Escape to the High Seas and The Hunted and the Haunted and the Boston Blackie collections Friend or Enemy and Hypnotic Murder. Rounding out our love for Lovejoy are The Damon Runyon Theatre: Dolls and Guys and Broadway, The Haunting Hour, Hopalong Cassidy: Bullets on the Range, Lights Out Everybody, The Molle Mystery Theatre: Nightmare, Suspense: Classics, The Weird Circle: Toll the Bell, and The Whistler: Impulse. Happy birthday to you, Frank!