Posted by Ivan G. Shreve, Jr. on Sep 13th 2022
The man born Richard Benjamin Haymes in Buenos Aires, Argentina on this date in 1918 was at one time a serious rival to Bing Crosby and Frank Sinatra in the pop music arena of the 1940s. Ironically, it was The Chairman of the Board himself who introduced Dick Haymes to radio listeners in 1942 as the new vocalist for the Tommy Dorsey Orchestra (Haymes, like Sinatra, had also sung with the Harry James Orchestra). With chart-topping hits like It Can't Be Wrong, You'll Never Know, and I'll Get By, Dick was on his way to becoming one of the nation's most successful crooners—not to mention landing prominent roles in motion pictures like Irish Eyes are Smiling (1944) and Diamond Horseshoe (1945). As you've no doubt ascertained from his music and movie success, Haymes did all right for himself on radio as well.
Because Dick Haymes was born in Argentina to a father and mother of English descent, he was not an American citizen. (This would present a few problems later in life, as we will eventually see.) Brought to the United States by his parents while he was still an infant, Dick's musical training was supervised by his mother Marguerite, a vocal coach and instructor. She insisted he learn to sing in French, Spanish, Italian, and Latin while he was still attending school. Haymes was interested in singing on the radio and often auditioned at Los Angeles' KHJ for jobs…except he was stymied by the fact that his voice was changing at that time. Dick was a "hoofer" on the vaudeville stage for a time and enjoyed a stint as a vocalist with Bunny Berrigan's band. Haymes had his own five-piece musical aggregation ("The Katzenjammers") after that but as he related to Radio Life in 1947: "I ran out of money and the band folded."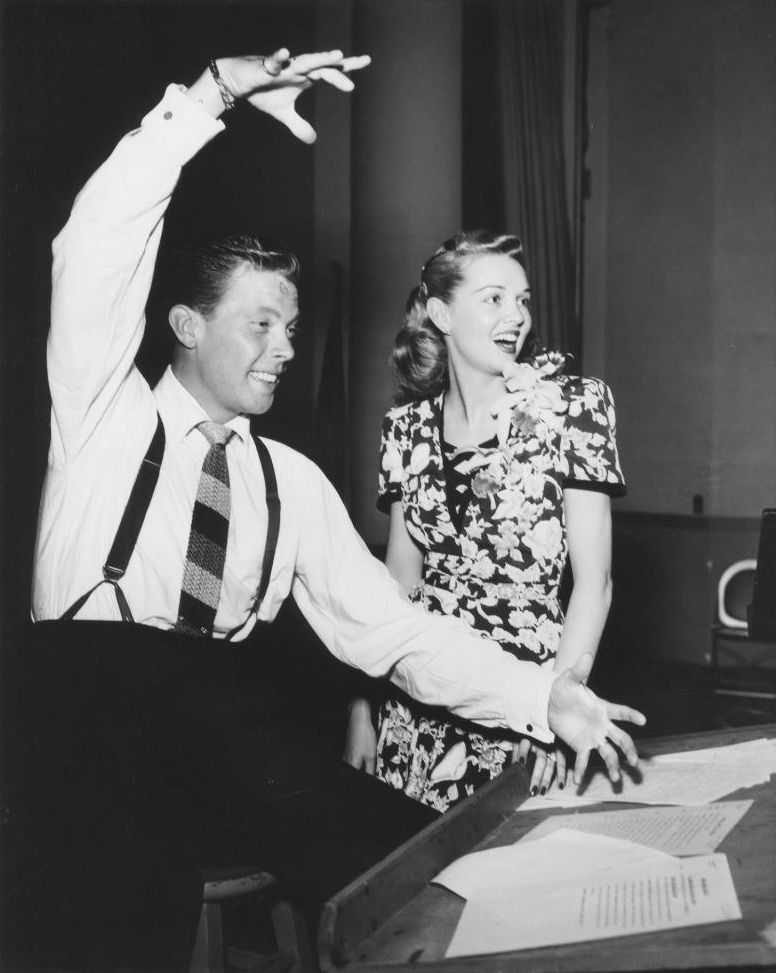 Dick Haymes eventually found work in Hollywood as a film extra and stunt man (the IMDb notes he's in Mutiny on the Bounty [1935] and Dramatic School [1938]), but he moved to New York City at the age of 19 in the hopes of becoming a songwriter. Instead, bandleader Harry James wanted Dick to become the lead vocalist for his new band and Haymes quickly started his meteoric rise to crooner fame with Top Ten hits like Idaho and Take Me, both performed with the Benny Goodman Orchestra. Haymes' song catalog includes such favorites as In My Arms (1943), Put Your Arms Around Me, Honey (1943), Till the End of Time (1945), It Might As Well Be Spring (1945), Mam'selle (1947), and Little White Lies, which became a gold record in 1947. At this same time, Dick established a most successful partnership with female vocalist Helen Forrest, with the pair releasing hit duets in Long Ago (And Far Away) (1944), It Had to Be You (1944), Together (1944), I'll Buy That Dream (1945), and Oh! What it Seemed to Be (1946).

Helen Forrest would join Dick Haymes on Haymes' first successful foray into radio, Here's to Romance, which he took over from vocalist Buddy Clark in July of 1943. Haymes appeared on that program until June of 1944, when he was handed Everything For the Boys, the series that had featured a collaboration between actor Ronald Colman and writer Arch Oboler before relations between the two men went sour. Boys was later retitled The Dick Haymes Show, with Helen Forrest becoming a presence on that program until 1946. Haymes also welcomed as regulars talented singers like Martha Tilton and Lina Romay, and for comic relief Cliff "Charley Weaver" Arquette, who performed in sketches as bewildered floral stand owner Mrs. Wilson. The Dick Haymes Show—which also went by Your Auto-Lite Party as a nod to its sponsor—began on NBC Radio before moving to CBS and ringing down the curtain on July 1, 1948.

Dick Haymes also made multiple appearances on Your Hit Parade in 1947, and from 1949 to 1950 was the host of Club Fifteen and The Carnation Contented Hour. Haymes' most unusual radio stint occurred from November 29, 1950 to July 19, 1951 over ABC as the star of I Fly Anything, in which he played Dockery Crane—"fast-moving, hard-hitting, romantic air cargo pilot." Actor-announcer George Fenneman played Buzz, his co-pilot and sidekick, and Georgia Ellis was June, their office manager. Rounding out Dick's radio resume are appearances on Accent on Music, Command Performance, Family Theatre, The Harold Lloyd Comedy Theatre, Hollywood Star Theatre, It's Time to Smile (Eddie Cantor), The Jack Benny Program (Haymes filled in for Dennis Day on a couple of broadcasts), Jubilee, King for a Night, The Kraft Music Hall, The Lady Esther/Camel Screen Guild Theatre, The Lifebuoy Show (Bob Burns), The Lux Radio Theatre, Mail Call, The Peggy Lee Show, People are Funny, Philco Radio Time (Bing Crosby), The Radio Hall of Fame, Saturday at the Shamrock, Spotlight Revue (Spike Jones), Suspense, and The Tommy Dorsey Show.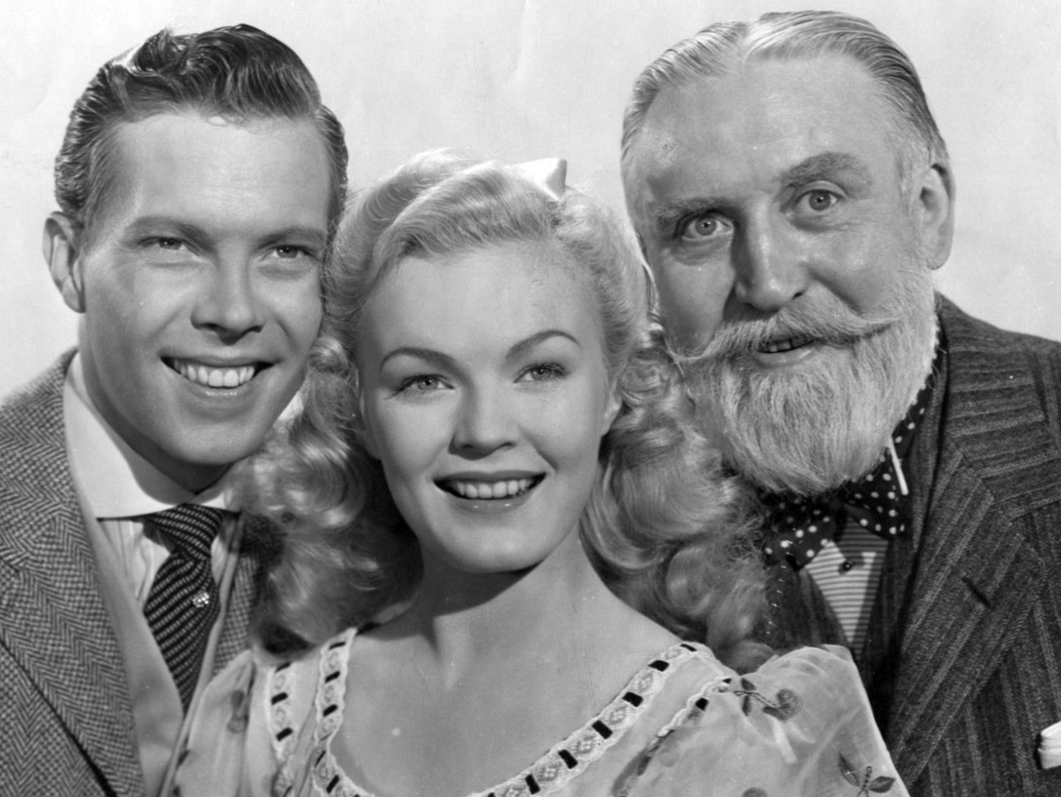 On the silver screen, Dick Haymes made appearances in the likes of DuBarry Was a Lady (1943) and Girl Crazy (1943; as a member of The Pied Pipers) and received his first onscreen credit in the 1944 musical Four Jills and a Jeep. Haymes' best-known film was the Academy Award-winning State Fair (1945), but he also appeared in Do You Love Me (1946), The Shocking Miss Pilgrim (1947), Carnival in Costa Rica (1947), Up in Central Park (1948), One Touch of Venus (1948), St. Benny the Dip (1951), and the poor man's "On the Town," All Ashore (1953). It was during the production of this latter film that Dick amorously pursued Rita Hayworth to the point where he followed her to Hawaii where she was filming Miss Sadie Thompson (1953). Unfortunately, he neglected to inform the immigration authorities, who threatened to deport him to Argentina. Haymes ultimately won the fight to stay in the U.S. and marry Rita (they were husband-and-wife from 1953 to 1955). However, the whole episode reminded folks of an earlier incident during WW2 where Dick avoided the draft by claiming "resident alien" status (both Hedda Hopper and Louella Parsons went to town with that, as you might have guessed). Haymes was ultimately classified as "4-F" due to hypertension.

Some have claimed that the adverse publicity of the Rita Hayworth situation was the main factor in the decline of Dick Haymes' show business career. Truth be told, despite his success and popularity with the record-buying public, Dick was not winning friends and influencing people in his chosen profession (his Hollywood nickname was "Mr. Evil"). Haymes kept a hand in performing in nightclubs with his fifth wife, Fran Jeffries, and occasionally appeared on such TV programs as The Ford Television Theatre and Suspense, not to mention the variety hours of Jackie Gleason and Ed Sullivan. Dick struggled with alcoholism and serious financial problems during this period of his life, but he eventually rebounded and landed work on a lot of popular television programs in the 1970s, including Adam-12, Hec Ramsey, McCloud, and McMillan & Wife. His last small screen credit before his passing in 1980 at the age of 61 was a 1978 episode of the short-lived The Eddie Capra Mysteries.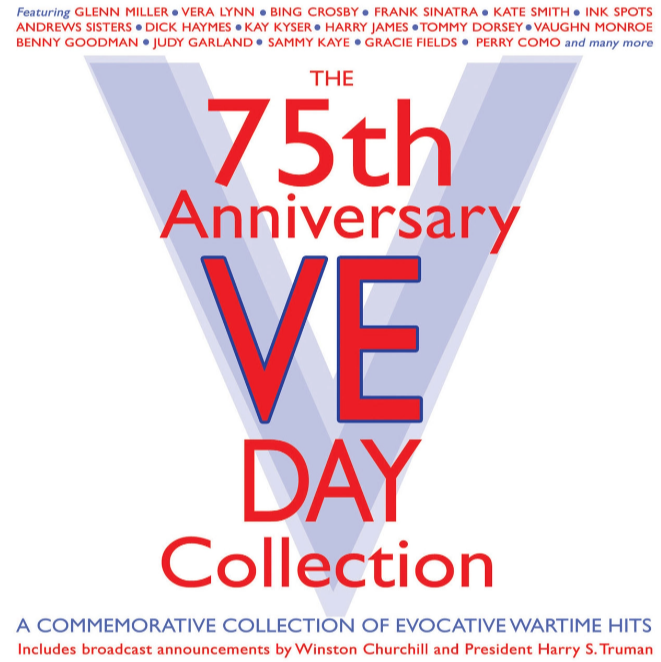 You'll find Dick Haymes' chart-topping classic You'll Never Know on three CD compilations from Radio Spirits: 75th Anniversary VE Day Collection, 100 Wartime Memories, and 100 Hits of the Great Crooners. VE Day Collection also features today's birthday boy dueting with Helen Forrest on Long Ago (And Far Away) and Wartime Memories spotlights the classic duo performing Together. (The song, that is.) You'll also find a little Yuletide Haymes on The Best of Christmas (The First Noel, O Little Town of Bethlehem) and 40 Christmas Classics (Christmas Dreaming). Happy Birthday, Dick!