Posted by Ivan G. Shreve, Jr. on Dec 28th 2022
From 1957 until his passing in 1974, Clifford Charles Arquette—born in Toledo, Ohio on this date in 1905—rarely appeared in public (though there was the occasional exception) while not playing a fictional character known as "Charley Weaver." Cliff created Charley while working in tandem with fellow comedian Dave Willock; the duo appeared on radio as the stars of the self-titled The Dave Willock and Cliff Arquette Show, a program that later transitioned to the small screen. From Jack Paar's The Tonight Show to the daytime game show The Hollywood Squares, Cliff convulsed audiences as the homespun philosopher who read entertaining letters from his "Mamma" back in "Mt. Idy," regaling folks with anecdotes of the town and townspeople. The Weaver phenomenon was such that it gave Arquette his own TV show in 1959 (Charley Weaver's Hobby Lobby), which wasn't too shabby for a performer that had technically retired in 1955.
Cliff Arquette retired in order to dedicate more time to his hobby of woodcarving, but most thespians know it's difficult to get show business out of one's blood. That was certainly the case with Cliff, whose father Charles Augustus Arquette performed in vaudeville. Young Cliff started mimicking from the age of seven the elderly characters Charles played on stage and later formed a successful stage act in "Clark and Arquette." But Cliff would also become the patriarch of an acting family that continues to this very day. His son Lewis also became a character actor (in addition to writing and producing) and is perhaps best known for his role as "Jefferson Davis (J.D.) Pickett" on TV's The Waltons. Lewis's five children (Cliff's grandkids) also entered the acting profession: Rosanna (Desperately Seeking Susan), Richmond (The Curious Case of Benjamin Button), David (the Scream franchise), Alexis (Last Exit to Brooklyn), and Patricia (TV's Medium and winner of a Best Supporting Actress Oscar for 2014's Boyhood).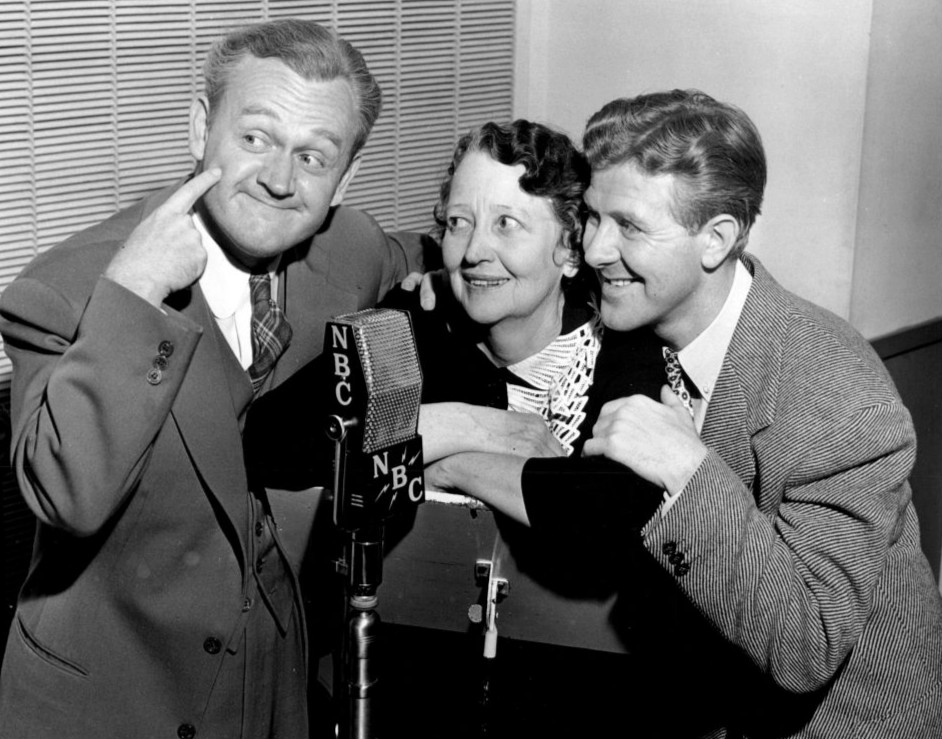 Before performing in vaudeville, Cliff Arquette worked as a cartoonist for a Toledo newspaper, but soon moved west to Los Angeles to focus on a performing career. Cliff played piano in nightclubs (he also joined the Henry Halstead Orchestra) and eventually gravitated toward radio. On the etherwaves, he starred in a syndicated series entitled Cliff and Lolly (the "Lolly" was performer Warren Gale, impersonating "Lolly Grookins"). Cliff later appeared regularly on Musical Memories, portraying "Sheriff Luke Ferguson" in the program's "Welcome Valley" segments. Arquette's first network exposure was on The Packard Hour, which was hosted by Fred Astaire in the beginning before the proceedings were taken over by actor-comedian Charles Butterworth. Cliff played an ersatz-Charley Weaver named "Grandpa Sneed." Cliff was also heard frequently on Fibber McGee & Molly—he was the first actor to portray "The Old Timer" (a role that later became the responsibility of Bill Thompson) and the first to portray a character named "Gildersleeve" (Arquette emoted as "Wallingford Tuttle Gildersleeve" in April of 1936). Cliff would return to work for Jim & Marian Jordan in the fall of 1949 playing "Bessie," a previously talked-about girlfriend of The Old Timer (she affectionately called him "O.T."). Bessie made a handful of appearances on the show before the character was dropped, but Arquette continued on in various supporting roles.
Cliff Arquette played "Thaddeus Cornfelder" on the daytime drama Myrt and Marge and Jack Benny's father on The Jell-O Program. He was a regular on The Rudy Vallee Hour and in January of 1940 took over for Red Skelton on Avalon Time. Arquette's best-remembered radio role was general store proprietor (and mayor) "Ben Willet" on Point Sublime, a comedy-drama that also featured Jane Morgan (as his girlfriend Evy), Earle Ross, Mel Blanc, Verna Felton, and Lou Merrill. Sublime aired on the Pacific Coast networks of NBC and Mutual from 1940 to 1944 and returned to ABC for one last season in the fall of 1947. Cliff also starred on the daytime variety program Glamour Manor from 1944 to 1946, portraying not only the hotel manager but "Captain Billy" and "Mrs. Wilson." This latter character later resurfaced on Dick Haymes' show when Arquette became a regular in the 1947-48 season. Rounding out Cliff Arquette's radio resume are appearances on The Bob Burns Show, Breakfast in Hollywood, Command Performance, Dragnet, Ellery Queen, The Great Gildersleeve, The Halls of Ivy, The Harold Peary Show (Honest Harold), The Honorable Archie, Hopalong Cassidy, I Love a Mystery, The Lum 'n' Abner Show, Mr. and Mrs. Blandings, My Home Town, The Roy Rogers Show, The Whistler, and Wild Bill Hickok.
After appearing briefly on the small screen with Dave Willock in the series Dave 'n' Charley (the two men purportedly improvised most of the content on that program en route to the studio), Cliff Arquette took the Charley Weaver character to The Dennis Day Show (also known as The RCA Victor Show) and a few other venues before deciding on his well-earned retirement. (During his halcyon days in radio, Arquette once noted that he appeared on thirteen different programs in one day!) The story goes, however, that Tonight Show host Jack Paar once asked out loud on a telecast: "Whatever became of Cliff Arquette?" Cliff accepted Paar's invitation to appear on the show and began his stint as a Tonight Show regular as Charley Weaver, reading letters from his "Mamma" ("Things are fine in Mt. Idy…"). Arquette made the rounds on many top-rated variety shows of the day, but he also made non-Weaver appearances on such TV favorites as Dragnet, The Farmer's Daughter, F Troop, The Joey Bishop Show, The Loretta Young Show, and Our Miss Brooks. Cliff Arquette's motion picture resume was pretty thin, though, with appearances in only two films: Comin' Round the Mountain (1940) and Don't Worry, We'll Think of a Title (1966).

A Civil War buff, Cliff Arquette founded the Charley Weaver Museum of the Civil War in Gettysburg, Pennsylvania in 1959. (The museum was later renamed The Soldiers National Museum before it was shuttered in November of 2014). Arquette's last major TV exposure was as a regular panelist on The Hollywood Squares (he occupied the lower left square) and by that time was no longer hearing from "Mamma" or "Mt. Idy" (Weaver was apparently in a retirement home, since he referred to "out at the Home" quite frequently). Cliff suffered a stroke in 1972 that kept him off Squares for a time and while he initially thought he would have to retire for real, he recovered enough to return to the program (though he required the use of a wheelchair). Finally, in 1974, Cliff Arquette would go to his greater reward at the age of 68.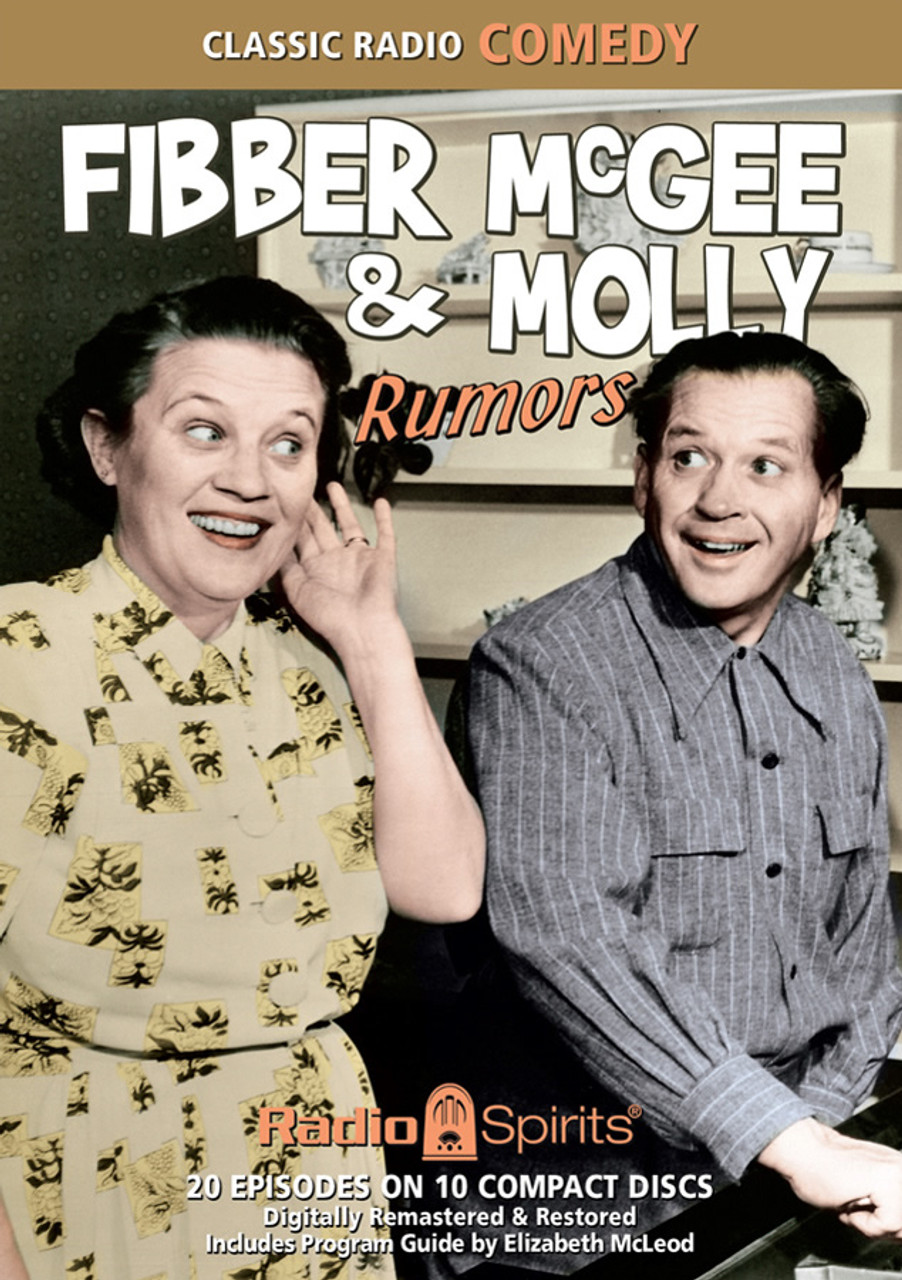 A little known fact about Cliff Arquette is that he recommended Ben Alexander for Dragnet after having such a swell time guesting on that program. That broadcast was "The Big Paper" (08/21/52), and it's available on the Radio Spirits Dragnet set The Big Gamble. In addition, you'll hear today's birthday celebrant on the Fibber McGee & Molly collections Rumors and Selling Kisses. In our digital downloads store, Arquette makes his presence known on Christmas On the Air, Fibber McGee & Molly: Volume 1, The Great Gildersleeve: Marjorie's Wedding, and The Halls of Ivy. Happiest of birthdays to you, Cliff!