Posted by Ivan G. Shreve, Jr. on Nov 30th 2022
"Whatta hunk of woman!" That was Desi Arnaz's initial reaction upon spotting future wife Lucille Ball at R-K-O in 1940, where the two of them would appear in that studio's adaptation of the Broadway musical Too Many Girls. Desi had made a name for himself appearing in the stage hit and was tapped to reprise his role in the motion picture version. Lucy, meanwhile, had been working for the studio for a number of years and elicited the above response from Arnaz despite sporting a slinky gold lamé dress (with a slit up the thigh) and a fake black eye for her role in Dance, Girl, Dance, which was still in production at the time. The two of them would fall head over heels in love while working on Girls, and on this date in 1940 eloped in Greenwich, Connecticut. "Friends gave our marriage six months," Ball later recalled in her memoir Love, Lucy. "Me, I gave it a week."

Born in Jamestown, NY in 1911, the acting ambitions of Lucille Désirée Ball were encouraged by her family members during her childhood in Celeron, NY—particularly her grandfather Fred, who loved to take his "Lucyball" to vaudeville shows. Lucy's mother DeDe had also remarried a man (Ball's father had passed away when she was only three years old) who staged many of the talent revues put on by the local Shriners. It was "stage mother" DeDe who arranged for her daughter to attend the John Murray Anderson School for the Dramatic Arts in NYC in 1927. The school was skeptical about Lucy's future as an actress, but she proved them wrong by getting modeling jobs (she achieved some fame as the Chesterfield Cigarette Girl) and later small parts in Broadway plays using the stage name "Diane Belmont."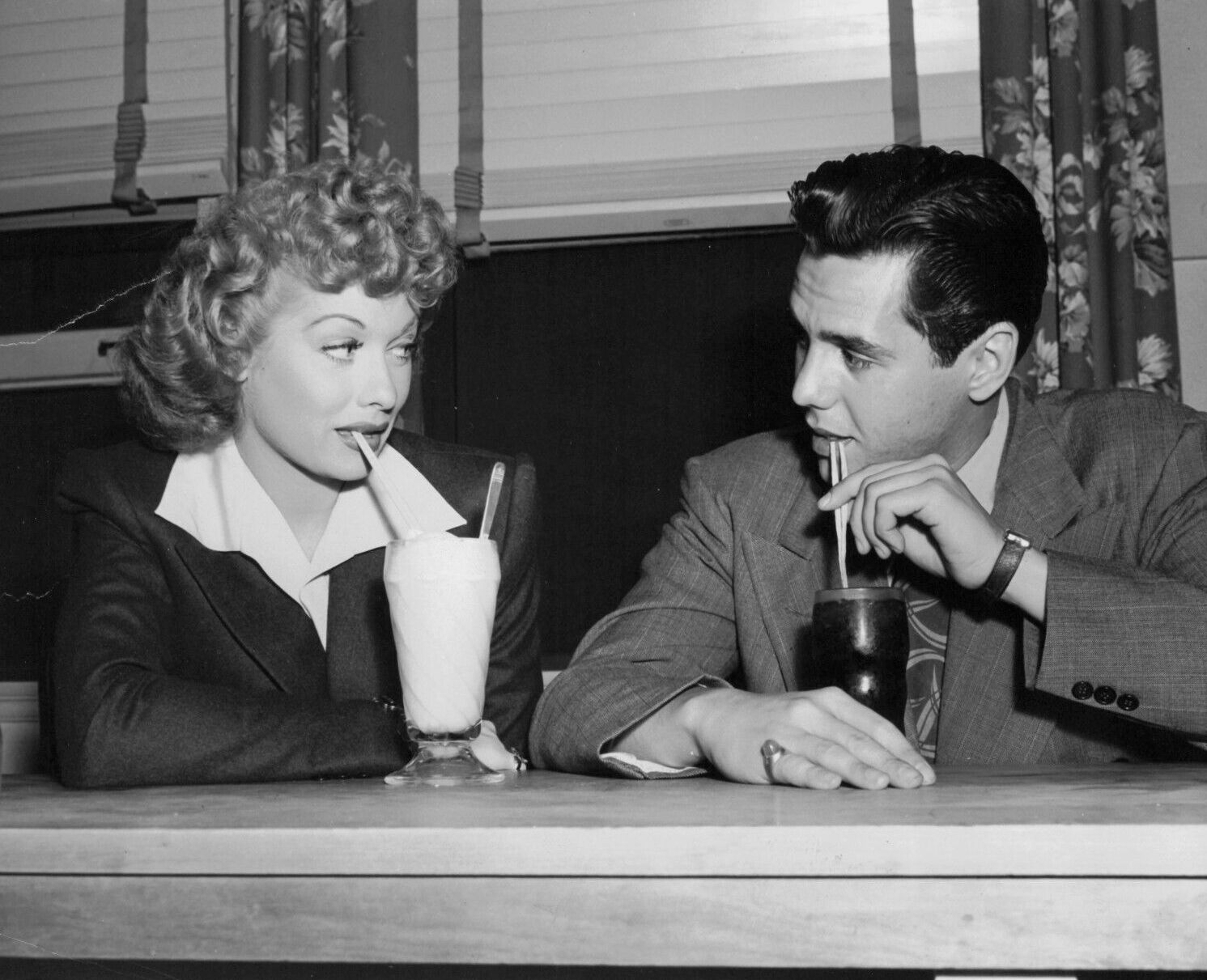 Desiderio Alberto Arnaz y de Acha III was born in Santiago de Cuba, Cuba in 1917. Desi enjoyed a life of wealth and privilege; his father was Santiago's youngest mayor and later served in the Cuban House of Representatives while owning cattle ranches and townhouses. His maternal grandfather was an executive at Bacardi & Company (the rum people) and according to Lucy, young Desi had a speedboat, a motorcar, and three different homes by the age of sixteen. The Arnaz family, however, lost everything in the Cuban Revolution of 1933; it was decided that Desi's mother Dolores would stay with a sister in Cuba while the senior and junior Arnaz made their way to the United States, arriving penniless in Miami with only the clothes on their backs. Their residence during this time was an unheated warehouse that they shared with rats and roaches.

After graduating high school, Desi Arnaz worked various odd jobs including cleaning canary cages…but caught a lucky break one night at Miami Beach's famed Roney-Plaza when he auditioned for a job as a singing guitarist for the Plaza's rhumba band. (The song he performed at this audition? "Babalu," of course!) He got the job and formed a musical aggregation called the Siboney Septet (though there were only five members in the band), and their success in Miami caught the attention of bandleader Xavier Cugat, who hired Arnaz for his touring orchestra. Eventually Desi struck out on his own with the Desi Arnaz Orchestra and enjoyed great success in New York City's club scene. Richard Rodgers and Lorenz Hart saw Arnaz perform and tabbed him to appear in Too Many Girls in 1939.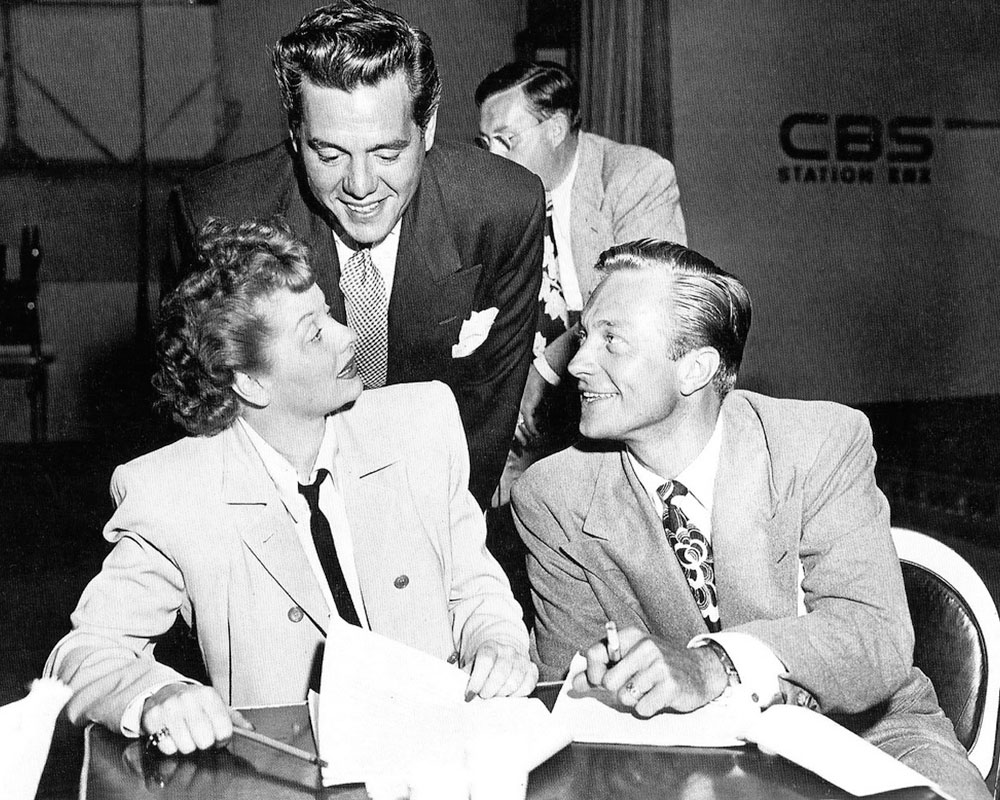 Meanwhile, at R-K-O, Lucille Ball was doing quite well with appearances in features like Follow the Fleet (1936) and Stage Door (1937)...although most of the movies she made at the studio earned her the nickname "Queen of the B's." Dance, Girl, Dance (1940) was one of Lucy's best cinematic showcases as she played a striptease artist who shows terpsichorean wannabe Maureen O'Sullivan the ropes. Lucy was positively in love with Desi and the two of them made the best of their marriage despite a lengthy history of fights and disagreements. Ball would leave R-K-O for M-G-M in 1943 and go on to make sprightly musicals like DuBarry Was a Lady (1943) and Best Foot Forward (1943). Arnaz, on the other hand, was drafted that same year, but due to hypertension and knee injuries he was put on limited service duties overseeing USO programs at a hospital in the San Fernando Valley in California. After receiving his discharge in 1945, Desi put together another band.

Desi Arnaz's schedule as a bandleader contributed to a lot of the strife in his and Lucille Ball's marriage. Truth be told, Arnaz had a reputation for womanizing and being "on the road" as often as he was made forbidden fruit that much more tempting. Lucy was able to use a little Hollywood pull to get Desi a job as the bandleader for The Pepsodent Show with Bob Hope for the 1946-47 season. Lucy had hoped that a radio program she had been offered—a domestic sitcom that would come to be known as My Favorite Husband—might help with some of the marital tension, but the network brass refused to consider Desi for the husband role that would ultimately be played by Richard Denning. (CBS exercised an uncomfortable bit of racism in thinking the radio audience wouldn't accept the Cuban Desi as Lucy's husband…despite the fact that they really were husband-and-wife in real life.) My Favorite Husband was a huge radio hit and CBS was anxious to duplicate that success on the small screen, but were again wary of allowing Arnaz play opposite Lucy as her husband. This time, Lucy refused to take "no" for an answer and informed the network brass that it was Desi or no show.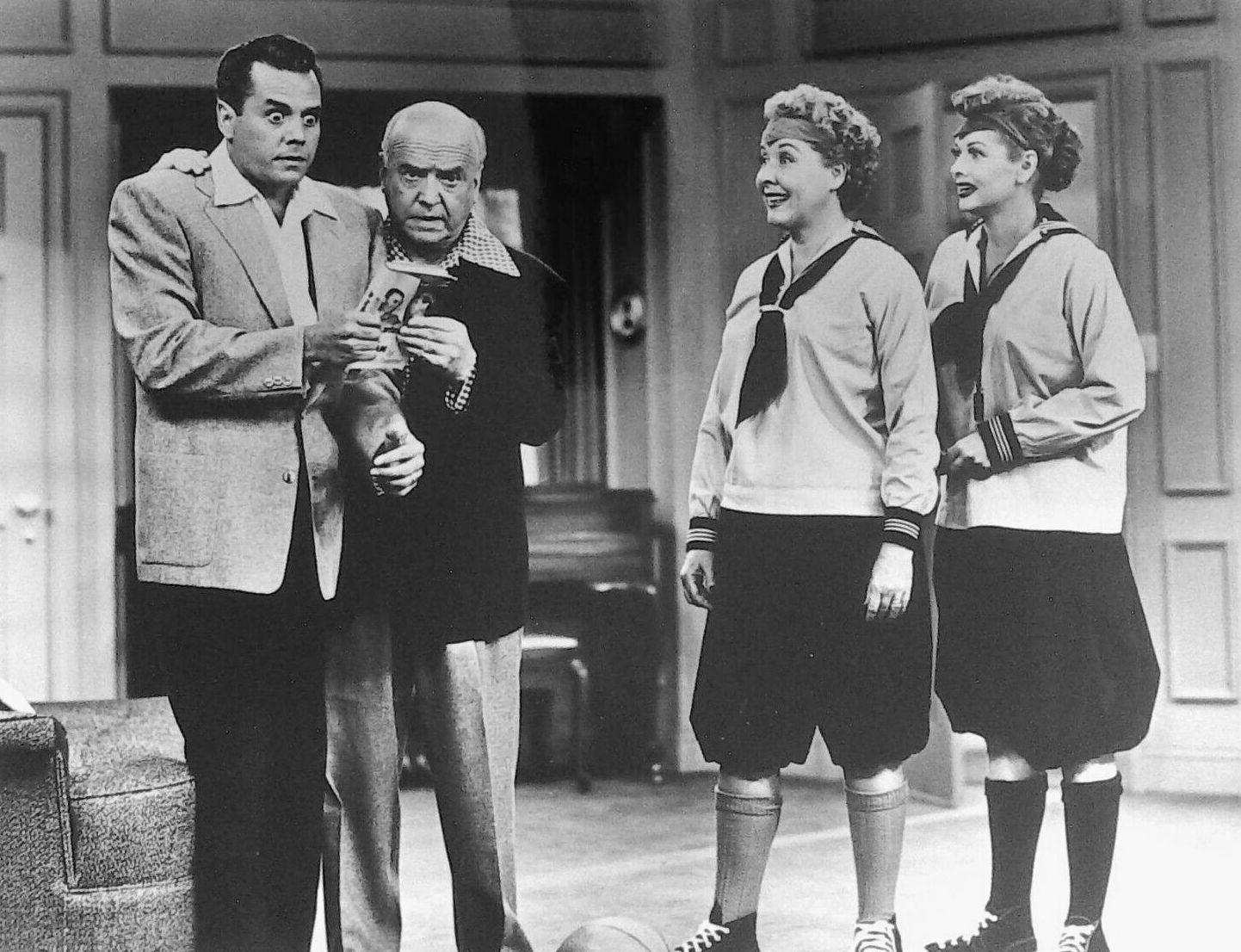 Lucille Ball and Desi Arnaz formed Desilu Production in 1950, ostensibly as the production company that would produce their TV series I Love Lucy. Although a lot of folks in the industry didn't think I Love Lucy would amount to much, the show would quickly become the nation's #1 television program, with Lucy breaking new ground in the field of small screen situation comedy. Desilu would also become a major player by bringing radio favorites like Our Miss Brooks and December Bride to TV as well. Later small screen hits included The Ann Sothern Show and The Untouchables, but I Love Lucy remained the linchpin of the Desilu empire, running from 1951 to 1957 and finishing out its final season as the #1 show on TV. The couple continued I Love Lucy as The Lucy-Desi Comedy Hour, a series of hour-long "specials" that often aired under the umbrella of the anthology Desilu Playhouse.
Though their friends had "six months" in the marriage pool, Lucille Ball and Desi Arnaz managed to last a little longer with the "happy ever after" ending in 1960. The irony was that I Love Lucy—a project which the couple embarked on in an effort to save their troubled marriage—ended up being the catalyst that ended it, with Desi often too preoccupied with running Desilu to ensure that he and his wife continued their marital bliss. Lucy remarried and continued to run Desilu with new husband Gary Morton (churning out hits like Star Trek and Mission: Impossible) while Desi started his own production company that was responsible for the minor TV success of The Mothers-In-Law. The couple remained good friends even after their parting of the ways; Desi observed later in life: "I Love Lucy was never just a title." Arnaz succumbed to lung cancer in 1986 at the age of 69 while Ball lived to the ripe-old age of 77 before leaving this world for a better one in 1989.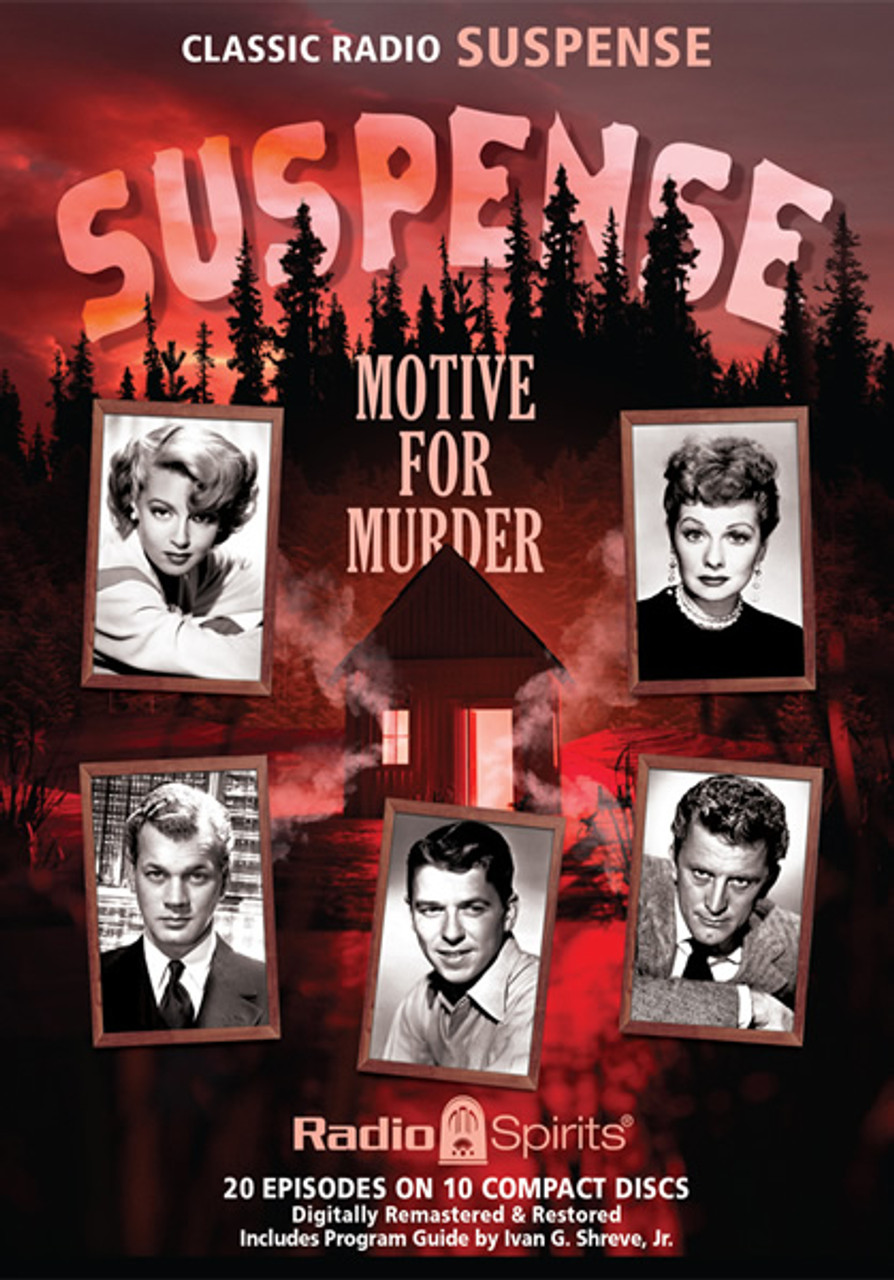 Lucille Ball and Desi Arnaz made two appearances on "radio's outstanding theatre of thrills" in their capacity as husband-and-wife; the first of these, "The Red-Headed Woman" (11/17/49), is featured on our Suspense collection Motive for Murder (with liner notes by yours truly!). In the meantime, you can hear Lucy solo it on "A Shroud for Sarah" (10/25/45), available on Beyond Good and Evil. In addition, Lucy appears as the guest on an April 28, 1948 broadcast of The Jimmy Durante Show (you can also hear this broadcast in our potpourri compendium Great Radio Comedy) and there's an episode of her signature radio series, My Favorite Husband, on Great Radio Sitcoms. Rounding out Lucy on radio in our digital downloads store is another Husband broadcast on Happy Halloween! and on Screen Directors' Playhouse, Ball reprises her motion picture role from Miss Grant Takes Richmond in a show originally broadcast May 19, 1950. Happy anniversary, you crazy kids!