Posted by Ivan G. Shreve, Jr. on Sep 6th 2022
An old-time radio website asks the ($64) question: "What if Old Mr. Potter, the meanest man in town, was actually the Mayor and had a heart of gold?" The query references two acting showcases from the legendary Lionel Barrymore: one is arguably his best-remembered film role, that of miserly Henry Potter in the 1946 motion picture classic It's a Wonderful Life. The second is a radio program that premiered over NBC Radio on this date in 1942: The Mayor of the Town, which starred Barrymore as the fictional mayor of the equally fictional hamlet of Springdale, which soon became representative of many a small town in rural America. (This is not unlike The Great Gildersleeve's Springfield [note the similarity of names], or Dr. Christian's River's End.) Mayor of the Town soon became one of the medium's most popular comedy-dramas, eventually running on all four networks until July 3, 1949.
Truth be told, the unnamed mayor played by Barrymore on Mayor of the Town was a bit more like the character of Dr. Leonard Gillespie, which Lionel portrayed in the popular MGM Dr. Kildare movie franchise, than the formidable Mr. Potter. Gillespie was a crusty, cantankerous individual who nevertheless cared very deeply for the welfare of his patients. In fact, when the star of the Kildare films, Lew Ayres, was forced out by the studio because of his conscientious objector status in WW2, Barrymore-as-Gillespie took center stage for the remaining six films in the franchise (beginning with Calling Dr. Gillespie [1942]). Interestingly, Lionel would reprise his Gillespie role in a syndicated radio series, The Story of Dr. Kildare, after Mayor was canceled. He was reunited with his fellow "physician" Ayres in that venue as well.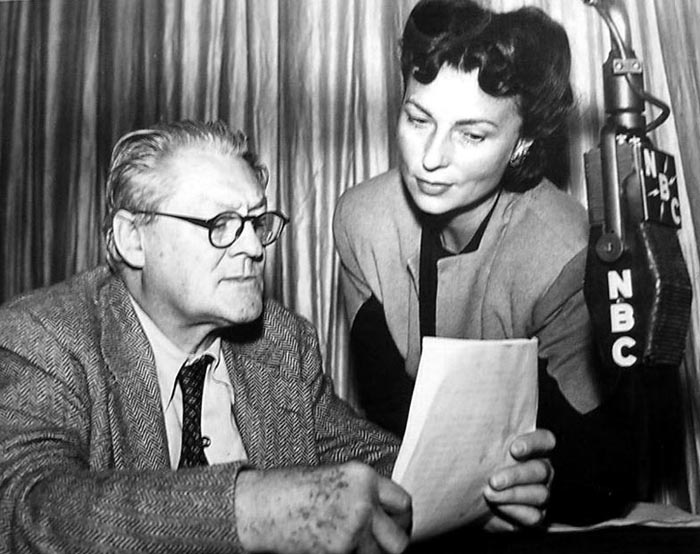 Like Gillespie, the mayor of Springfield was an irascible cuss whose hardened exterior covered up an interior of squishy soft nougat where the plight of a stray dog or an orphan was concerned. The Mayor didn't always show it, but he was particularly fond of his long-suffering housekeeper, Marilly, who could match him toe-to-toe in the irritability department. Marilly was played by radio veteran Agnes Moorehead, and the other member of the Mayor's household was a young boy affectionately known as "Butch" (Conrad Binyon), who became the Mayor's ward after the death of his mother and his father's induction into the Seabees. Regardless of pressing town business, the Mayor always found time to engage Butch in a game of checkers or getting in a little fishing and/or swimming at nearby Rock Creek.

Many of the stories featured on Mayor of the Town centered on Butch's coming-of-age, with the Mayor there to provide guidance and advice as the young man made his way through adolescence. Butch had a girlfriend, Sharlee Bronson, portrayed by a pre-Our Miss Brooks Gloria McMillan, and Priscilla Lyon was also heard on occasion as Holly-Lee, the Mayor's granddaughter. Will Wright (as the sheriff), Sharon Douglas, Irvin Lee, and Marjorie Davies appeared on the program as well. Harlow Wilcox and Frank Martin handled the announcing chores, with direction by Jack Von Nostrand. The writing staff on Mayor included creator Jean Holloway (who would craft scripts for Barrymore on the radio Dr. Kildare), Leonard St. Clair, Howard Blake, Erna Lazarus, Howard Breslin, and Charles Tazewell.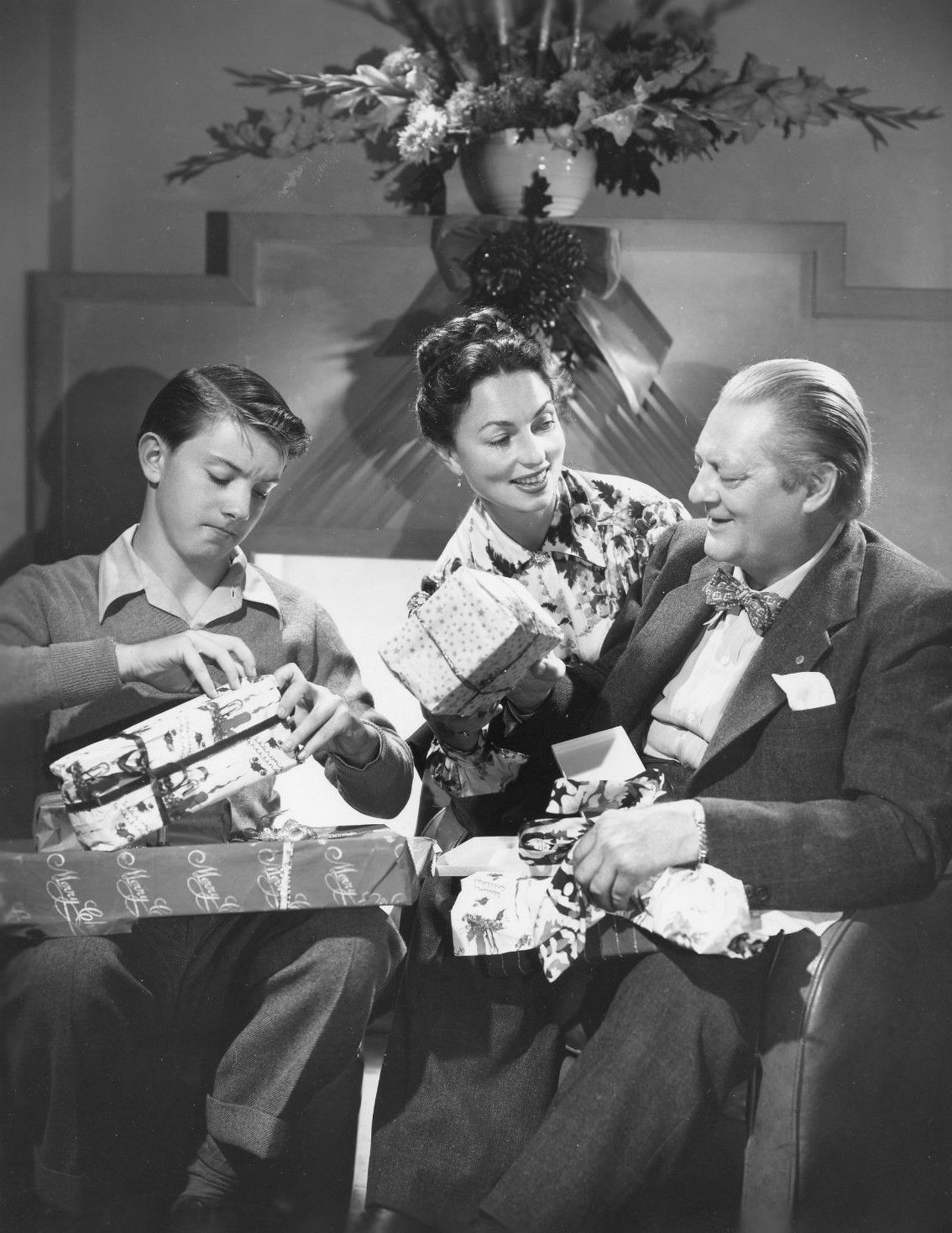 Lionel Barrymore began entertaining radio audiences with his portrayal of A Christmas Carol's Ebenezer Scrooge on December 25, 1934 and did so on a number of venues throughout the years including Hallmark Playhouse and The Hallmark Hall of Fame. From 1942 to 1947, Barrymore Scrooged it up on Mayor of the Town, often presenting it in the form of turning Springdale into a community theatre, with Butch playing the role of the kid who's asked by Scrooge to purchase the Christmas goose for the Cratchits after his overnight transformation.

Mayor of the Town had its premiere over NBC but a month later had jumped networks to CBS, where it would be heard for Rinso until the fall of 1947. Perhaps NBC was spooked by a rather unflattering review from Billboard: "From its very inception, almost every phase of 'Mayor of the Town' is the most palpable of contrivance; stock characters, stock plot and the lowest grade of corn." Old-time radio historian John Dunning was far more charitable, noting the show "gave a realistic portrait of rural living." After its five-year-sponsorship with Rinso, Mayor allowed Noxema to pay the bills as it was heard on ABC from October 8, 1947 to June 30, 1948. The series finished out its seven-year run on Mutual from January 2 to July 3, 1949, sponsored by Mutual Benefit Insurance.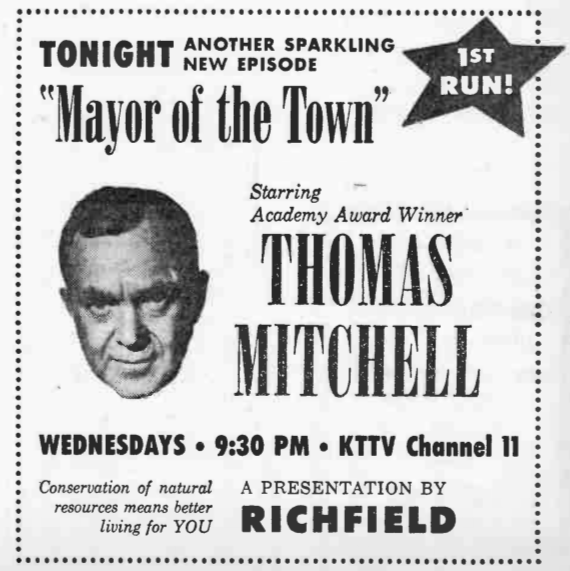 Lionel Barrymore's death in 1954 prevented him from reprising his role when Mayor of the Town finally transitioned to the small screen in a syndicated TV series that aired from 1954 to 1955. Produced by the same company that brought Big Town to television, Mayor starred Academy Award-winning actor Thomas Mitchell as the titular elected official, who finally got an actual name in "Thomas Russell." Character great Kathleen Freeman portrayed Marilly, with David Saber as Butch and a recurring cast that included Jean Byron (as Minnie, the Mayor's secretary), Tudor Owen, and a young Natalie Wood as the Mayor's niece. The TV Mayor of the Town would run for one season of 39 episodes.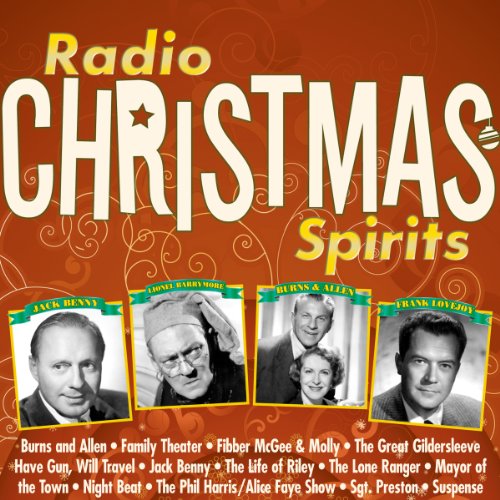 Radio Spirits' digital downloads collection, Radio Christmas Spirits, features a December 23, 1942 broadcast of this beloved radio classic, with Lionel Barrymore playing Ebenezer Scrooge as only he can.