Posted by Ivan G. Shreve, Jr. on Oct 8th 2022
On this date in 1935, bandleader Oswald George Nelson (we know him as "Ozzie Nelson") tied the knot with Peggy Sue Snyder (we know her as "Harriet Hilliard"), the female vocalist that he hired for his band in 1932. The couple soon became quite popular with not only the record-buying public, but with radio audiences as well. They were featured entertainers on The Baker's Broadcast, a comedy-variety program headlined by comedian Joe Penner ("Wanna buy a duck?"). In fact, the Nelsons would remain on the program after Penner quit in 1935, to be replaced by Robert "Believe It or Not" Ripley in October of that same year. Cartoonist Feg Murray ("Seein' Stars") would take over in the fall of 1937, with Ozzie & Harriet the last remaining link to the original program.

But today is a double anniversary for Ozzie & Harriet Nelson. For it was on this date that the couple finally achieved "top billing" on radio as their long-running situation comedy, The Adventures of Ozzie & Harriet, debuted over CBS on this date in 1944.

After The Baker's Broadcast called it a wrap in June of 1938, Ozzie & Harriet Nelson resurfaced on The Raleigh Cigarette Program in the fall of 1941. Headlined by "M-G-M's star clown," Red Skelton, the couple continued their comedy education while providing the musical entertainment for Skelton's highly rated show. Harriet played the female characters to Red's popular "gallery of grotesques" (she was "Mummy" to Skelton's "Junior," "Daisy June" to his "Clem Kadiddlehopper," etc.). Ozzie would also join in the hijinks by taking on roles in the comedy sketches as well. Red Skelton received his draft notice in May of 1944, which meant the unemployed Nelsons had to look for another program on which to work.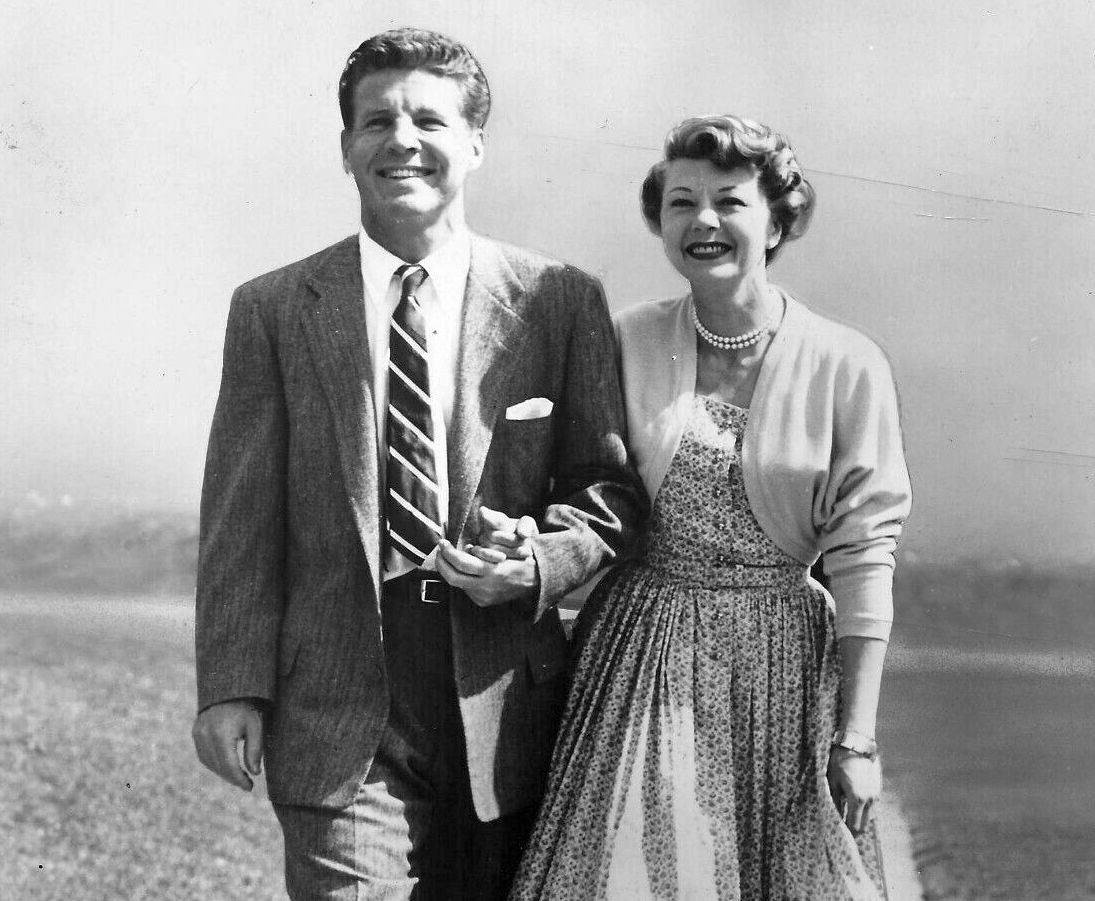 Harriet Hillard revealed to old-time radio historian Chuck Schaden in 1989 that it was Don Quinn, creator of radio's Fibber McGee & Molly, who planted the seed of suggestion that Ozzie had clearly paid his radio dues and should create his own show for himself and Harriet. An audition record was produced and John Guedel (who was enjoying success with People are Funny and later You Bet Your Life) successfully sold the show to International Sterling Silver. The Adventures of Ozzie & Harriet would make its debut as the Nelsons were celebrating their ninth wedding anniversary and depicted weekly the "adventures" of the bandleader and his vocalist wife. The early years of the series featured such writers as Jack Douglas, who scripted what Harriet described as "wild comedy" that had an unrealistic quality (one of the show's characters was the Nelsons' adenoidal maid Gloria, portrayed by Bea Benaderet). With each passing season, The Adventures of Ozzie & Harriet got more grounded in reality, with situations only slightly exaggerated for comedic effect.

Ozzie and Harriet Nelson resided at 1847 Rogers Road (a nod to sponsor Rogers Brothers/International Sterling Silver) with their two sons, David (Joel Davis, then Tommy Bernard) and Ricky (Henry Blair). The real-life David and Ricky begged their father to allow them to play themselves, but Ozzie was a little reluctant to allow his progeny enter show business at such an early age (the boys were 8 and 4 at the time, respectively). It wasn't until Bing Crosby guest-starred on the show in December of 1948 (with son Lindsay in tow) that the Nelson sons persuaded their father to let them become thespians (if Lindsay could do it…why couldn't they?) and the real David and Ricky started working on the program by April of 1949. In retrospect, David might have regretted this decision since he was soon handed the thankless job of being straight man to his wisenheimer younger brother. As Harriet once memorably observed: "It will be a miracle if David doesn't wind up murdering Ricky in his bed some night."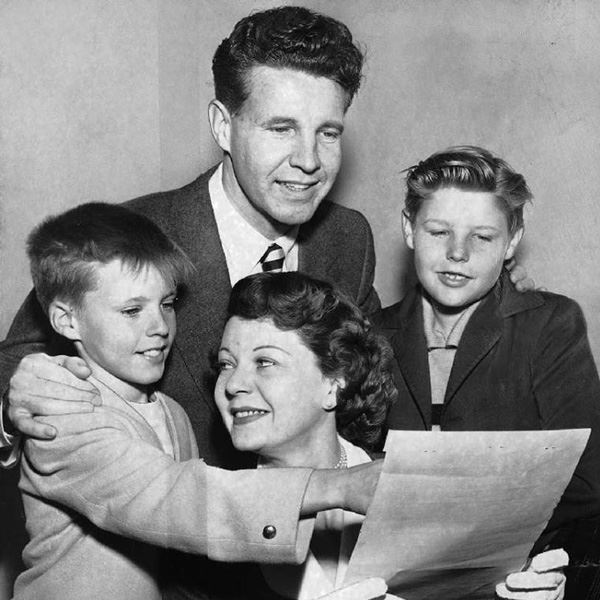 In addition to the Nelson family, The Adventures of Ozzie & Harriet featured such performers as John Brown, who portrayed Syd "Thorny" Thornberry, the Nelson's next-door neighbor and frequent giver (to Ozzie) of ill-timed advice. Also administering bad counsel was "Emmy Lou," a breathless teenager portrayed for most of Adventures' run by Janet Waldo. (The part was also played in the early years by Louise Erickson, who was also starring on A Date with Judy). Lurene Tuttle, who would eventually take over as Red Skelton's female foil (she would also play Junior's "mummy") was heard on occasion as Harriet's mother (though mostly on the telephone). Verne Smith was the show's longtime announcer.

The Adventures of Ozzie & Harriet ran for four seasons on CBS Radio before switching to NBC for a season. Then, in the fall of 1949, the series moved to ABC with a new sponsor in Heinz Foods. (Heinz's sponsorship lasted until 1952, and then multiple sponsors took over until the show left the radio airwaves in 1954.) The Nelsons' association with the American Broadcasting Company would prove to be a lucrative one. ABC would bring the series to the small screen in the fall of 1952 (after a motion picture "pilot," Here Come the Nelsons, proved successful at the box office). The television version lasted even longer than its radio incarnation, finally calling it a day on April 23, 1966. The Adventures of Ozzie & Harriet is, to many people, the epitome of sitcom fantasy - presenting a nice, squeaky-clean family that's a little removed from most real-life clans. Yet what those critics overlook is that the Ozzie & Harriet program was a very funny one indeed.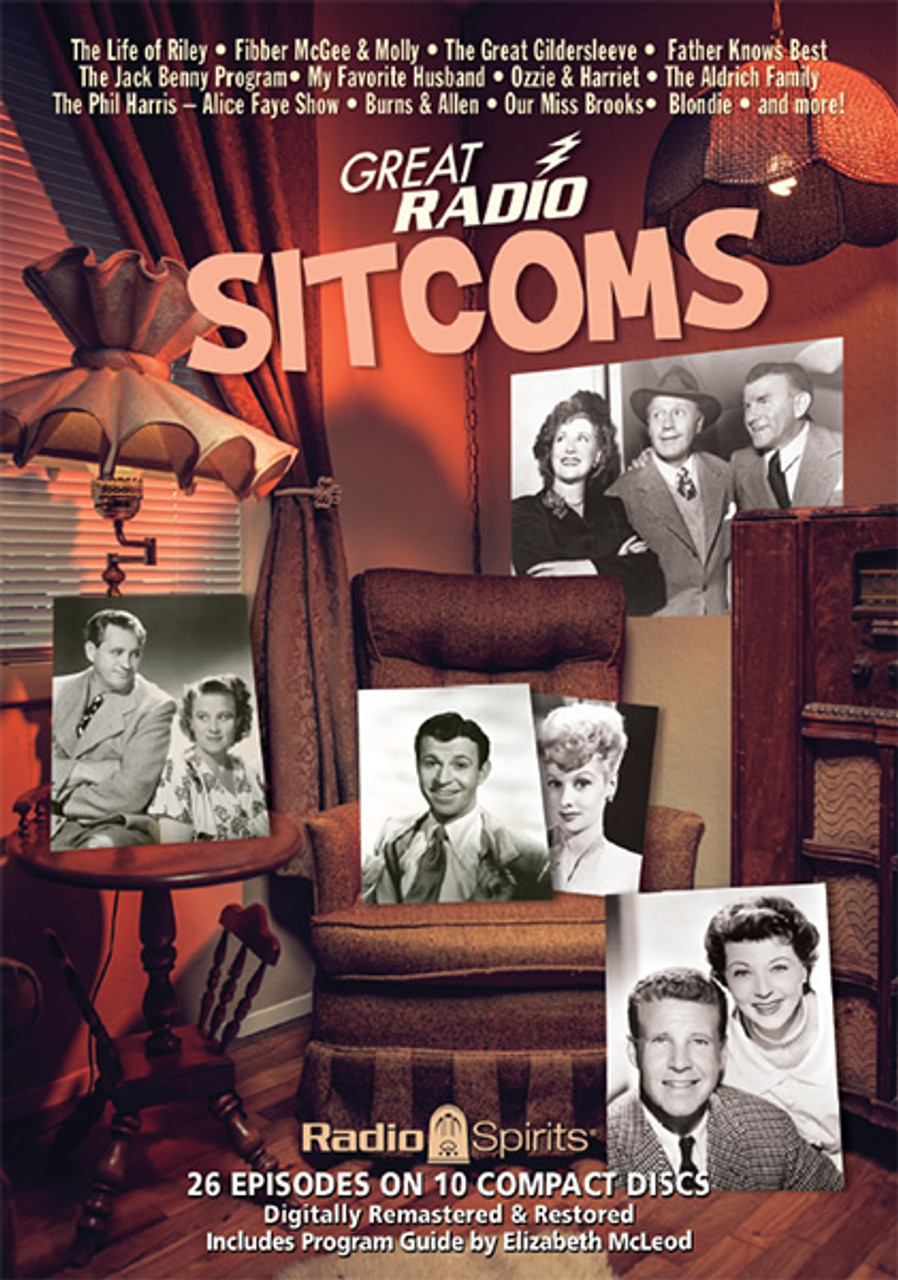 Although public domain episodes of TV's The Adventures of Ozzie & Harriet have circulated on home video for many years, MPI Home Video is undertaking the remastered and restored release of the classic sitcom in its entirety (435 episodes over 14 seasons!). Radio Spirits has Volumes 1, 2, 3, and 4 available in its store (on a personal note, I highly recommend a purchase!) and there's an episode of Ozzie & Harriet's radio series ("The Rivals" from April 3, 1949) on our all-star mirthmaking CD compendium Great Radio Sitcoms. You'll also find a broadcast (from October 31, 1948) on Happy Halloween, available in our digital downloads store. Happy anniversary to Ozzie and Harriet!