Posted by Ivan G. Shreve, Jr. on May 17th 2023
Radio producer Dan Golenpaul had a bone to pick with the individuals—masters of ceremonies, if you will—who hosted the popular radio quiz shows of the day. He cringed whenever these MC's would give contestants grief for screwing up on questions, a practice he thought "a bit sadistic." "I wish I had these quizmasters and so-called experts in front of me," Golenpaul reminisced in Gerald Nachman's Raised On Radio. "I'd like to ask them some questions." And from that, the quiz show Information Please—which premiered over NBC Blue on this date in 1938—was born.
Radio historian John Dunning called Information Please "the great radio quiz program of the intellectual set," while Gerald Nachman weighed in to describe the show as a "sort of Algonquin Round Table of the air." The premise was fairly simple: the general public (who creator-director-producer Golenpaul believed were more educated and intelligent than they were given credit for) would submit questions to the program and a panel of "experts" would attempt to provide the right answers. Golenpaul asked Clifton Fadiman—a one-time editor at Simon and Schuster and current book critic for The New Yorker—to sign on as a moderator. Fadiman was convinced the show wouldn't work, but agreed to do the audition recording, figuring he had nothing to lose.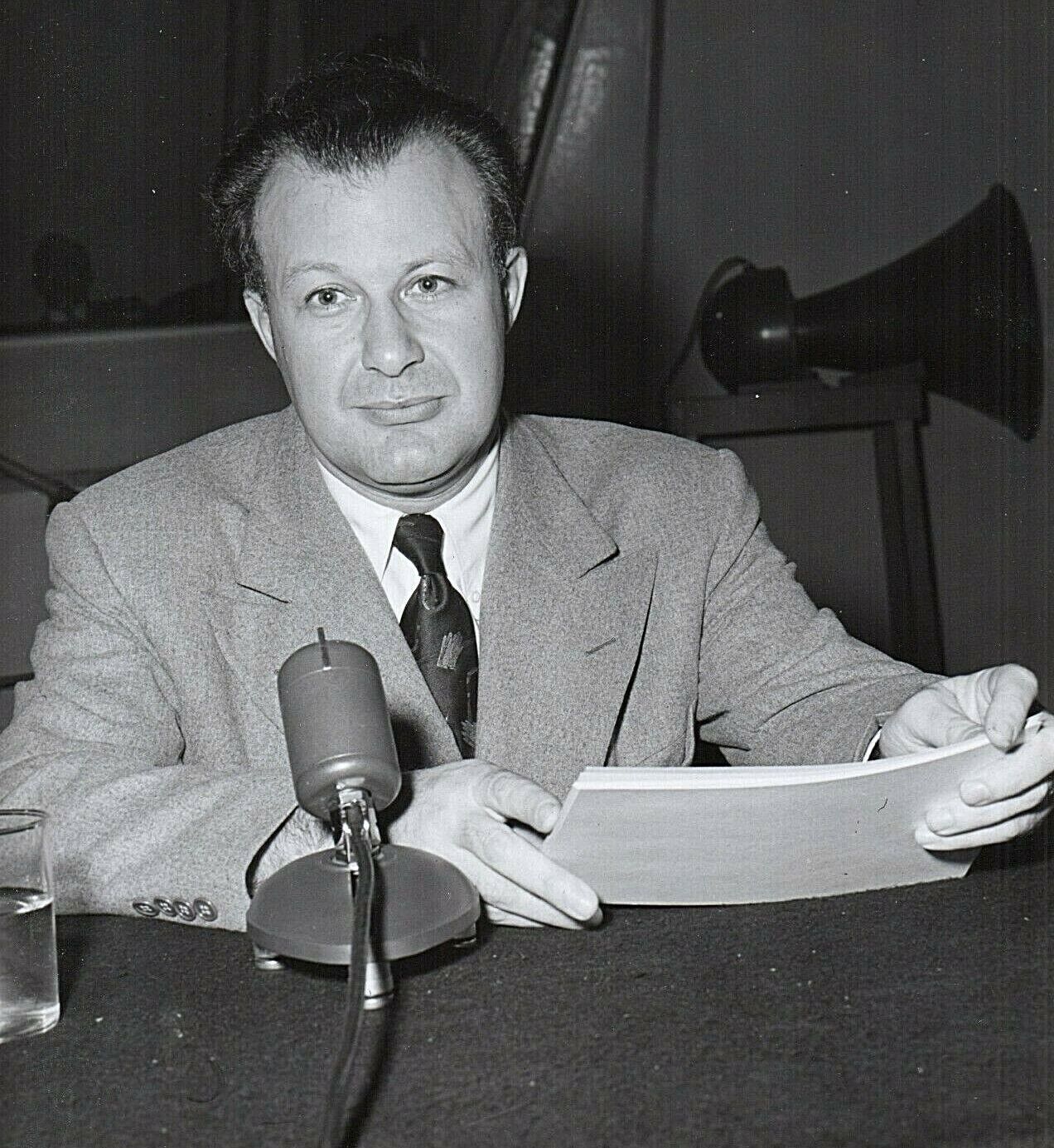 The audition's panel consisted of Louis M. Hacker, an economics instructor at Columbia University; The New York Herald-Tribune's Marcus Duffield; science writer Bernard Jaffe, and veteran newspaper columnist Franklin P. Adams (known to one and all as "FPA"), whose column "The Conning Tower" had been a regular feature of The New York Tribune. (Dr. Harry Overstreet, a professor of philosophy at New York's City College, replaced Hacker for the inaugural broadcast.) Adams would settle in as a panel regular; Golenpaul wanted two of the "chairs" of the panel to be permanent and knew that FPA—whose areas of expertise included poetry and Shakespeare—would be a perfect fit despite the columnist's initial reluctance. (Adams had also been a member of the previously mentioned Algonquin Round Table, in keeping with Nachman's keen observation.)


By the fourth broadcast of Information Please (June 7, 1938), Golenpaul would find his second permanent panelist in John Kieran, a New York Times sports columnist who Golenpaul had met at a Dutch Treat Club luncheon. Like Fadiman and Adams, Kieran was reticent about associating himself with the program but after that inaugural appearance had so much fun doing so he stayed around for the next ten years. John was well-schooled in any number of subjects: music, ornithology, poetry, etc. In fact, Fred Allen—himself a frequent visitor to Information Please as a guest panelist—once joked on his program that his preparation for appearing on Please mainly consisted of his sitting down next to Kieran and asking "John…whaddya know?"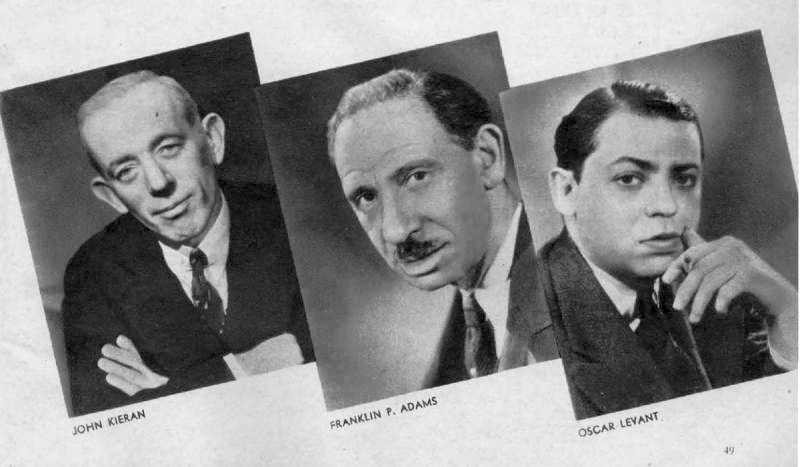 The summer of 1938 would introduce the final member of Information Please's "quartet" in composer-pianist Oscar Levant, dubbed the program's enfant terrible and the go-to man for answering tough musical questions. Levant became the third permanent panelist in December, though Golenpaul would use Oscar every other week (about twice a month). This gave Dan the freedom to draw upon guests from the world of film, politics, sports, music, literature and so many others to fill the fourth seat. Among the many celebrities that guested on Information Please were Gracie Allen, Marc Connelly, Lillian Gish, Alfred Hitchcock, Boris Karloff, Groucho Marx, Dorothy Parker, Basil Rathbone, Rex Stout, Deems Taylor, Gene Tunney, Orson Welles, and Alexander Woolcott. To quote John Kieran, being a guest on Please was "a badge of distinction."
When Information Please debuted on radio, it was as a sustained series and Dan Golenpaul had a budget of $400 (courtesy of the network) for each broadcast. After splitting up that largesse among Fadiman and the panelists there wasn't much left over for the listeners who "stumped the experts." The signing on of Canada Dry as a sponsor in November made the financial picture of the show much rosier (the budget increased to $10,000 per show), allowing the prize money for submitted questions to be upped (and the panel members received a boost in salary, with Kieran making the same money he was earning at The New York Times). In October of 1939, the Encyclopedia Britannica began its long association with the show; sets of the company's junior encyclopedia were awarded to those individuals who had a submitted question used on the show and the main encyclopedia was a prize for a query that baffled the panel.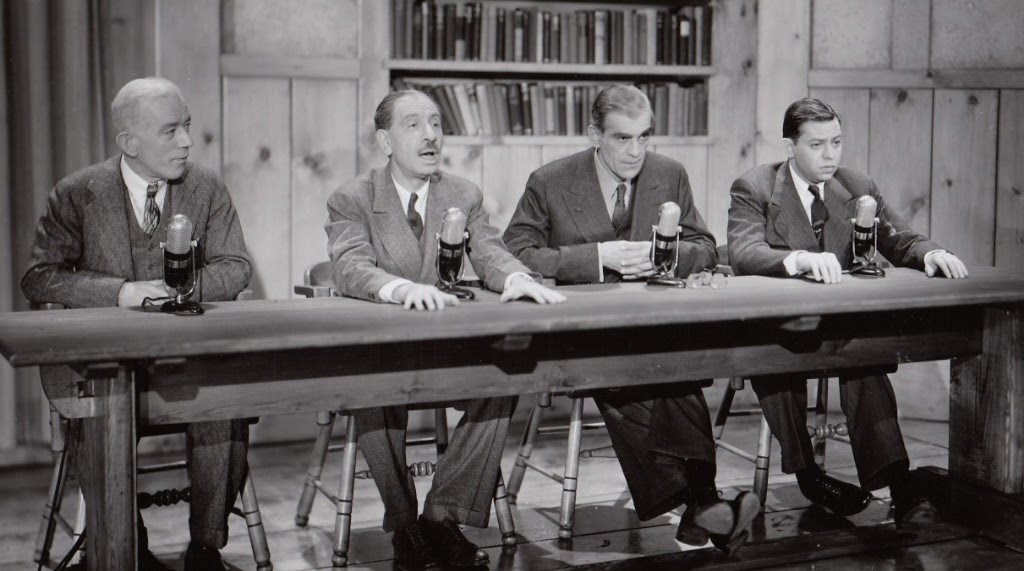 The November 15, 1940 broadcast brought on a new sponsor in Lucky Strike, and the relationship between the sponsor and producer Golenpaul—a man who admittedly had a reputation for being difficult, insisting on complete control over every aspect of the show—soon became rancorous. (An example of Golenpaul's prickliness: a series of arguments between him and Oscar Levant purportedly resulted in a fistfight between the two men and resulted in Levant's departure from the show in 1943.) The problem was that the American Tobacco Company was run by the autocratic George Washington Hill, equally demanding and of the opinion that as the man signing Golenpaul's checks every week he was the one in charge. A lawsuit filed by Golenpaul would ultimately be dismissed, but Dan wound up winning the PR battle—Lucky Strike chose not to renew sponorship in February of 1943. The new sponsor, Heinz Foods, had just as much trouble with Dan as did American Tobacco and lasted two years before being replaced by Mobil (Socony) Oil, who also clashed with the director-producer.
NBC canceled Information Please in 1946 and although Campbell Soups expressed interest in sponsoring the program, NBC no longer wanted the hassles associated with Dan Golenpaul and Campbell refused to carry it on another network. So when Information Please moved to CBS on October 2, 1946, its new sponsor was Parker Pens. Golenpaul continued to clash with "the suits" (notably CBS president William S. Paley), and by that time his reputation as a "troublemaker" was fully encased in cement. Parker Pens left after their year-long contract was fulfilled. Information Please spent its last season on radio as a sustainer over Mutual until the curtain rang down on June 25, 1948, although it was heard in syndication in 1950-51 via transcribed repeats.
About those "transcribed repeats": one overlooked tidbit in the history of Information Please is that it was one of the earliest transcribed programs (at a time when NBC had a rule against recorded programming). Because of Please's spontaneity, doing the broadcasts for Pacific Coast listeners a second time was out of the question. The choice for NBC was either to broadcast the show at 5:30 pm Pacific or agree to transcribe the show "for broadcast at a more convenient time." The network settled for bending the rules, which is why old-time radio fans are indeed fortunate to have over 200 programs available to enjoy today. Information Please made a brief appearance on the small screen in the summer of 1952 on CBS-TV, but as moderator Clifton Fadiman admitted in later years: "We weren't any good." Golenpaul "brought in showgirls and gadgets to make it more visual, which only made it a standard show." (Ironically, Information Please was more of a success on the silver screen, where a series of one-reel shorts released by RKO entertained moviegoers from 1939 to 1942.)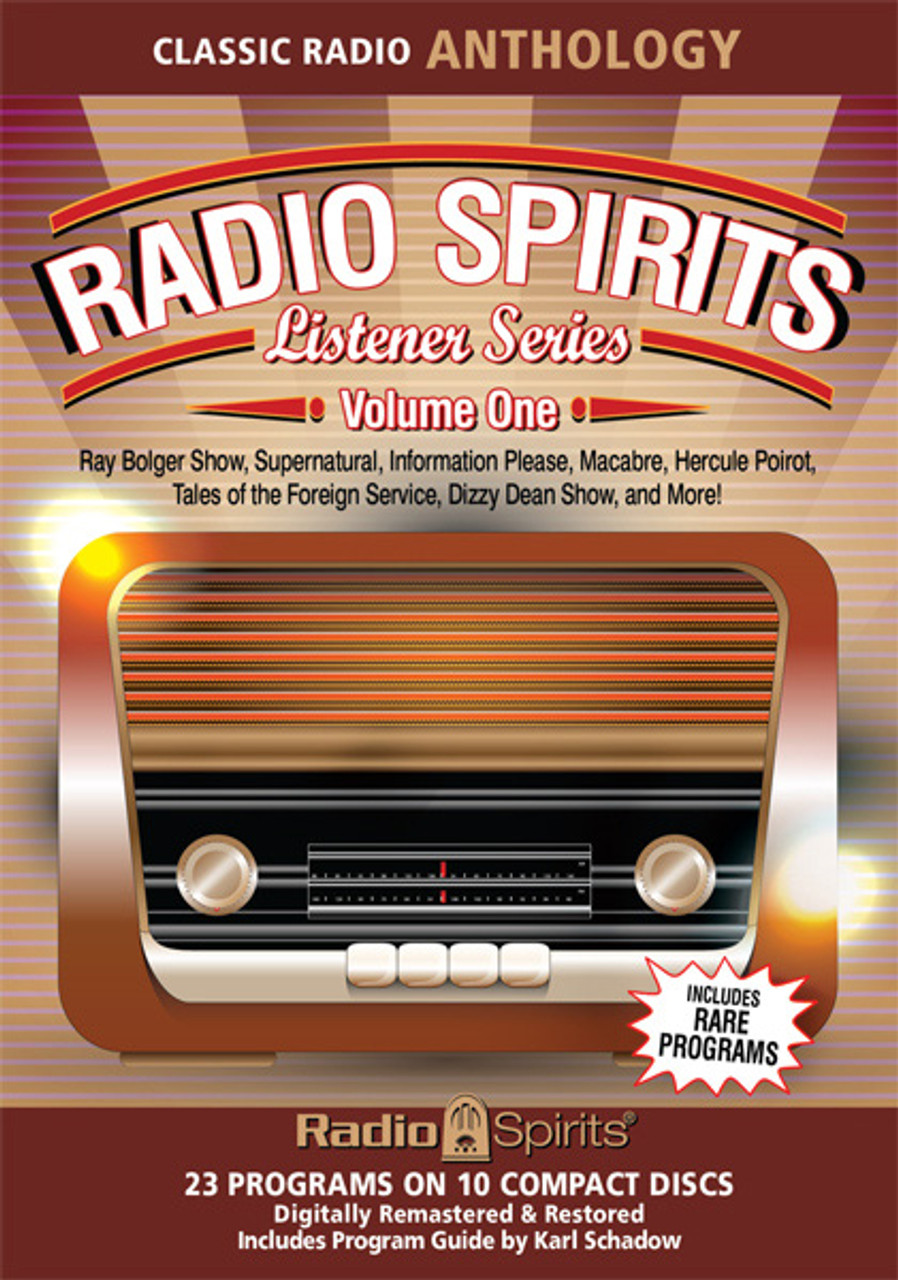 We've only scratched the surface of the history surrounding this most entertaining quiz program that remains as fresh and delightful as it was when originally broadcast. For further information on Information Please, we can't recommend highly enough Information Please, a wonderful reference book penned by old-time radio historian and Radio Spirits contributor Martin Grams, Jr. In addition, check out a November 20, 1944 broadcast of the show that's available on our potpourri collection Radio Spirits Listener Series: Volume One (with guest panelists Boris Karloff and Reginald Gardiner). Happy anniversary to Information Please!