Posted by Ivan G. Shreve, Jr. on Nov 16th 2016
In 1937, Chester Lauck and Norris Goff began to express interest in bringing the characters from their popular radio show, Lum and Abner, to the big screen. Talent agent Jack William Votion, a Hollywood veteran, also thought "the fellers from the hills" could make an easy transition to motion pictures…but in his conversations with the major studios, none of them were particularly enthused about a Lum and Abner picture. Chiefly among the naysayers was RKO—though in their defense, they were a little gun-shy after their experience with 1930's Check and Double Check, the vehicle responsible for introducing radio's Amos 'n' Andy (Freeman Gosden and Charles Correll) to moviegoing audiences.
After three years of studio rejections, Jack Votion sold his ranch in California…and with a financial assist from Roger Mardiette (who provided matching funds), went into partnership with songwriter Sam Coslow ("Cocktails for Two") to form Voco Productions—an independent company that planned to produce at least three Lum and Abner feature films. Voco's first venture was Dreaming Out Loud (1940—its working title was Money Isn't Everything), which was filmed on the RKO-Pathé lot—and released by RKO as an 81-minute "A" film (the subsequent L&A entries were B-picture programmers) featuring stellar radio names like Frances Langford and Phil Harris. Dreaming was a smash for RKO, earning an estimated $745,000 and paving the way for five additional follow-ups.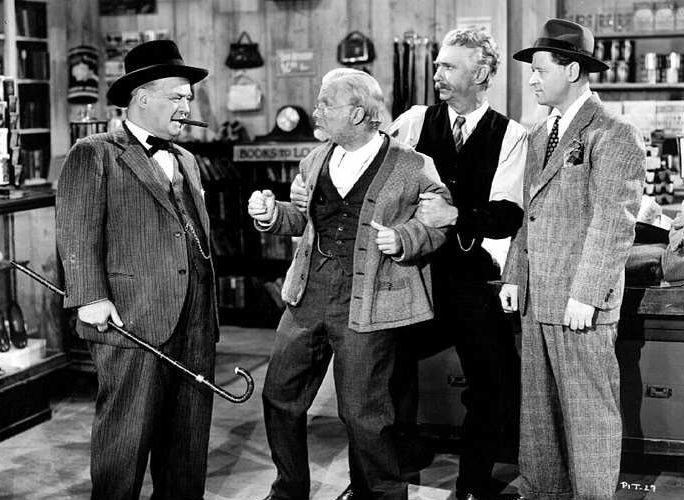 Audiences seeing Dreaming Out Loud today are at a disadvantage because, since the film slipped into the public domain, most extant copies are short by fifteen minutes (from a choppy TV print). The overall batting average on the L&A features was often hit-and-miss: some of the entries, like The Bashful Bachelor (1942; with a story contributed by stars Lauck and Goff) and Goin' to Town (1944; I think this is the most underrated of their features) are delightful entertainments, while Two Weeks to Live and So This is Washington (both 1943) may only appeal to diehard fans of the show. Curiously, the last of the L&A vehicles would turn out to be the best of the bunch (unusual in that many movie franchises start out strong before eventually running on fumes): 1946's Partners in Time.
There are two major plot points in Partners in Time: the first being that Pine Ridge's resident "Kingfish," Squire Skimp (Dick Elliott), is introducing to the town's populace an equally conniving scalawag named Gerald Sharpe (Charles Jordan). Sharpe is the grandson of Lucky Parker, a Pine Ridge-ian who once owned all of the land in town, and whose son Jeff sold said land to the townsfolk, including Lum Edwards (Chester Lauck) and Abner Peabody (Norris Goff), who built their Jot 'Em Down Store on the property. Sharpe maintains that Jeff wasn't Parker's son, and he's insisting that everyone who bought land from Jeff pay him $500—a sum no one in town could possibly cough up (Abner remarks, "This town couldn't raise $500 on lend lease."). Our heroes are tasked with finding proof that Jeff is Parker's son lest they surrender Pine Ridge to the clutches of the loathsome Sharpe.
The second storyline involves Lum's niece Janet (Teala Loring) and her boyfriend Tim Matthews (John James). Tim has been away from Pine Ridge for two years, serving a hitch in the Army, and Janet spent that same amount of time with her aunt in the big city. The young couple pledged to marry upon Tim's return and put down stakes in Pine Ridge, but Janet is beginning to have second thoughts. Lum then proceeds to tell the two lovebirds the tale of how Abner arrived in Pine Ridge circa 1906; he, too, was "just passing through" and he ended up staying put. By flashing back to their past, the boys' memories are jogged about Jeff Parker, and they are able to present to necessary proof to foil Skimp and Sharpe's dastardly scheme.
In Partners in Time (wonderfully scripted by Charles E. Roberts, who expertly blends both pathos and bucolic comedy), we learn that Lum and Abner first met in the Philippines during the Spanish American War. Abner is headed west to California, and he stops by Pine Ridge to say "howdy-do" to his war buddy Lum. To be honest, Abner's stopover in Pine Ridge was unplanned: he's arrested for speeding (going 20 m.p.h. in his "horseless carriage") by constable Milford Spears (Danny Duncan)—who Abner addresses as "Grandpap" even at their first meeting. Grandpap brings Abner before Pine Ridge's justice of the peace—none other than Lum himself, who is surprised and pleased to see his old war chum. Lum then introduces Abner to his friends in Pine Ridge (including a young Squire Skimp!), notably a young woman named Elizabeth Meadows (Pamela Blake); Lum desperately wants to marry Elizabeth, but he just can't seem to find the proper words of proposal. As you may have already guessed, Lum also invites Abner to become his partner in his new business venture: The Jot 'Em Down Store.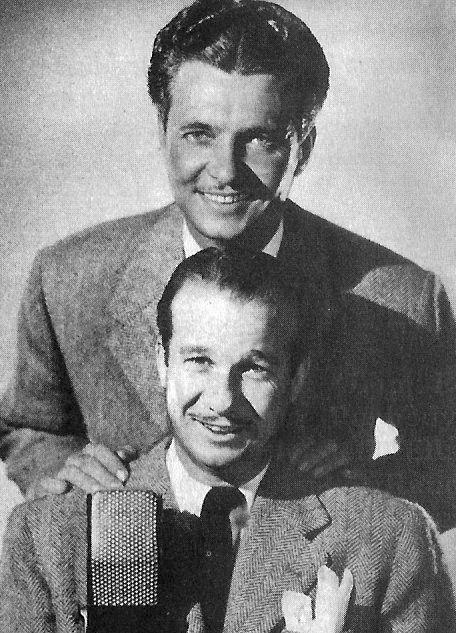 Chet Lauck and Norris Golf play Lum and Abner in the 1906 flashbacks sans their old-age makeup, allowing viewers to see and hear more of the real Lauck and Goff than their well-known radio personas. (Both men would have to spend three hours in the makeup chair daily when filming their movies…and the results weren't always convincing, sad to say.) Nevertheless, the two men display some very impressive acting chops—Lauck conveys an effective sadness when his best friend marries the woman he loves…and to add insult to injury, Lum must perform the ceremony (in his capacity as justice of the peace) when the minister is unable to officiate. What is so heartbreaking about this is Abner never learns of his pal's sacrifice, and the audience is only let in on the secret in a sequence where Lum remembers telling a dying friend on her deathbed that he plans to ask for Elizabeth's hand in marriage very soon…proving he who hesitates is lost. Lum's niece eventually figures out the mystery but is silenced when Lum places a finger to her lips, effortlessly communicating that he'll carry this secret to his grave. (I puddle up every time I watch this scene…and if you don't do likewise, I suspect you may be a cyborg.)
Partners in Time was directed by B-movie veteran William Nigh, who had an impressive career at MGM in silent films. He later eked out most of his living at Monogram in the 1930s and 1940s, guiding the sterling efforts of detective Mr. Wong and the East Side Kids. The movie also features a first-rate cast, with Blake, Elliott, Duncan, and Grady Sutton (as Cedric Weehunt) all turning in fine performances supporting stars Lauck and Goff. Sutton is hysterically funny as always, particularly in a scene in which he's been enlisted to warn the other merchants of Pine Ridge of Skimp's scheme, and as the Squire enters the doorways of the various businesses he keeps running into Cedric.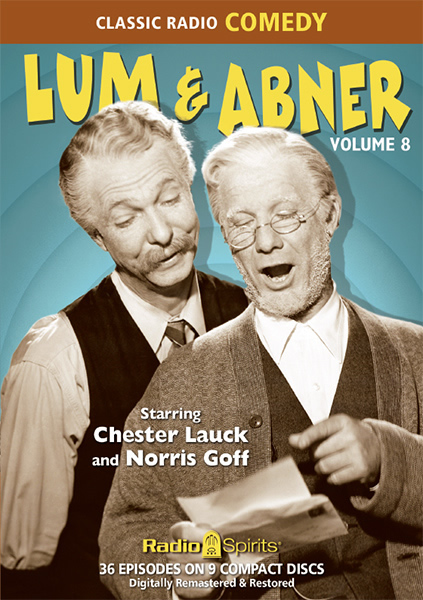 Since Lum and Abner was the program that introduced me to old-time radio, I'm understandably enthusiastic about always seeing "what's going on down in Pine Ridge"; it may take you a little time to track down Partners in Time (you may have to use The Google), but I guarantee that it will be time well spent. Here at Radio Spirits, we feature Messrs. Lauck and Goff in seven CD sets featuring vintage Lum and Abner radio broadcasts from 1942 and 1943 (as part of our Radio Spirits Archive Collection). Wonderful world!