Posted by Ivan G. Shreve, Jr. on Apr 28th 2022
It's become a true holiday tradition, spending time with Lionel Barrymore–who was born Lionel Herbert Blythe in Philadelphia, PA on this date in 1878. One of Barrymore's iconic film roles was the miserly Henry Potter in 1946's It's a Wonderful Life, which has become a Yuletide staple of couch potato viewing. (I watch it myself every Christmas Eve.) Before playing the evil Mr. Potter, however, Lionel would emote as the definitive Ebenezer Scrooge of Charles Dickens' A Christmas Carol, which was dramatized in a variety of different formats on radio between 1934 and 1953. Only Barrymore's death in 1954 kept him from continuing his Scrooge activities for appreciative radio audiences.
Lionel Barrymore was a member of what was colloquially nicknamed "The Royal Family of Broadway." (The Barrymore family were the inspiration for Edna Ferber and George S. Kaufman's 1927 play The Royal Family, which would be adapted for the silver screen in 1930 as The Royal Family of Broadway.) The elder brother of Ethel and John Barrymore, Lionel was reluctant at first to follow in the footsteps of his actor parents, Georgiana Drew and Maurice Barrymore. However, he did tour with his grandmother, Louisa Lane Drew, in a production of The Rivals at the age of 15. Barrymore would enjoy great success on Broadway by the time he reached his 20s, with appearances in The Second in Command (1901) and The Mummy and the Hummingbird (1902). By 1906, Lionel's acting career was in a slump, and he moved to Paris to fulfill his true dream: becoming an artist.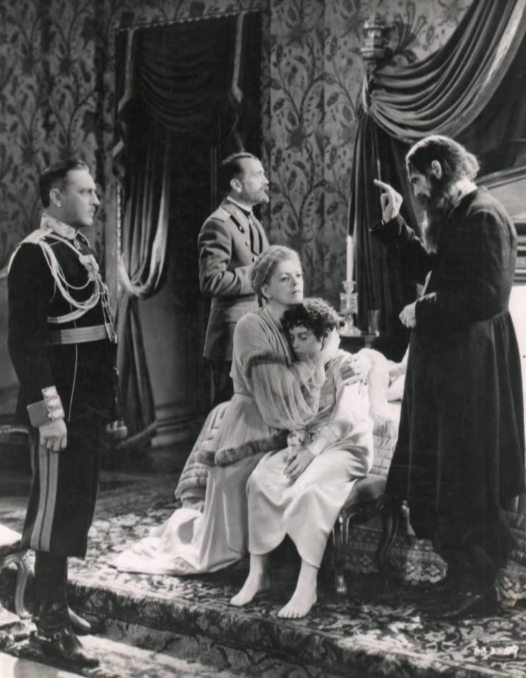 1909 found Lionel Barrymore returning to the United States, where he joined Biograph Studios as an actor. Two years later, he was working regularly as a leading man, notably in productions directed by D.W. Griffith, including The Battle (1911) and The New York Hat (1912). Lionel concentrated on his film career between 1912 and 1917, but eventually made his way back to the stage in such triumphs as Peter Ibbetson (1917), The Copperhead (1918), The Jest (1919), and The Letter of the Law (1920). He continued to develop an excellent working relationship with Louis B. Mayer, who was running Metro Pictures at the time, while doing freelance work in motion pictures like Griffith's America (1924) and a 1926 film called The Bells, which featured an unknown Boris Karloff. Barrymore signed a contract with the newly formed Metro-Goldwyn-Mayer in 1926 and debuted for that studio in The Barrier (1926). Among his memorable MGM silents were The Temptress (1926), The Show (1927), and West of Zanzibar (1928), with his first "talkie" being 1928's The Lion and the Mouse.

The sound era of movies would find Lionel Barrymore at his most active; one of his earliest talkies, A Free Soul (1931), would see his performance win a Best Actor Oscar. Other features in which Lionel appeared include The Yellow Ticket (1931), Arsene Lupin (1932), Grand Hotel (1932), Mata Hari (1932), Rasputin and the Empress (1932; the only movie to feature Lionel, John, and Ethel), and Dinner at Eight (1933). Barrymore also flexed his talents working behind the camera, directing such features as Madame X (1929; getting an Oscar nomination as Best Director), His Glorious Night (1929), and The Unholy Night (1929). With his noteworthy performance as a department store mogul in Sweepings (1933), Lionel began to pursue character roles in movies such as Treasure Island (1934), David Copperfield (1935), Ah, Wilderness! (1935), Camille (1936), and Captains Courageous (1937). Barrymore was also "Judge Hardy" in the first of the Andy Hardy films, A Family Affair (1937), but after a few more films including You Can't Take It With You in 1938, a broken hip forced him into a wheelchair.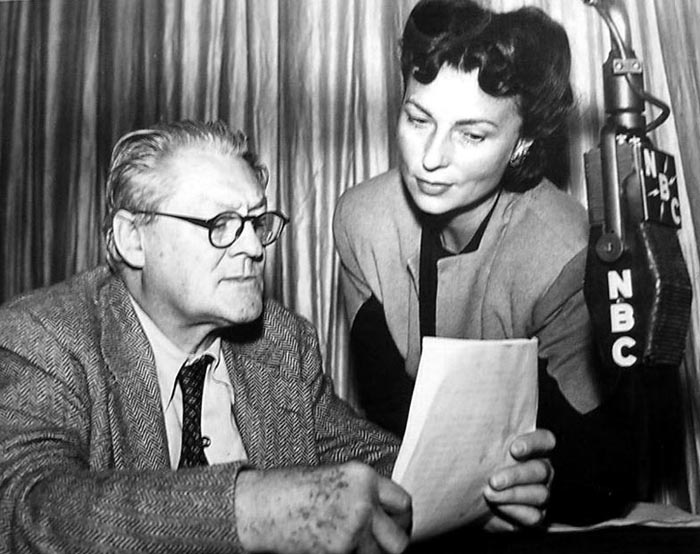 Being confined to a wheelchair kept Lionel Barrymore from playing his signature role of Ebenezer Scrooge in the 1938 MGM version of A Christmas Carol (Reginald Owen wound up with the part). Portraying Scrooge was something that Lionel undertook on radio beginning December 25, 1934, and until December 20, 1953 there were only two occasions where Barrymore did not scowl "Bah humbug!"--in 1936 (Lionel's wife Irene passed away that year and brother John replaced him as the play was broadcast as part of Hollywood Hotel) and 1938 (Orson Welles on Campbell Playhouse). Barrymore's interpretation of Scrooge was broadcast on a number of radio programs including The Rudy Vallee Sealtest Show, Hallmark Playhouse, and The Hallmark Hall of Fame (Lionel began hosting Playhouse in the fall of 1952 and continued on Hall of Fame until his death in 1954). From 1942 to 1947, A Christmas Carol was a special feature of Mayor of the Town, a comedy-drama series starring Lionel as the mayor of a town called Springdale which premiered on NBC on September 6, 1942 and moved to CBS a month later. Mayor co-starred Agnes Moorehead as his housekeeper Marilly and Conrad Binyon as Butch, his young ward. Gloria McMillan, Priscilla Lyon, Will Wright, and Sharon Douglas also appeared on this program, which was also heard on ABC and Mutual before bowing out on July 3, 1949.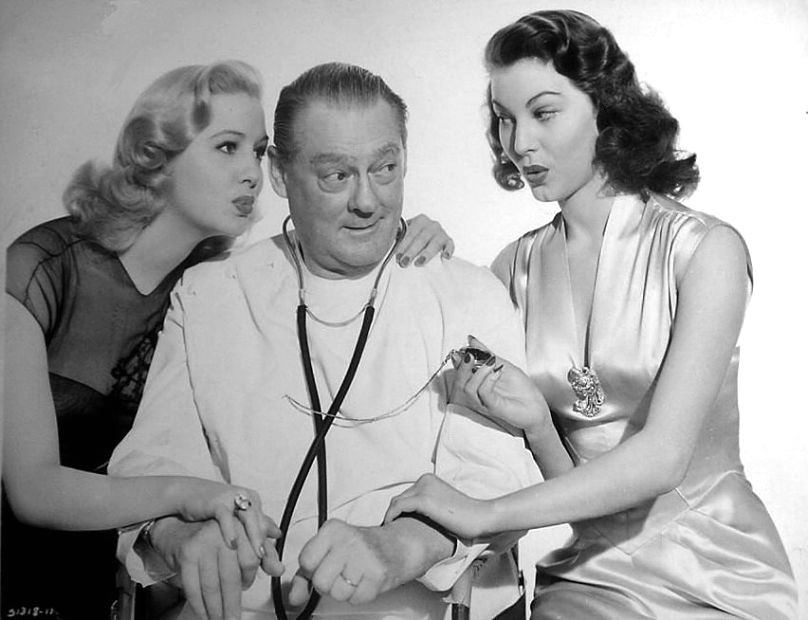 Nevertheless, Lionel Barrymore's movie career did not come to a screeching halt due to his difficulty walking. He became quite adept at "grouchy old man" roles, appearing in such features as On Borrowed Time (1939), Since You Went Away (1944), Duel in the Sun (1946), Key Largo (1948), and Lone Star (1952). Moviegoers probably knew him best for his role as Dr. Leonard Gillespie in the long-running Dr. Kildare series which began (at MGM) with Young Doctor Kildare in 1938, starring Lew Ayres as the titular medico. Lionel would even soldier on with the Kildare films after the studio dispensed with Ayres' services (due to Lew's conscientious objector status during WW2), wrapping up the franchise in 1947 with Dark Delusion (Lionel made fifteen Kildare films in all). Barrymore and Ayres would be reunited when MGM began production on The Story of Dr. Kildare, a radio series based on the films that was syndicated from 1949 to 1951.

In addition to his weekly duties on Mayor of the Town, Dr. Kildare, and the Hallmark programs Lionel Barrymore also appeared on such radio series as The Amos 'n' Andy Show, The Big Show, Biography in Sound, The Cavalcade of America, The Charlotte Greenwood Show, Command Performance, Concert Hall, The Edgar Bergen & Charlie McCarthy Show, Encore Theatre, Family Theatre, Good News of 1938/1939, The Kraft Music Hall, The Lady Esther Screen Guild Theatre, The Lux Radio Theatre, Mail Call, Orson Welles' Almanac, The Radio Hall of Fame, Request Performance, The Sealtest Variety Theatre, Shell Chateau, Shirley Temple Time, Stagestruck, Treasury Star Parade, The Victor Borge Show, and Victory Parade. Lionel Barrymore passed away at the age of 76 in 1954.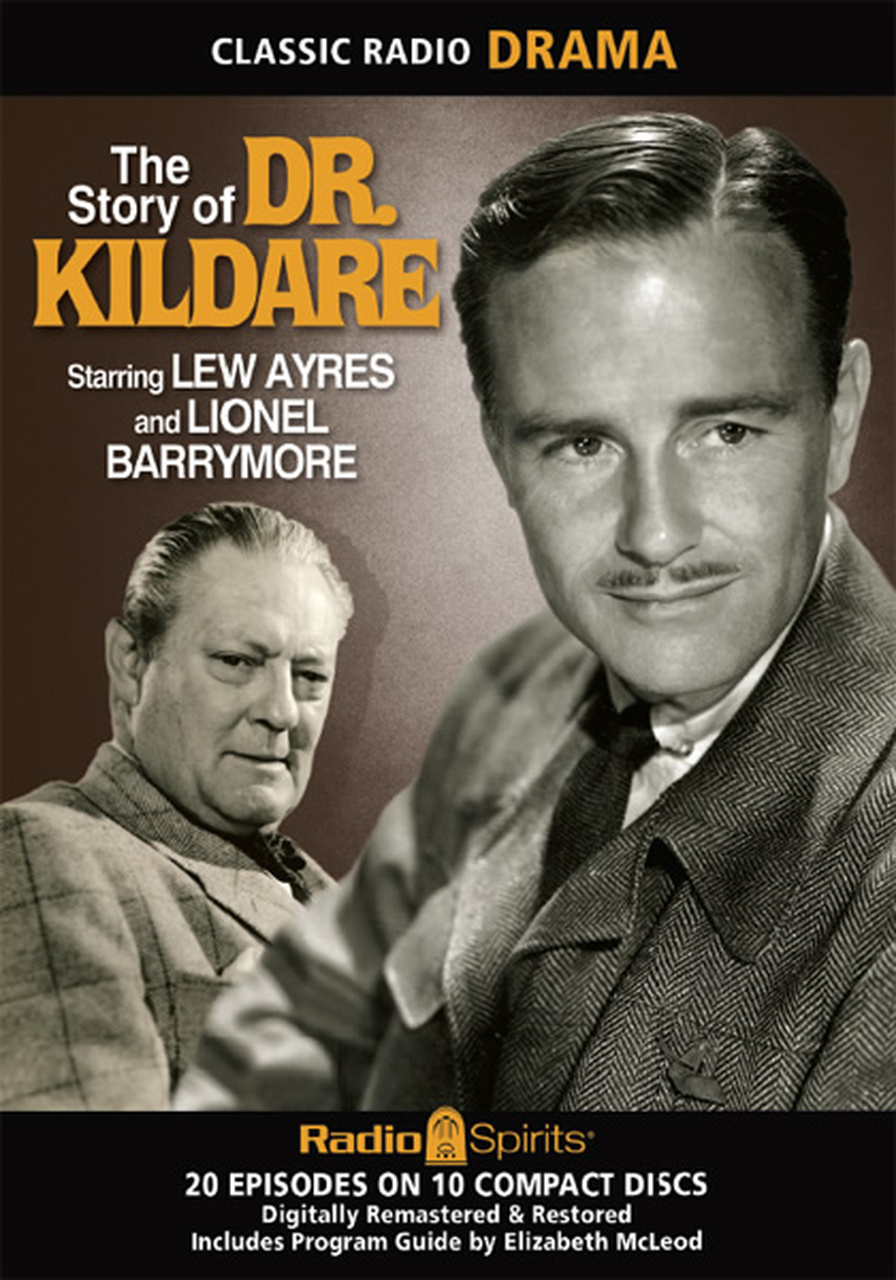 I can't think of a better way to celebrate Lionel Barrymore's natal anniversary than with a purchase of the Radio Spirits collection The Story of Dr. Kildare–a 10-CD set with twenty broadcasts of a series that's truly underrated radio, produced with the professional MGM sheen and co-starring Jane Webb, Ted Osborne, and Virginia Gregg. In our digital downloads store, Radio Christmas Spirits features the first performance of A Christmas Carol on our birthday boy's other well-known radio series, Mayor of the Town. Happy birthday to you, Lionel!